Advertise with us
Eternity News is Australia's largest inter-denominational newspaper, published online daily and in print on the first Sunday of each month from February to December. The paper is delivered FREE to churches, schools, colleges, universities, charities, mission agencies, bookshops, cafés, retirement homes and other organisations on request. Eternity brings readers local and global news and commentary with a Christian world view aimed at encouraging them in their faith.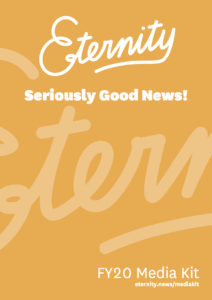 Eternity's digital offering reaches over 300,000 Australians across social media and the web and sends more than 40,000 emails per month. Read more in our latest media kit by filling the enquiry form below:
To enquire and download our media kit, please complete the form below, or call Daniel Silva at Wild Hive on 0452629682.
Enquire now and download our media kit