Help needed: Would you like to stand for parliament, or hand out "how to votes?" asks the Christian Democrats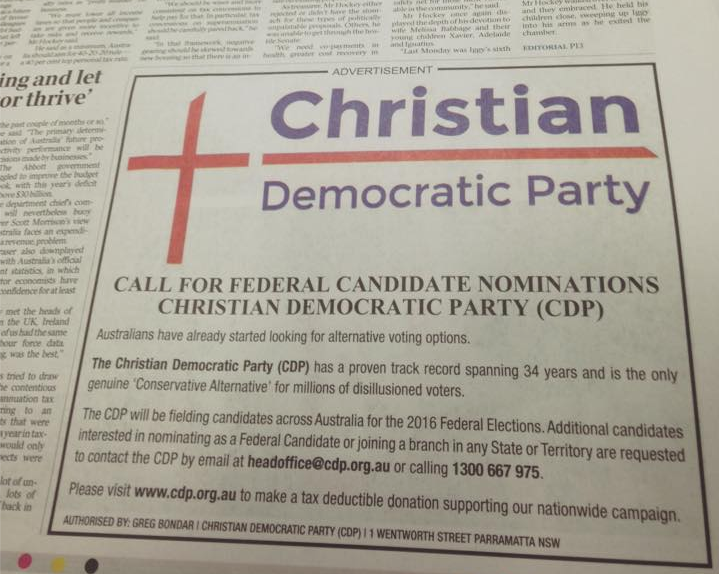 The Christian Democratic Party (CDP) is appealing for Christians to help complete the party's list of 47 House of Representative seats and 12 Senate slots.
This year's election is likely to be a double dissolution, which halves the number of votes required to win a Senate seat. In a normal Senate election the quota or percentage of votes required to win a seat is 14.33 per cent. In the double dissolution election expected this year, the whole Senate is up for grabs and the quota is reduced to 7.69 per cent of votes. This makes this election a real chance for parties with a Christian base.
The CDP is based in NSW with similar parties called the Australian Christians in other states. Other players include Family First and the Democratic Labour Party.
"I believe this is a unique time in Australian politics – we all know about the problems with ethical and morality issues in political life," says CDP lead Senate candidate Nella Hall.
"But now, the highest institutions in our land are under the microscope … I am appealing to the silent majority of Christians who go about their lives hoping things will get better.
"Our message to them is: 'They won't unless we speak up for what we believe in.'"
Mrs Hall wants Christians from all walks of life – but particularly those with experience of the political process – to help her campaign as candidates or volunteers. [Contact Nella Hall's office on: 0411 519542]
"We are pretty right" Senator Bob Day, Family First Senator for South Australia tells Eternity. "We have a good membership base, and we normally field candidates in every lower house seat.
"We have never had to advertise for candidates. The aim of Lower House candidates is to boost the senate vote."

Asked where Family First will do best, Senator Day tells Eternity, "South Australia of course. I would expect to win in a double D election. Incumbency will help."
Last time, Day scored four per cent of the primary vote in South Australia and won on preferences. He expects to get five or six per cent because he is a sitting senator (with an increased profile).
Australian Christians' Victorian Senate candidate Vickie Janson says they are not looking for candidates "but people can talk to us". They will target strategic seats in the lower house.
"We are focused on the senate campaign but we are looking for help for regional coordinators to organise teams to hand out votes at booths," she tells Eternity.
The Australian Christian's are strongest in Victoria and WA and that's where they believe they will do best.
"Christian" parties like Family First, Australian Christians, Democratic Labour Party, Rise Up Australia and The Christian Democrats will maximise their chances if they exchange preferences and encourage their voters to number enough squares to make that effective. In the last Federal Election they failed to set their preferences to directly support each other with some parties taking part in complicated preference deals.
Nella Hall's call for help is part of an agenda to refresh the CDP, tackling broader issues. She's prepared to back an issue raised by Labor. "Take the banks. I applaud calls for a Royal Commission, and am appalled at the way financial institutions are running a campaign claiming there is no need to examine their behaviour.
"We need a long-term solution that returns morality to the boardrooms and executive suites of Australian corporations.
"This is a basic Christian tenet – good, ethical people in charge of our institutions who understand that business is business – but cheating customers and stealing from pensioners and the sick is just plain morally wrong."
More