Sponsored | FEBC
FEBC speaking into the tragedy of COVID-19
We are living in extraordinary times. COVID-19 has radically changed the way we live, work and interact as a society. It is at times like this that we must look out for each other, but particularly those most vulnerable.
FEBC is doing everything possible to ensure we continue to be there for our listeners globally, as we have since this crisis first began. We know that so many are in desperate need of emotional, spiritual and practical help more than ever before.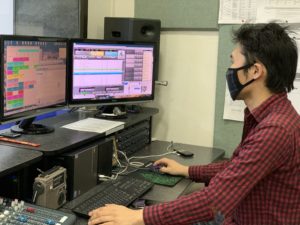 Our stations across the world are reporting similar situations among listeners. From Indonesia to Russia, many people are anxious and uncertain about what to expect. But we're grateful that radio programs and media broadcasts are delivering life-giving information and good news to millions in their heart language.
Fear and anxiety is a key issue for many during the pandemic crisis, so many of our radio stations are including professional Christian counsellors on-air to care for people and lead them toward peaceful ideas in an unsettled season.
Many of our broadcasters are severely challenged to commute to the studios, so have set up temporary studios in their own homes.
Many of our stations have set up free call numbers for listeners to call in for counsel and care, as there simply isn't enough time on-air to address every personal situation. Our teams have been inundated with calls for advice, support and, most importantly, prayer.
Unprecedented numbers of people are tuning into FEBC and downloading Gospel programs – quite literally millions! We've never seen numbers like this before. A massive quantity of calls, emails, texts, and letters are pouring in from people who are desperate to hear the Truth that will give them hope for this life and for all eternity.
"Our main focus, is not to contribute to the hysteria, but to be a source of hope …" Victor Akhterov
Regardless of where we live, we are all facing this challenge together. However, in the world's poorest communities, the impact of the pandemic is devastating. Around the globe our teams are hearing horrific stories of the effects of COVID-19.
A team member in India heartbreakingly shares: "The curve just keeps increasing. Lockdown has been extended and is very severe. It's incredibly sad for the millions of homeless and poverty stricken. We recently heard from a woman who threw her babies into the Ganges River unable to bear the starvation."
Now more than ever we need to increase our efforts to reach more people in the communities we work with globally to bring peace, life and hope, through FEBC broadcasts during COVID-19.
Our Head of Broadcasting in Russia and Ukraine is Dr Victor Akhterov. His words echo our other leaders all around the world when he said in an update recently: "Our main focus, is not to contribute to the hysteria, but to be a source of hope, without denying the reality of the health and economic problems."
"We lead by example, showing our listeners how those who have their hope in Christ respond in tough times. We are there to serve and help others. This is also a great time to demonstrate to our listeners what it means to be full of Christian joy during the most difficult circumstances."
FEBC is seeking urgent donations so that we can support our field countries in producing additional radio broadcasts and provide much needed counselling and support during this worldwide pandemic.
Your gift today will bring hope and peace to those who need it:
$28 can broadcast an educational program relevant to guarding health and safety.
$46 can produce 30-minute programs to support and encourage in a heart language.
$72 can fund the production of additional but critical radio content during this pandemic.
$104 can support FEBC teams offering online, phone and on-air counselling and support to the unprecedented number of callers needing help.
All donations made to FEBC Crisis Relief Programs are tax-deductible.
To find out more about how FEBC is supporting millions of listeners through the COVID-19 crisis or to make a donation please, click here or call 1300 720 017.
Kevin Keegan, National Director FEBC Australia
Your tax-deductible donation will be directed towards FEBC's Critical Relief Projects to support on air, online and on-the-ground operations. You may also make a non-tax-deductible donation towards FEBC gospel work.
More