Sponsored | Alpha Australia
From invitation to transformation
Inviting someone to check out faith at your local church or an Alpha can be scary, but the rewards are eternal. Meet Katie, whose friends stepped out and invited her to try Alpha.
Previously, I hated God, the Church, and every Christian that I'd ever met, bar two. I had a messed-up, negative life, I was addicted to alcohol, I really had nothing to live for and nothing to hope for. We'd lost Mum at the start of the year and that heavily impacted me personally and the whole family. It was an isolating and lonely time.
I really didn't think I'd ever be willing to give God another go. I had made up my mind about what God was like, that He was not love and not relational.  I was invited to Alpha by two friends I've known for 30 years. I tried to find as many ways as I could to get out of going. But I worked around the corner and ran out of excuses.
People were really friendly, incredibly loving, not trying to preach or teach, but giving me time to share where my views were at.
I rocked up that first night, incredibly scared. But it was the complete opposite of what I had built up in my mind. People were really friendly, incredibly loving, not trying to preach or teach, but giving me time to share where my views were at.
Don't give up!

I came to weeks 1 and 2, and hated it. I was adamant I didn't need to hear this Jesus stuff, this God stuff, again. I skipped weeks 3, 4 and 5, settled with the fact that being an alcoholic and having nothing to live for was my lot in life. To their credit, my friends never gave up on me. They kept texting, 'hey are you coming back? we miss you on the table!'
I came back in week 6. I decided I wasn't going to tell people what they wanted to hear, I was going to tell people genuinely what I believed. So Week 6 was 'How and why do you read the Bible', and I told them I thought the Bible was boring, irrelevant, outdated and antiquated, and that anyone who lived by it was deluded. People just sat there gobsmacked. But I felt like I had been honest and from that moment I really started processing how, as a small child, I had established my views of God. All of a sudden seeing this image of God that was so different week after week, I saw for the first time that God wasn't this outdated figure from history but that God was right there waiting for me.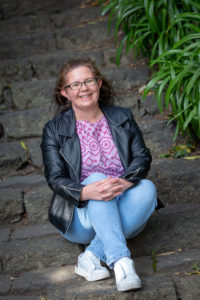 Another invitation

Then I was invited to church. The first time I was so scared I didn't rock up. The next time I was late because I wasn't going to have any of the singing, nothing emotional, just the message. But that process of seeing how God was portrayed through the Alpha videos week after week had slowly started to change my mind and my thought process and sunk it into my heart. I really felt for the first time that God was right there with me. So I gave my heart to God.
Transformation

I knew I was a Christian now so I went to a prayer night at my church and realised that I'd had a warped view of God as being distant, and now I­­­ felt swamped with love and peace. On the Alpha Day God gave me a new, whole heart for my broken one and I was released from my addiction to alcohol. I have not touched alcohol since. I immediately started going to church, serving in whatever way I could, and volunteering at the next Alpha.  I wanted to pass on that love and acceptance, taking people where they're at. I wanted the honour of being a part of that. I'd had an experience that was so life changing, I wanted to be able to give it to others.
Katie now coordinates Alpha in her church and serves with her gifts, excited to share her life-changing faith with others. And it all started with an invitation from two old friends.
So…who will you invite?
Katie is one of over 40,000 people that have tried Alpha in 2018. Find out more at alpha.org.au
More