Sponsored | Leading The Way
Leading the way on the frontlines
The old adage is true – God's word does not return empty. When Leading The Way expanded its broadcasting into the Arabic world through THE KINGDOM SAT in 2009, no-one could have imagined the pace at which its impact would grow.
Last year alone, Leading The Way followed up 256,058 respondents to THE KINGDOM SAT and, through its Help The Persecuted Fund, disbursed more than $1million dollars in aid.
This story is not just about numbers though; it's about individuals and how God is using Leading The Way to reach them.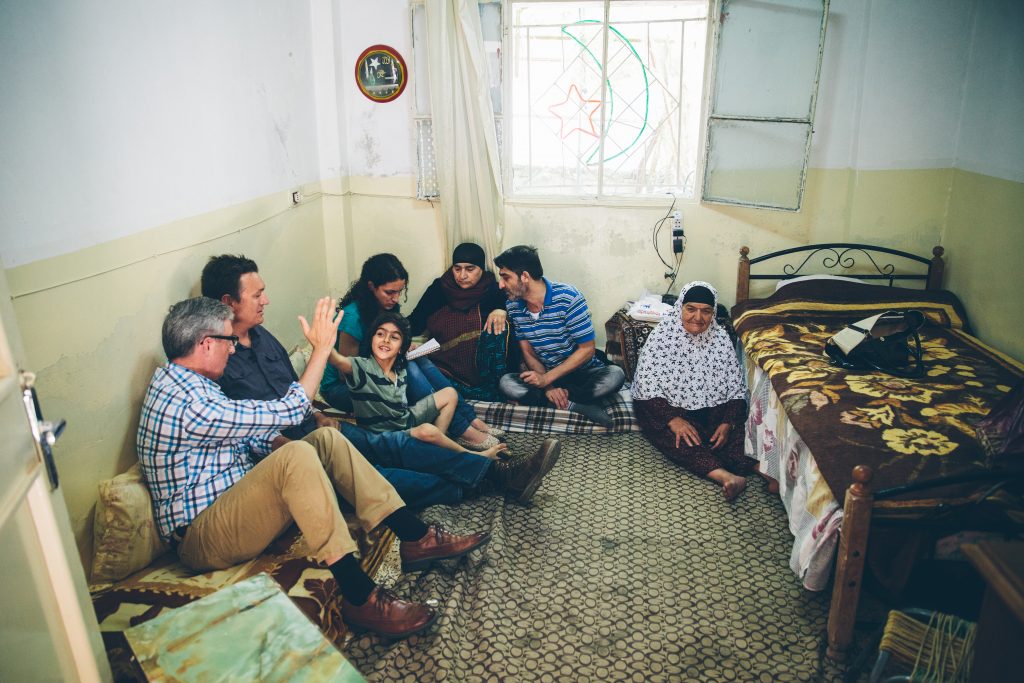 In a makeshift cinderblock room, Rima adjusts to a bleak new reality. Her family has just fled from Aleppo, Syria, to Lebanon – their house left behind and destroyed by war; their feet hurting from a six-hour trek through the mountains.
It's winter in Lebanon. Their room is cold and dim. Burning up with fever, one of Rima's sons lies wrapped in blankets in the corner of the room. Is this her family's future?
God has been pursuing her, and her life is about to change.
What she doesn't know is that hope is about to break through. God has been pursuing her, and her life is about to change.
On November 30, 2016, Leading The Way's field team walks into Rima's makeshift home in the refugee camp. They bring clothes and food, and later they will install a stove to warm the room. But they sense that she needs something more.
"Would you like to accept Christ into your heart? Do you know that if you believe in Christ, you will spend eternity in heaven?"
"Yes, I would," she says eagerly. "Why would you all come to me if God didn't do this for me?"
It's something that only God could have orchestrated. On the frontlines of one of the greatest humanitarian crises of our time, Rima hears the Gospel — and gives her life to Christ.
"If I had not become a refugee, I would have stayed lost."
On the frontlines of the Syrian and Iraqi refugee crises, thousands of refugees like Rima have heard the Gospel and received tangible help from Leading The Way after fleeing civil war and ISIS violence.
One woman shared: "I am so happy. If I had not become a refugee, I would have stayed lost."
On the frontlines of ISIS terror, Leading The Way heard from radical Muslims, including a former ISIS leader, a member of Hezbollah, and an extremist sheikh. All exchanged their conquering for surrendering, after watching our broadcasts or interacting with Leading The Way's field teams: "When I compared Islam and Christianity, your teaching tipped the scales."
"Your ministry made a difference in my life and in my search for truth and helped me pass from darkness to light."
Leading The Way proclaims God's word, disciples new believers, and helps the persecuted.
On the frontlines of the great spiritual battlefields of our time — from Christian persecution to the war on Biblical Truth — God has opened doors for Dr. Michael Youssef and Leading The Way to proclaim His word, disciple new believers, and help the persecuted.
Listeners and viewers are sharing the impact: "Thank you for presenting us with truth, hope, and a call to action in this chaotic and confusing time!"
God is faithful. In the darkest of situations, He does not leave Himself without a witness.
As many ask, "Why does God allow suffering?" the new harvest of souls coming out of today's crises are asking, "Why is He so gracious to use it?" Only God can use the greatest crises of our time as His canvas for revival and spiritual awakening.
On the frontlines, hope is breaking through.
You can be a part of what God is doing on the frontlines with Leading The Way by becoming a Frontline Mission Partner. Just visit Leading The Way or call 1300 133 589.
Become a Frontline Mission Partner with Leading The Way.
More