One of the largest mission agencies in the world is launching compassion projects in Africa for the first time – a huge boost for humanitarian efforts on the world's poorest continent.
Millions of people and children are suffering all around the world because of impoverished circumstances. From the day they are born to the day they die, many are unable to free themselves from its grip. It can leave a deep, unshakable feeling of hopelessness.
GFA World national workers have dedicated their lives to bring them hope. Many families in the communities we serve do not have the basic necessities needed for healthy living or are often rejected by society, like widows and leprosy patients. We meet these needs with compassionate care through our community development projects that benefit downtrodden families and their children. We provide free medical camps to villages and remote communities, clean water wells, water filters, income-generating Christmas gifts for needy families, and offer encouragement through radio ministry.
In the years ahead, GFA World expects to launch programs in numerous African nations, starting with compassion projects in Rwanda.
"It has raised Hope within us that everything is not bad during this lockdown."
Serving Others
Throughout the duration of the lockdown, GFA field partners organised food-relief distributions. When restrictions eased and there was more freedom for people to gather, the people in one congregation served alongside the pastor to help others — even in their own need.
They contributed eggs, vegetables, potatoes, spices and other items to give away. They cooked food for people and gave of their own minimal resources when they saw another who was in greater need.
One woman even gave half of her monthly disability cheque to another woman who was struggling during the lockdown.
"I look forward to becoming a help to people," she says. "I want people to be helped through my life, and I want God to help me become that person who becomes a help to others."
Revolution in World Missions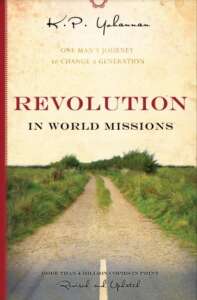 K.P. Yohannan's first book details the history of GFA World and how important it is to bring the love of God to all corners of the world through the men and women God has raised up in their home countries.
With more than 3.9 million copies printed worldwide, Revolution in World Missions seeks to invigorate and inspire readers to answer the Lord's call to support missions. Click here and order your FREE copy!
We're moving into Africa! Our prayers have been answered.