Sponsored | FEBC
The best gift: the miracle and mission of the Word
This Christmas, various media platforms will be used globally by FEBC to reach into the lives of millions who still have no idea of the miracle of Christmas.
These are the millions who are yet to know about the love of God expressed in the gift of Jesus. They are in desperate need of the message He came to bring; a message of hope and peace, of truth and life.
Communication in today's world is vital and the communication of truth is not something we can take for granted. FEBC is a mission that communicates to people hungry for truth, eager to know more about this Jesus, those who are longing to know they are loved, special and valued, and that they have been made in God's image and for a purpose. People are longing to know that Jesus came that they may have life, and life to the full. FEBC is making that possible.
"And the Word became flesh and dwelt among us." – John 1:14
Throughout this Christmas period, FEBC will be broadcasting in over 100 languages, in more than 49 countries, penetrating physical, geographical, political and religious barriers with the Good News.
"The miracle of Christmas is that God came to earth in flesh to make Himself known, to speak into our needs and to communicate in ways we understood. The mission of Christmas was that Jesus came to do His Father's will and to reunite us in relationship back to God through the giving of His life," said Rev. Kevin Keegan, National Director, FEBC Australia.
"FEBC does this every day as the Word goes out on our broadcasts and is followed up on the ground by our support teams. Our teams put 'flesh' on the Word that our listeners hear from our programs."
God's Word never returns empty. For example, last year the FEBC Thailand team participated in a Christmas pageant with a local church. The amazing blessing is that this church originally started because of three listeners to FEBC Thailand's Heart Friend program. Three people who were moved and motivated by what they heard on FEBC radio to accept Jesus, meet together in worship and plant a church.  Then FEBC Thailand teams were able to return to this new, completed church to help carry out its first Christmas outreach.
"As this is a rural area, some young believers have moved to other areas for study and work, so the actual numbers of attending church members is not large; plus not all who attend have yet believed in Jesus. Yet FEBC Thailand staff consider it a wonderful partnership to provide a Christmas open air evangelism program with a Church that began from our broadcasts," said Rev. Keegan. "Last year songs, games, the Christmas story with dramatised soundtrack, and sharing from the Bible took place. Over 20 people choose to follow Christ that evening. We pray for more hearts to know and meet Jesus this Christmas."
It is humbling to think that a church like this began from three listeners, tuning into FEBC's radio programs, via a $30 solar or wind-up radio. It is astounding that our heavenly father invites us into His mission to save all peoples of the world and have them reconciled back to Him.
In a Christmas article[1], Christian writer John Piper reflected on John 1:14. "Why was he called 'the Word'?" and not the deed, the thought, the feeling – but the Word. He concluded because Jesus came, "to put a high value on clarity and communication, and to be God's communication to us."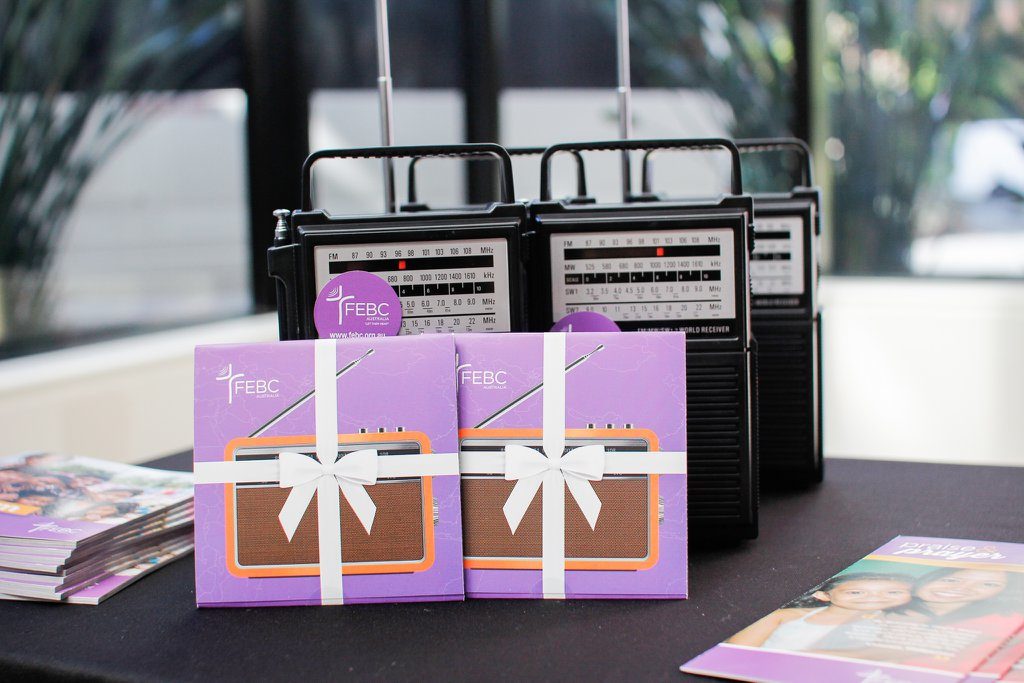 Communicating God's Word today is vital, communicating the Good News to those around our world who are still to hear it for the very first time is critical. FEBC has been making that happen for over 70 years, and FEBC is doing that this Christmas.
Will you support the going forth of God's Word? Consider giving the gift of a $30 FEBC radio to an unreached person across the globe.  You can give either from yourself or on behalf of a friend or family member. You can also receive gift cards that explain how the gift of a radio delivers joy to the world this Christmas time. Visit our website today: www.febc.org.au
[1] John Piper https://www.desiringgod.org/messages/the-word-was-made-flesh
Do more for less. Give a $30 radio this year and reach thousands.
More