When Tom Little's mum and his aunts told him to help them translate the Bible into their heart language, he knew what the correct response was.
"When they gang up on you and tell you to jump, you only ask, 'How high?'" says Little with serious jest, thinking back to how he first became involved with the Nyoongar Bible Translation Committee around 1995.
A few years earlier, Little's mother and aunts had become founding members of the committee helping to keep alive the Nyoongar language (originating from the south-west of Western Australia).
"They said to me, 'Look, you've got to come to help us to do this,' says Little. "I said, 'Hang on, you speak the language better than I do.' They said, 'Yeah, but you remember better than we do.'"
An elder of the Bindjareb/Bibbulmun people, Little might be the only Bible translator who is also a professional musician. The multi-instrumentalist session-player from Perth tells Eternity that since God's word began to be translated into Nyoongar, two books have been completed. The first was the Gospel of Luke, which took about 20 years, due to the "exhaustive process" of language work that "became the template for later translations."
The second biblical Nyoongar text? The Old Testament book of Ruth, which Little completed single-handedly earlier this year – in just four months. "I was extremely lucky that about 98 per cent of the language I needed for Ruth was already embedded in Luke," Little says.
But shared words were not the reason Ruth was chosen. "It was logical to do Ruth next because I grew up in a household of strong-willed and faith-filled women. My mother and my aunts are all Christians."
The Nyoongar translation of the book of Ruth is "absolutely" a tribute to these women, says Little. "I made it perfectly clear to them that the reason I chose Ruth was because of the example that they had set me."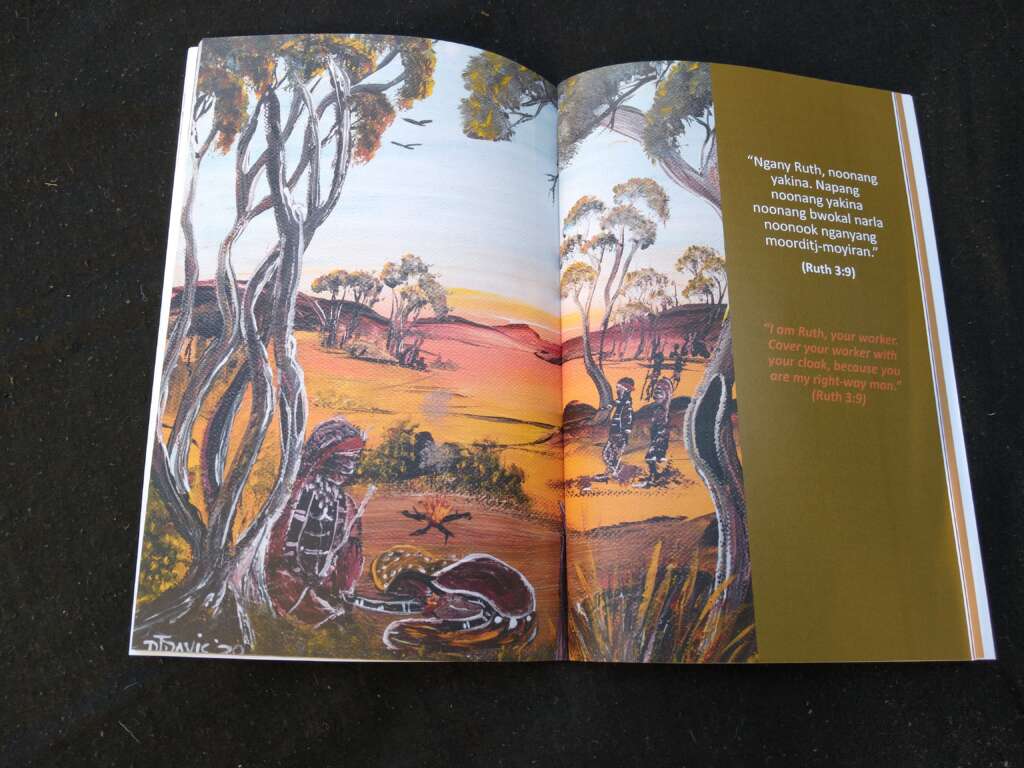 At the increased run rate of Ruth's completion compared with Luke, Little still is not sure the whole Bible can be translated into Nyoongar during his lifetime. He's keen to give it a crack, though, with ongoing support from Bible Society Australia, its Remote and Indigenous Ministry Support team, and the vital help of experts such as John Harris, Bible Society's translation consultant. Harris has been Little and the Nyoongar committee's main translation and theological sounding board.
Bible Society Australia remains intent on backing translations in Indigenous language, seeing their importance to identity and culture, as well as the eternal value of being able to share God's word through them. Little agrees that such language projects are small but positive steps towards relating better with First Nations People.
"The connection is absolute. I feel so much closer to God now by being able to read in my heart language." – Tom Little
"Yes. It's a small step but a very significant one because, ultimately, it brings all parties together," says Little about non-Indigenous Australians being able to get behind projects such as the Nyoongar translations. "And bringing everyone together to join in this process, for me, has been a very joyous journey."
There have been other rewards of translation for Little. He is part of preserving an oral language which, like all Indigenous languages in Australia, have been stifled or killed off during the past two hundred years. He also knows first-hand the deep spiritual impact of having the Bible in the words of his people.
"The connection is absolute. I feel so much closer to God now by being able to read in my heart language as well as in English. The fact is that being able to read God in the language of heart makes my heart stronger."
According to Aboriginal Bibles, only one Indigenous language had the complete Bible – Kriol – by 2019. About 22 have, at least, one complete Old or New Testament book (usually a Gospel). But with an estimate 400 Indigenous languages in Australia, there is a long way to go to provide scripture in the mother tongue of many First Nations People.
It goes without saying that there is a lot at stake during the translation process of the Bible. So does Little himself feel any pressure as a translator, to get God's word right and help preserve his heart language?
"Certainly. I wake up every day and pray to God for strength to get through the day and get done what I need to," he says.
With Luke and Ruth completed and released, Little has had to become active on social media due to contact from Indigenous people across Australia about the translations. He has also become familiar with Nyoongar books that are in the US Bible museum, the Vatican museum – and a university in Chile.
And where to next for God's word in Nyoongar? Little was recently commissioned by a priest friend to translate one famous passage. "I'm working on the Sermon on the Mount at the moment – Matthew chapters 5 to 7," reveals Little, adding that Bible Society Australia has got behind this translation.
"I will go back and finish Matthew completely, and then I want to go back to the top and start again."
So return to where it all began – Genesis? "Yes."
A perfect place, it seems, for Tom Little to continue this important journey of working to see God's word fully translated into his heart language.
Support Bible Society Australia's Nyoongar Translation projects.