---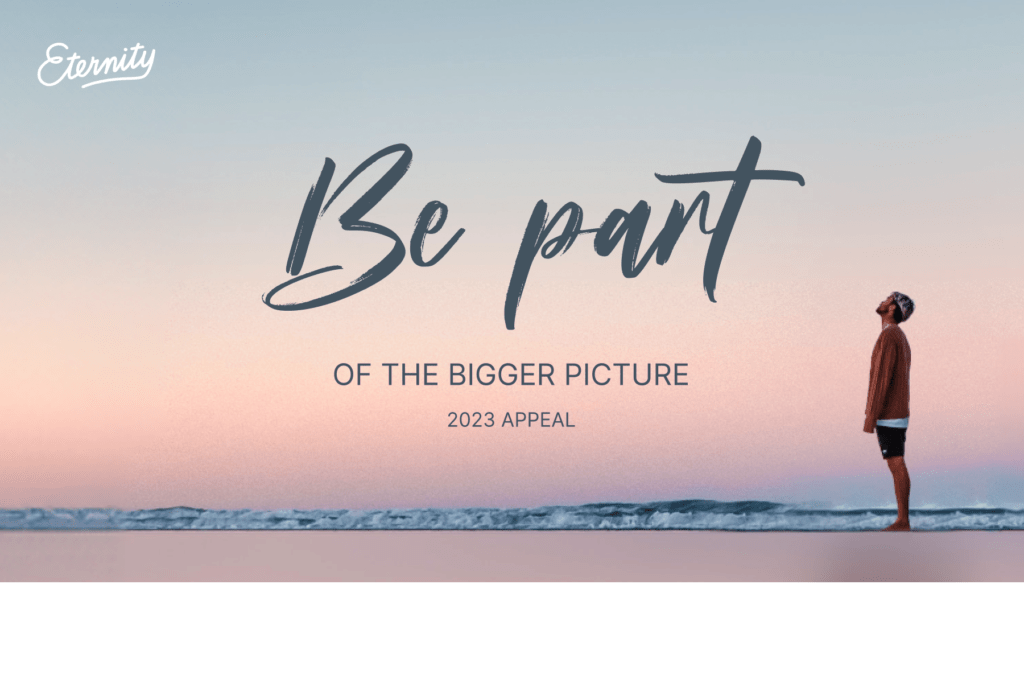 Believers today are constantly bombarded with messages that the church is dying, and our faith is irrelevant and intolerant.
Eternity is committed to helping you see the bigger picture: the good news of what God is doing in Australia and across the world.
Every day, lives are being transformed by encounters with Jesus and his church. God's Spirit is moving in the hearts of people, churches, organisations, towns, cities and whole nations. His word is being heard and it is bringing renewal.
This is the bigger picture that is drowned out by mainstream media and the trivial flood of our social media feeds.
At Eternity our aim is to help you fix your eyes on Jesus by providing fuel for your faith. Every day we continue to find and tell stories to encourage, inspire and equip you in your walk with the Lord.
Watch the video below to learn more:
We'd love you to be part of our community – a community committed to seeing the bigger picture.
Would you consider supporting Eternity as we offer free resources to the church and to a world which desperately needs to hear about God's grace and hope?
Your donation will enable us to continue sharing articles like these below, with every dollar donated going directly to Eternity's work and distribution.
Donate below and check out some of our top stories from 2022-23: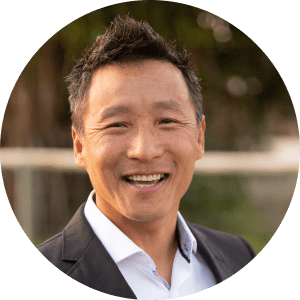 "Without Eternity I have mainstream media's vicious cycle of doom and gloom. But Eternity gives me the bigger picture of God at work. God is bigger than my tiny world and its problems. God is spreading his love, mercy and hope into the lives of people in Australia and beyond."
Sam Chan, Head Trainer, EvQ School of Evangelism and author of How to Talk about Jesus (Without Being THAT Guy)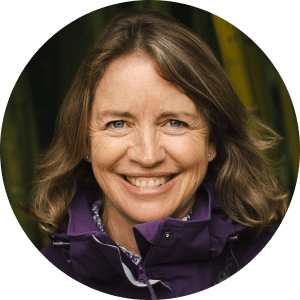 "God is always at work in the world, and in our streets, drawing people to himself, one by one, through the Lord Jesus Christ. But we can so easily forget that!

For me, it's a privilege to partner with Eternity and bring stories of faith in Jesus, from around Australia and beyond. I find it especially helpful on days when I tend towards discouragement. On those days, I hear the stories and realise the truth profoundly, again. The good news of God's grace is utterly life-changing!"
Naomi Reed – writer, speaker and bestselling author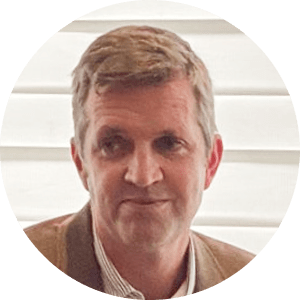 "In a world thirsty for substance and hope, Eternity provides a crucial role in providing the Christian perspective to make sense of the world."
Steve Baird, CEO, International Justice Mission Australia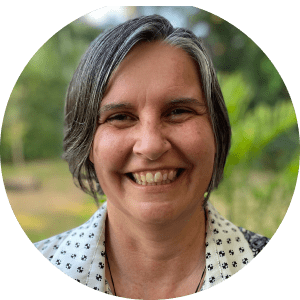 "This is a time in Australia's history when we need to read stories that keep us grounded in the truth of the gospel; stories that open up possibilities of modelling our working and playing and resting on Jesus. Eternity provides the space to share those stories, from Australia and globally."
Kara Martin, Adjunct Professor at Mary Andrews College and Gordon-Conwell Theological Seminary, and author of the Workshop books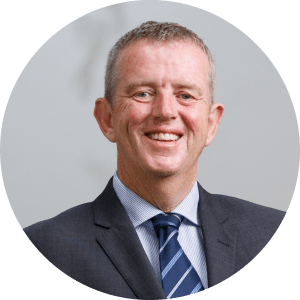 "The church in Australia is experiencing an opportunity-rich season rich to declare the gospel, both with our words and with our actions. Now, more than ever, our nation needs to hear good news! Eternity provides a vital platform where the life-transforming message of Jesus is shared and celebrated."
Rev. Stuart Cameron, CEO and Superintendent, Wesley Mission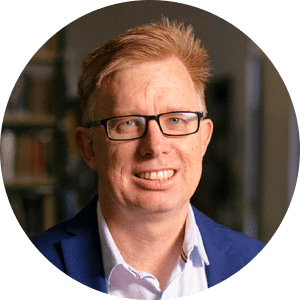 "Getting the full picture is so important, and Eternity gives Christians all over Australia the big picture on what is happening around them and what God is doing in the midst of it. Whether it is for profiles, biblical commentary, or just some feel-good stories, Eternity is the place to go."
Rev. Dr. Michael F. Bird, Academic Dean & Lecturer in New Testament, Ridley College
---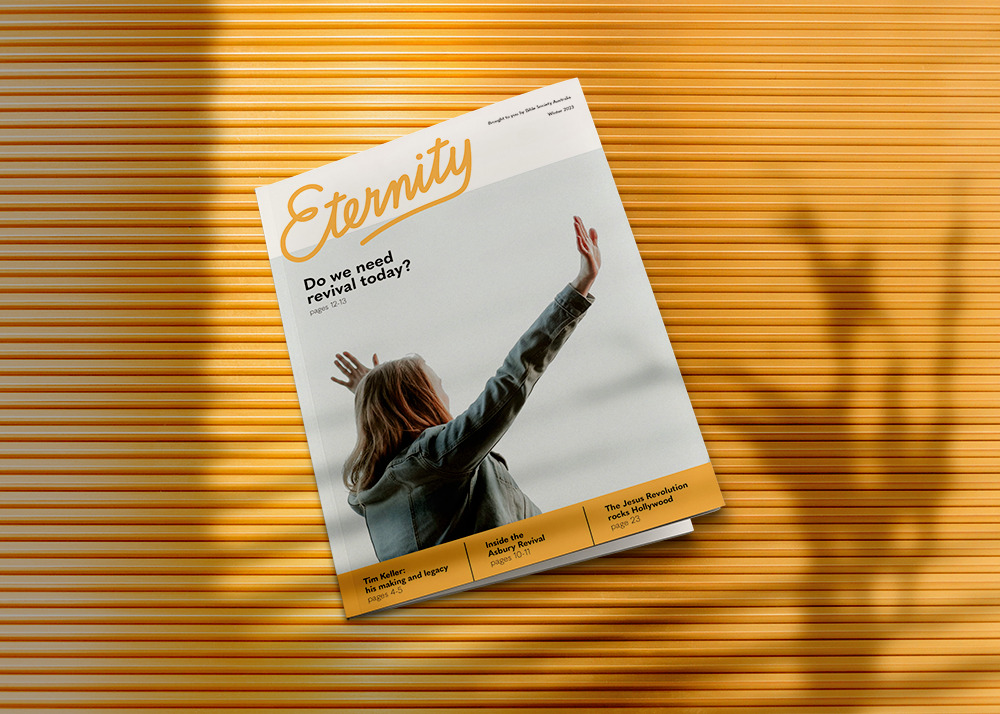 Stay Updated:
Read the Latest Issue of Eternity Magazine

Read Now
Our top stories from 2022-23
---
Jesus Revolution creates waves in Hollywood
The Jesus Revolution movie, which is in the top 10 movies in Australia and New…
Andrew Thorburn, Essendon and the toleration of religion
In 1689, the British philosopher John Locke published his famous A Letter Concerning Toleration, which…
Why the era of the celebrity pastor is over
Michael Murphy confesses that he had some misplaced arrogance when he started as senior pastor…
Queen Elizabeth II: 70 years of faith and service
The Cross at Australia's heart needs you
Inside the Asbury Revival: why God sent me and what I learnt
Brother Andrew, founder of Open Doors, passes away
The wonder of playing Mother Mary in 'The Chosen'
The man in white who called an Iranian family to follow him
David Claydon: The homeless orphan who served the Lord for eight decades
Thousands of young people are flocking to Christ, reports Youth Alive
Cross dedication attracts 130 baptisms in Arnhem Land
'Being a high achiever was not only a curse to myself; it was a curse to my friends as well!'
Remembering Tim Keller – today's C.S. Lewis
'I might be the wife of a former Prime Minister, but I am my own person.'
Seeing with new eyes, hearing with new ears
Challenging the status quo around pornography
How God helped Aunty Donna surrender her resentment
An evangelist's top ten tips for sharing the good news
Don't look back … up close with Aussie evangelist Christine Caine