The shortlist for the 2015 Australian Christian Book of the Year awards have been announced.
The awards are organised by Sparklit (formerly SPCKA), an organisation seeking to empower Christian writers, publishers and distributors in Australia. Sparklit's director, Michael Collie, says compiling this year's shortlist was especially challenging.
"This year's award drew strong entries from accomplished writers; many are leaders in their professions and fields of endeavour," he said.
The winner will be announced on Thursday 13 August at a finalist supper in Victoria.
Here is the shortlist:
What if by Kristen Young (published by Fervr)
Read an interview with Kristen Young about her book, here.
The Wisdom of Islam and the Foolishness of Christianity by Richard Shumack (published by Island View Publishing)
Watch an interview with Richard Shumack, here.
Giving Generously by Rod Irvine (published by Barton Books)
Jonathan Edwards and the Church by Rhys Bezzant (published by Oxford University Press)
Find out more about Rhys Bezzant, here.
Captains of the Soul: A History of Australian Army Chaplains by Michael Gladwin (published by Big Sky Publishing)
The Gospel of the Lord by Michael Bird (published by Eerdmans)
A Doubter's Guide to the Bible by John Dickson (published by Zondervan)
Read an interview with John Dickson about his book, here.
The Suburban Captivity of the Church by Tim Foster (published by Acorn Press)
Read an interview with Tim Foster about his book, here.
Time Poor Soul Rich by Anne Winckel (published by Ark House Press)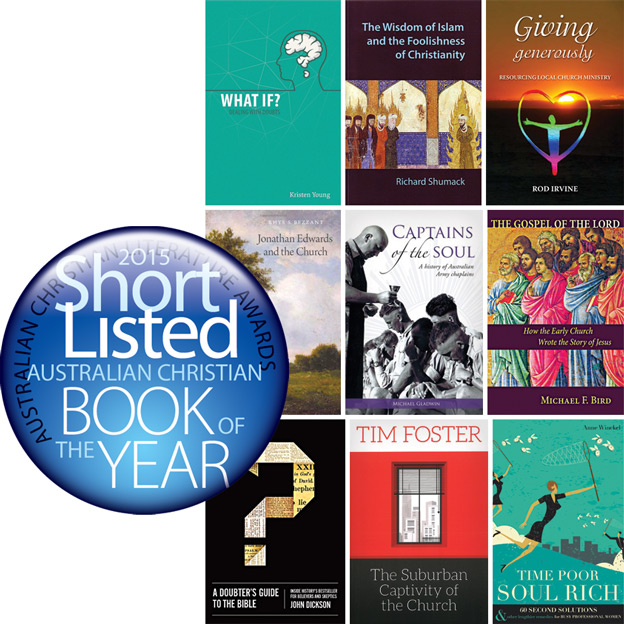 Featured image from Flickr under CC License, Abhi Sharma.
More