Bible apps are making it possible to track Bible reading trends across the world, with 2012 statistics revealing over 75 million downloads of the YouVersion Bible App, with users spending 23.6 billion minutes reading the Bible on the App.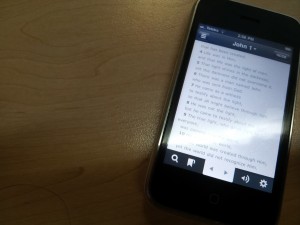 The new year–and accompanying New Year's resolutions–were a boon for Bible Reading plans, with over 1 million plans downloaded in the first 8 days of 2013. In 2012, 4.8 million Bible reading plans were completed – that's 24 new plans started every minute. The most popular reading plans included the One Year Bible, Bible in 90 Days, Love & Marriage, Psalms & Proverbs and The Essential 100.
Sharing Bible verses also proved popular in 2012, with users forwarding verses more than 31 million times to their friends via Facebook, Twitter, SMS and email.
But perhaps the most interesting statistics from Bible App usage in 2012 is the top 10 most bookmarked verses of the year:
Read them lately?
YouVersion's Bible App, owned by LifeWay Church in the US, was included in iTunes Top 100 free apps for 2012.
Read more on digital Bible reading:
More