archive
INTERVIEWS
Religion has never had such a hearing in Australia: ABC's Mark Scott

Mark Scott's business card is one of the most impressive in Australia. As the managing director of the Australian Broadcasting Corporation he has been described as "one of the most influential people in Australian media, arguably the most influential". In 2011 he was awarded Officer for the Order of Australia for distinguished media service. But in his own home with his family, he is level-headed.
"You recognise the business card is just the business card and you hold it while you have the job, but it's not who you are," he says.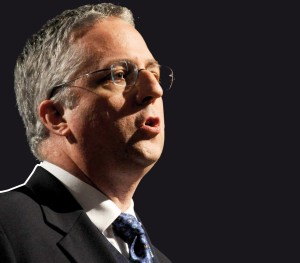 Since his posting at the national broadcaster in 2006, Scott has overseen a major period of change. Most significantly he helped secure funding and the rollout of ABC News 24—a continual TV news channel available on digital television. The scope for online content has also grown rapidly during his tenure, and he names the iView catch-up service, along with News 24, as the developments he is most proud of. "When I started here, I remember saying to people that the only thing I really knew about broadcasting was how to turn on the set," he says. "The ABC is full of very clever, talented, hard-working people and the real accolades for the achievements of the ABC should not rest with me."
Of course he is being modest. For more than a decade prior to joining the ABC, he worked as an editorial director at Fairfax, and as their editor-in-chief for metropolitan, regional and community newspapers. Even then, in his early 40s, Scott was a respected figure. But it will be his time at the ABC that secures Scott's place as an innovator who has forever changed the topography of our media, and how we access it.
Significantly, during his rise to prominence, Scott has not hidden his Christian commitment from anyone—neither colleagues nor the public. He sees no need to "compartmentalise" the different facets of his life. His faith, he says, is "who I am".
Scott grew up in a Christian home. By the time he was in his late teens, friends were making personal decisions for Christ and he decided to do so as well. "You could be around a Christian community, but finally you needed to make a point of decision on your own," he says. "And that's what I did, supported and encouraged by others." At university, he spent time with people he describes as "interested in faith". He was part of Bible studies, and spoke with peers about what Christianity should look like in practise. Since then, he says his understanding has changed in certain ways—something he puts down to his ongoing "spiritual journey".
The Christian responsibility for social concern has grown in Scott's consciousness since his 20s. It is something he now views as an "important cornerstone of faith". "In the past," he says, "people would read verses or passages of Scripture. But if you read a gospel through from beginning to end rather than breaking it up into parts, one of the things that overwhelms you about the life of Jesus is just who he spent his time with."
He points to the narrative in John chapters 3 and 4 as one he considers emblematic of Jesus' adaptable pattern of ministry. "There is Jesus robustly and intellectually engaging with Nicodemus. And there in John chapter 4, he's thoughtfully and compassionately engaging with the woman at the well. Two greater contrasts of personalities and personal histories you couldn't find. But there is Jesus actively engaging them in a wonderfully relevant and compelling way."
As a board member of Wesley Mission in Sydney, Scott has worked closely with its CEO Keith Garner. He appreciates the Wesleyan 'word and deed' emphasis which he says—in addition to Wesley Mission's word-related ministries—provides a vital social service to "those who life may have left along the side of the road".
Scott is also part of a Sydney church community. On a personal level he says his faith influences his decisions and the kind of person he is. "Hopefully," he adds.
He believes his colleagues at the ABC are those in the best position to judge if there is a credibility gap between how he aspires to live as a Christian and how he actually lives. As for whether his religious beliefs make his task more difficult, he doesn't think so.
"It sometimes adds a level of expectation around the kind of person you are and the kind of decisions you make. And some of those expectations come more from other Christians than anyone else," he says. Scott says he is in the position he is in because he understands news and media adding, "The fact that I'm a Christian is part of the package of who I am I suppose."
The biggest challenges of his work are relating to people. Relationships form the greatest agonies of his daily task. "If you find me beating my head slowly against the table, it will nearly always be people issues," he says. The other challenge he mentions is that of leading an organisation as large as the ABC through a season of transformation.
During times of risk, Scott has had to weather the criticisms that inevitably emerge. Most recently he has been in the firing-line following the ABC's decision to jointly-publish along with The Guardian Australia, documents leaked by NSA whistle-blower Edward Snowden. The papers revealed Australian intelligence had tried to listen in to the phone of the Indonesian president Susilo Bambang Yudhoyono.
Does Scott have any regrets about publishing the documents? "No. The issues around what information our security agents are getting, who they share that with, how that information once obtained is protected, and who is overseeing the activity of these security agencies—these are all vital matters of national interest and public importance," he says. The ABC joined a host of reputable media organisations around the world in publishing leaks from Snowden. But it represents the most recent furore Scott has had to stand in the breach for.
When it comes to the kind of information Scott believes the ABC should publish, he says the broadcaster should be a "town hall that excludes no one". His vision is that it be a meeting place where various views can be heard. He sees websites such as the Religion and Ethics portal and The Drum, where readers can engage in discussions in a comment feed, as well as shows such as Q&A where a live audience may ask questions of politicians and other thought leaders, as all helping to fulfil this vision.
A specific outcome of so many new platforms is Christian voices have been heard more frequently. "There have never been more forums for debate and discussion around issues of faith," Scott says.
When it comes to the Christian voice in the public sphere, Scott believes those who speak out need to engage with a wider range of issues. "Some Christian spokespeople, at times, seem to have been easy targets to provide predictable commentary around a very narrow group of moral issues," he says. "If Christianity is only wanting to talk about sexuality and drugs, we run the risk of being caricatured and largely irrelevant to so many of the issues that are so important to modern Australia."
Scott points to the Centre for Public Christianity (CPX) as a group doing well at speaking out on a range of topics. In March, he will joined a line-up of speakers at the Re:Thinking conference, hosted by CPX and World Vision Australia. He is convinced that more than good commentary is at stake. "If people are going to be attracted to Christianity, and the example of Jesus Christ, they want a sense of his relevance for their lives today across a full range of issues."
Email This Story
Why not send this to a friend?