Nepal continues to be shaken by aftershocks after a magnitude 7.9 earthquake struck the region on Saturday April 25. More than 2500 people have been killed, with the death toll continuing to rise.
International aid groups are clambering to assess the damage, made more difficult by the enormous aftershocks, including a magnitude 6.7 aftershock over night that triggered more avalanches.
The quake's epicentre lies in the Gorkha region, between Nepal's capital, Kathmandu and the city of Pokhara. Much of the region's population live in rural villages on hillsides around the main city, also called Gorkha. Landslides have hindered rescue efforts to the region, with teams trekking on foot to get to villages.
Matt Darvas is a communications and development worker from Sydney who has been working in Nepal for nearly two years for International Nepalese Fellowship and World Vision. He is based in Pokhara and has been providing regular updates on the situation on the ground (follow him at @mattdarvas).
This morning, Mr Darvas and a joint team from INF and the United Mission to Nepal are travelling to Gorkha, 80km west of Pokhara, to assess the damage in the worst affected area outside Kathmandu. He's travelling with a team including several general practitioners, anaesthetists, an engineer and an IT specialist, who will work with the local government in Gorkha to set up a primary care centre to help the overwhelmed district hospital cope with quake casualties. He'll also connect with a team of World Vision bringing in emergency relief in the form of tents and shelters, food items, hygiene kits, cooking utensils and sleeping bags.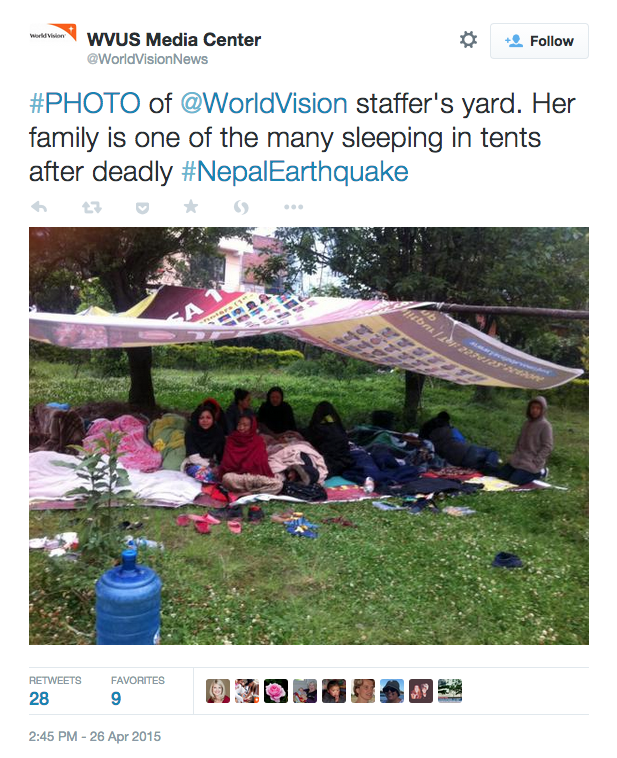 "We don't know what to expect," Mr Darvas told Eternity over the phone as he travelled this morning. "The reports are that the town of Gorkha is doing OK, but it's the outlying villages that we're most worried about.
"At the best of times, these villages are one to two days' walk from the main town there in Gorkha, and that's in the best conditions. Many of these villages will be completely cut off, with no access to medical treatment."
Yesterday, Mr Darvas spent time at the central Gandhaki Hospital in Pokhara, interviewing some of the patients about their experiences of the earthquake. While there, some of the first rescue helicopters sent to assess the damage in these remote villages arrived, full of injured villagers.
"I spoke to one man who was 75 years old," said Mr Darvas. "He was in one of the first helicopters to arrive from a remote outlying village in Gorkha, and he said that his village has 1100 people, 90 per cent of the homes had been decimated, his home included. He said that when the earthquake struck it was like an explosion with rocks going everywhere.
"That man came in with a nine-year-old girl and her mother. The little girl had suffered a dislocated hip when her house fell down around her and her brother had to pull her from the rubble. They were just two in the very early helicopters."
Mr Darvas reported that after the first earthquake on Saturday, people in Pokhara were afraid to go inside – for those who still had buildings to go back in to at all. Families and neighbours set up tents in the open air, and as the aftershocks continued, more and more tents had sprung up. In an interview with BBC World Service Radio yesterday while at the hospital, Mr Darvas said the hospital had evacuated all patients outside in fear of further aftershocks. He saw one woman give birth outside on a mat, with the superintendent of the hospital unsure whether patients were safer inside or out.
Across Nepal, the weekend has seen hundreds of thousands without shelter. The Bible Society in Nepal, based in Bagmati near Kathmandu, reports that while all their staff are accounted for many are spending nights outside "in the cold and rain".
"They're in shock," said Tej Jirel, General Secretary of the Nepalese Bible Society. Vidhya, a worker at Bible Society, says the aftershocks are causing panic.
"We're OK at the moment, but it is scary. Every few minutes there have been aftershocks," he told a United Bible Societies representative yesterday. "We are outside in an open area under a temporary tent. Network access is on and off. We're praying and praying: Lord, please keep our brothers and sisters in Nepal safe."
Bec Johnson, who is on a short-term mission to Nepal with SIM, was trekking near Pokhara when the tremors hit.
"We were on a high camp at the top of a mountain – it was as high as we could go on the trek that we were doing. We were next to a building made of stone and the whole building was rocking," she said.
"Your feet are rocking as if you're standing on a surfboard or like skateboard that's not moving, just rolling from side to side, very uncomfortable, no balance. Then the whole building is shaking. Rocks landed on my bed from the walls, so I'm just so grateful it happened in the middle of the day not the middle of the night. The whole walls of buildings fell out, and the rocks from the building were falling off the cliff and then the landslides started.
"It was quite terrifying. You just have no balance and control over walking and then you continue to shake for quite a long time and you can't tell if you're shaking [or the ground]."
Ms Johnson who was trekking with relatives from the USA, climbed down the mountain as quickly possible – changing route a couple of times to avoid landslides – and got back to Pokhara last night.
"Some of yesterday's aftershocks were bigger than the first. We stopped for lunch and the whole water tank on the top of a four-storey building was tipping over."
Ms Johnson said Pokhara seemed to largely undamaged, as was Tansen, 120km to the south, where she is teaching at a nursing school.
"We will continue as normal but we'll send doctors and health professionals up north to rural communities which were badly hit."
Ms Johnson said she was at a conference two weeks ago with the other 12 SIM missionaries in Nepal, and the conference centre at Besisahar, a small tourist destination with spectacular views, was totally destroyed.
"Getting back to real life while the capital city is in utter destruction is quite hard to do," she said.
"I was with [my friend] Stef in Kathmandu last week and seeing the places that we took photos of and comparing them to the photos of the same places now is just awful. The streets that we slept in are destroyed and the temples that we took photos of are totally flattened and
some of them only just got repaired from the last earthquake, so it's awful to see."
Mr Darvas has asked for prayer: "Be praying that God would use us to work among the people and that he'll keep us safe as we do that. And that as we lend our aid and support that they will see we're there sacrificially because of the love that Jesus has for us and that we want to show them in this time of great need in Nepal."
International aid organsations are mobilising to respond to the unfolding crisis in Nepal. We've listed a few of those organisations below, if you would like to help their efforts:
World Vision Australia's Nepal Earthquake Appeal, 13 32 40 or www.worldvision.com.au
International Nepalese Fellowship (INF) earthquake response: https://give.everydayhero.com/au/inf-earthquake-response
Featured image: INF
More