In his Easter sermon, the new Anglican Bishop of Bathurst, Mark Calder, spoke about his grief over what had been lost during the COVID-19 pandemic and how he yearned for the restoration of normality.
And yet at the same time, he can see how God has gone before him, preparing him for just such a time as this when churches across the nation are closed.
Before entering ministry, Calder worked as a video editor. This has made it easy for him to produce two online services each week for distribution among his vast but poorly resourced Bathurst Diocese (region), which includes the cities of Orange, Bathurst and Dubbo.
Moreover, he was already comfortable preaching to a camera because, for 10 years, he had video recorded his sermons while leading two simultaneous church services in the Noosa Anglican parish on Queensland's Sunshine Coast.
Fuel your faith every Friday with our weekly newsletter
"I had two services on at the same time and so I'd rotate between the two congregations, being there in person one week and preaching via video the next," the former rector of Noosa Anglican Church explains to Eternity via Zoom.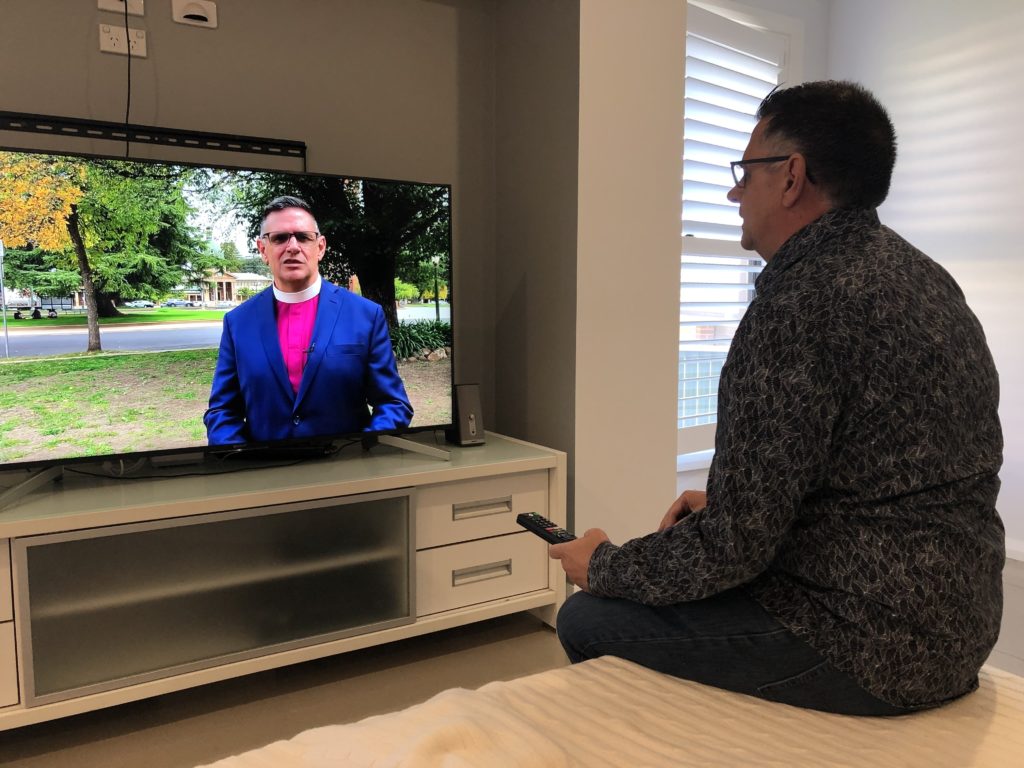 The COVID-19 lockdown has thrown a curve ball into his mission to spark an enlivened passion for the gospel among the Anglican clergy and lay leaders in the Bathurst region. Still, it is clear to Calder that "the Lord has prepared me for this, and the Lord has actually gone before me in this".
He also can see how God is using this time of social isolation, and closure of churches, to show the path to renewal for a diocese in drought. Not only in the geographical sense, but also on the spiritual and financial planes.
It's no secret, he points out, that the Bathurst region has been through a terrible time during the past several years. It lost many millions of dollars in a court case stemming from a loan that got out of hand and couldn't be paid back. In addition, $2 million has been paid out, so far, in redress for sexual abuse claims – and a lot more will need to be paid.
"We take [redress] very seriously and we want to do that." – Mark Calder
"So that was a very trying and difficult time – trust funds were given up by parishes and properties were sold," explains Calder.
"All our schools were sold to try and meet the bank's requirements. In the end, the bank gave us a deed of forbearance and so that was put behind us, but the result was that there's just no spare money to do anything with.
"My position here and the position of the registrar in the office are funded through a wonderful gift through the Sydney [Anglican] Diocese, for which we're very grateful.
"Right now, we're still facing our debt in terms of the redress scheme for victims of sexual abuse.
"It still means we're selling properties and looking to sell more properties to meet our commitments there – which we're very keen to do.
"We take that very seriously and we want to do that, but the only way we can fund that is by selling more properties."
As this period of social isolation continues, the 60-year-old new bishop is using it to model the type of services that he wants churches in his region to start exploring.
"I'm producing for the whole diocese because there's only one or two churches … able to do live streaming or online services," says Calder.
"I'm really producing two styles of service every Sunday for a more traditional gathering and a more contemporary gathering."
Calder says there is a widespread recognition among the Anglican leadership in the Bathurst region that, unless churches attract a younger generation, their future is dire.
"Right across [our churches], the missing age group is anywhere between 20 and 60. That whole entire age group is massively under-represented across all of our churches – but for one or two – and so we know that we have to reach an emerging generation, or we die.
"I think clergy and churches are very aware of that at this present time."
"I want people to be on about the riches of God's grace, to be excited about that …" – Mark Calder
One of the changes that must be made, he believes, is the offering of an alternative to the rituals and traditions of the Anglican church, as beautiful and wonderful as they are to many church-goers.
"If we're so devoted to the traditional rituals that we can't work out how to do something that's going to be more culturally appropriate and less alienating, then we are too wedded to our traditions," he says carefully.
"And that's what I'm modelling on the diocesan website. You can see that I'm offering a traditional service and a contemporary service. And part of the reason for doing that each Sunday is because I do want to model to clergy what a contemporary service might look like and what might attract a younger generation of people to church."
When Calder first arrived in the diocese last November, he wanted to meet as many of the clergy as he could, so he divided up the region into three geographical regions and spent three big days visiting each of them. He was able to share his vision, which Calder simply outlines as his great passion for the Lord Jesus and the riches of his grace.
This "vision" sounds fairly standard until he unpacks the idea a little more.
"We've just celebrated Easter – that's all about the riches of God's grace to us in the death and resurrection of Jesus. I'm on about that and I want people to be on about that, to be excited about that, to be enlivened by that, to have clarity around that.
"Then I said to people that I'm passionate about preaching and I'm passionate about preaching Jesus and the gospel of grace, so that's what you'll hear me doing in preaching because I think it's as people grasp the riches of God's grace that they become enlivened in their own relationship with God."
Asked if this gospel truth had been clouded by legalistic preaching, Calder treads carefully.
"My experience is there's a lot of people in churches who don't have a clear grasp of the gospel and so I want everybody to know where they stand with God, have assurance of their salvation, know that peace with God has been won for them through Jesus, to be confident and increasingly clear about their faith."
It is Calder's conviction that as people wrestle with the Bible and understand grace, they will come to see it as the best news in the world. They will "love it and revel in it themselves so that they'll then become agents of bringing that same gospel of hope and peace to those in our towns and villages across the diocese."
Calder says he has met many longstanding Christians in all sorts of churches across Australia who have not properly understood that we're saved by what God has done for us.
"They think it's about what they do for God, not what he's done for us. And that's either because the gospel hasn't been made clear in churches that they've been at, or they've been asleep.
"When I first went to Noosa there were a lot of people like this who had a genuine love for the Lord, but if you [asked] them that sort of diagnostic question, 'if you die tonight are you sure you're going to be with God in heaven?' they could only come up with, 'Well, I hope so,' – on the basis that they'd put in a good effort kind of thing.
"Their hope didn't have anything to do with what Jesus had done for them on the cross.
"[But] as you spoke to people and unpacked that with them, they began to see that, of course … Jesus has done it all and it's not what I do, but what he does. And people became excited about that. They become enlivened and then want to tell other people the story."
"I felt the warmth of the invitation to come and be forgiven through what Jesus had done." – Mark Calder
Born in Broken Hill, in western NSW, Calder grew up in Sydney in a Christian home and remembers giving his life to the Lord at age 10.
"I knew about Jesus and God and went to church and Sunday school, but it was when I was 10 years old that I went forward at a rally that had been organised in Parramatta by the local churches and there was a Baptist preacher called Brian Willersdorf and he preached in such a way that I needed to respond.
"There were things that struck me that day, April 1969. First of all, that I'd been treating God appallingly, that I'd pushed him out of my life and been living without him. I felt the weight of that and felt the serious nature of that. But, secondly, I felt the warmth of the invitation to come and be forgiven through what Jesus had done.
"I went forward … and I think I was overwhelmed by the weight of the way I'd been treating God, but also the fact I could be completely forgiven and have that wiped clean. So, I'm thankful to God for that-  and for Brian Willersdorf's ministry."
While Calder confesses to having no immediate plans to restore the region's finances, he believes that when churches are growing and preaching the gospel, they will attract new people. Eventually, then, churches in the Bathurst region will be able to begin paying their own way.
"We've 32 parishes; there's only a few of those who have full-time ministers. Even in the last month, because of the COVID-19 situation, some of the ministers have had their days cut back … because parishes are struggling even more under the financial burden that's been the result of COVID-19.
"But looking forward, healthy churches will mean clergy and staff workers will be able to be supported and … build up and grow churches again.
"This is why I need churches to be focused on the gospel, enlivened by the grace of Christ – and to have a heart and passion to see people come into a relationship with Christ."
"There are people here in churches … longing for the gospel." – Mark Calder
While it was a huge wrench to leave Queensland, where the Calder family had built a new house and left behind children and grandchildren, Calder says the move was made a little easier by the certainty this was what God wanted him to do.
He was unsure when he and his wife Susan first chatted with the diocese's election board, but were encouraged by their enthusiasm for the gospel – and that they were committed to change.
"They were the ones themselves that said 'if we don't change, we die,'" explains Calder. "The change they wanted wasn't just any change, it was gospel-shaped change, a getting back to the gospel of the Lord Jesus Christ.
"After a couple of days of reflection on that conversation, Susan and I just said to each other, 'Well, we have to go because how can we say no to that?'"
Calder finishes our interview by making a plea for more ministers to come and work in the Bathurst  diocese – to see this vision come to fruition.
"We have five or six parishes without ministers, so I need people to consider coming out and working out here," urges Calder. "There are many opportunities and many advantages to working out here in terms of life and lifestyle and beautiful countryside and wonderful people – so come out, bring your young family … you won't regret it.
"There are people here in churches longing for good leadership, biblical teaching, longing for the gospel."
Email This Story
Why not send this to a friend?