Australia
sport
Aussie brothers want to shred the world's slopes
Meet the blokes behind the Snoogee board
Two Australian brothers want to give the world a sled that can shred the slopes like a snowboard.
Ben and Michael Bateman hail from Gosford on New South Wales' Central Coast (north of Sydney). They hope their Snoogee board can soon take over international ski fields.
"It brings snowboarding and bodyboarding together," explains Ben about the Bateman family's desire (Dad Rob is also in Team Snoogee) to create a sled "with all the carving capacity of a snowboard, so it's the ultimate carving sled."
If you are not in the know, other steerable sleds and snow skates already exist. But the Bateman boys maintain Snoogee would be easier to master than a snowboard, snow skate or skis – while providing greater opportunity for tricks and moves than a sled.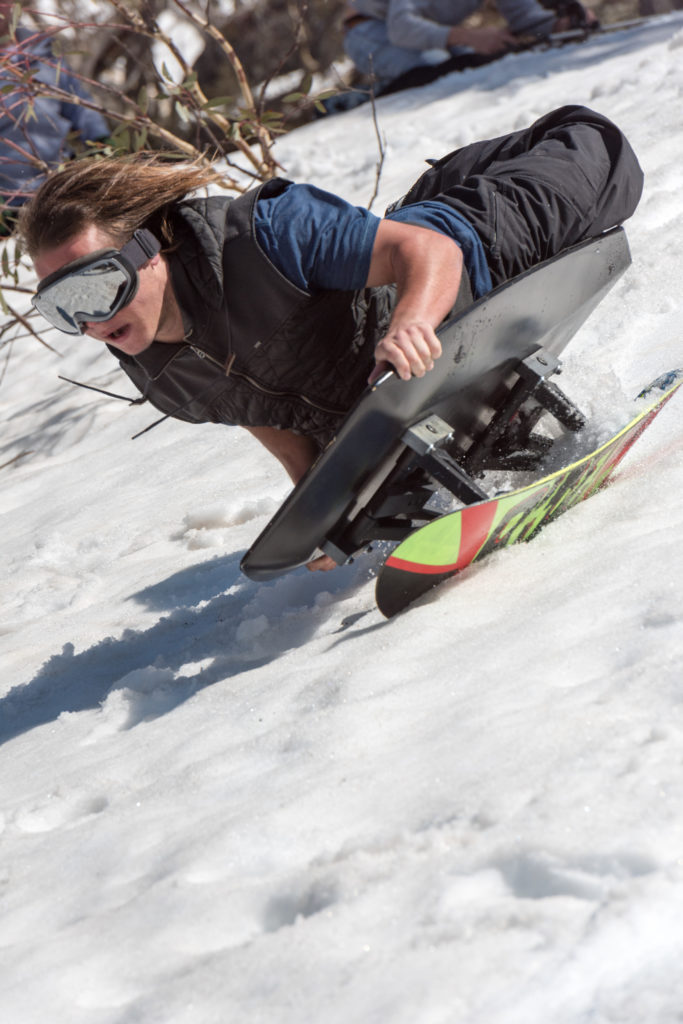 Appropriately, the Batemans are going to leave the Australian summer behind and head to winter in Austria this January. They're looking to do some further development to Snoogee's melding of snowboard and bodyboard before launching a Kickstarter funding campaign in February or March.
Snoogee has been here before. An earlier Kickstarter campaign didn't generate the noise hoped for. Visits to US trade shows got them close to distribution deals. Ben Bateman summarises previous obstacles as production costs and prices.
"We got good feedback, but we could see some specific hurdles that had stopped us in the past," Bateman reflects about Snoogee's challenges with turning dreams into reality. "[But] we never got to a point where we explored the options for Snoogee's full potential, which is why we have not stopped."
Another reason Snoogee still shoots for slopes success is Bateman's approach to life and work and, well, everything. "I'm passionate about Jesus, passionate about developing people and I'm passionate about action sports. I believe that those core desires are all from God. So while I have the capacity to do all three of those, I will."
Snoogee has been on the Bateman back burner for a bit, as finances and refinements have been cultivated. The Bateman family already operates one business – the Little Miracles childcare centres in various NSW locations. Rob and Susanna Bateman founded the centres in 2004 and their children (including Ben and Michael) work at them, in various roles. Their faith and principles undergird the family approach to business without Little Miracles being explicitly shaped as "Christian" centres.
"The heart of Christ is that he placed value upon everybody." – Ben Bateman
Forging his own faith in Christian Surfers during his teens and spending a few years in the US as a youth pastor, Ben Bateman also has been a high school chaplain. But he never planned to work for a church (although he did do that for a while) and says he finds "it very easy to work with those who don't believe, who are sceptical of God." Bateman feels more comfortable and able to be himself outside a traditional church setting – such as on a powdery mountain or perfect wave.
Whether he is working on making Snoogee take off or nurturing staff and parents at Little Miracles, Bateman speaks of his heart wanting to be like that of Jesus.
"The heart of Christ is that he placed value upon everybody." Bateman is struck and shaped by how Jesus did many miracles in public yet by the end of his earthly life, Jesus wasn't surrounded by thousands of people. For Bateman, the miracles were just a signpost to what Jesus continues to offer – and Bateman hopes to help people not miss out.
"Jesus' miracles were an outpouring, an excess, of who he is and that he would love anybody, anywhere, any time."