Australia
family
From pregnant teen to Australian of the Year
Now Bernie Black is helping others defy the odds
When the achievements of our nation's brightest are celebrated this Friday, January 25, at the annual Australia Day Awards, among the nominees for Australian of the Year will be Bernadette (Bernie) Black. Named 2019 Tasmanian Australian of the Year last November, Black (a member of C3 church in Hobart) cannot believe that she has come to this point in her life's journey.
That doesn't mean Black is a stranger to accolades. She has been a finalist for Australian of the Year in 2008, was named Barnardos Australian Mother of the Year in 2009 and the Telstra Tasmanian Business Woman of the Year in 2016, and she was also a winner at Anglican Deaconess Ministries' 2018 Annual Funding Event.
But 25 years ago, Black's story was very different.
Every year in Australia there are almost 9000 teen parents.
Bernie's story
At the age of 16, after the first sexual encounter with her first boyfriend, Black found herself pregnant.
"I couldn't believe that I was actually in that situation," she tells Eternity.
"I remember going to a pharmacy and thinking 'I have to go to the bit that has all that grown-up stuff and I have to pick up the worst thing, which is a pregnancy test.' I put it in my surf bag as I was going to a shift at Wendy's ice cream parlour, and I remember thinking I just wanted yesterday back."
Being from a working-class and strict Catholic family, Black's greatest fear was telling her father.
"My first thought was about my dad. He had worked two jobs so that we could have the opportunity that they never had of finishing Year 12 and being able to go to university. I was his princess and he was doing his very best."
She recalls the terrifying, inevitable conversation: "My dad came in and he was green-grey with anger. He knew something was up with me, but he didn't know what it was. I couldn't look at my dad, so I just looked at the ground and said it … Then we heard my bedroom door slam, and the hallway door slam, and the front door slam. And then he went to the middle of the main road in the suburb where we lived in Melbourne and screamed out that his 16-year-old daughter had sex and now was pregnant. It was pretty traumatic."
While her parents did overcome the initial shock to support Black through her pregnancy and the birth of her son, unfortunately, she did not receive the same response outside the walls of the family home. She remembers two particularly biting experiences: being called a "dirty little slut" by a bus driver on her first outing with a newborn, and being denied service at an upmarket makeup counter after being told "babies having babies can't afford this."
But for Black, this shaming helped to clarify her resolve to follow through on three promises she had made to herself at the end of her pregnancy: "to be a good mum, to finish my education and to write a pamphlet to help other young women in the same situation as me."
79 per cent of expecting and parenting teens are on long-term welfare.
Building a village of support
Bernie Black went on to do much more than just write a pamphlet. After finishing high school while caring for her son, she became a registered nurse, and later managed not-for-profits and even dabbled in politics.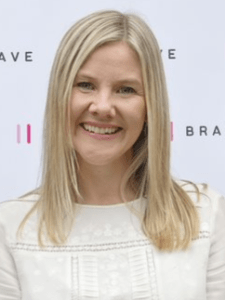 And by publishing her own story in 2006 in a book called Brave Little Bear, she created a resource that has helped other teen parents.
Most significantly, Black has spent the past 12 years creating Brave Foundation, Australia's first and only national organisation dedicated to helping expecting and parenting teens, of which Black is CEO and Founding Director.
Every year in Australia there are almost 9000 teen parents. Through Brave, Black and her team have supported thousands of these young people, as well as their families, friends and even professionals, such as school teachers and nurses. In doing so, Brave's ultimate aim is to "build a village of support and acceptance around expecting and parenting teens."
"It just shouldn't be that hard for these young women to be able to have the support they need," Black asserts.
In 2009, Brave Foundation became an incorporated not-for-profit charity and last year, after much lobbying on Black's behalf, the federal government awarded it a grant of $4.4 million to run a nationwide trial programme. Over the next two years, the Brave SEPT (Supporting Expecting and Parenting Teens) Programme will connect 375 teens with support services, educational and employment opportunities. Ten accredited mentors across Australia (in Queensland, NSW, Victoria, the Northern Territory and Tasmania) will meet monthly with these young people to help them identify and fulfil specific goals through Brave's "Pathway Plan."
The mentors will help teens navigate seemingly trivial tasks, such as applying for a Medicare card or packing a nappy bag, which can be overwhelming for young people. They will also tackle more difficult things – such as completing education with a baby in tow – and connect teens with Brave's directory of more than 500 community service organisations.
"Already we're saving the federal government $30.45 million." – Bernadette Black
The trial programme has shown great success since it began five months ago.
"At the moment, we've got 60 of our expecting and parenting teens already reaching their first goal towards either education, workforce participation or health and wellbeing," says Black.
"Once you start to develop the cycle of having small wins … you feel a sense of accomplishment. So then when you meet that first goal, the likelihood that you'll meet the second and the third is drastically increased."
This is particularly significant in breaking the cycle of welfare dependence in which many teen parents find themselves. In fact, a staggering 79 per cent of expecting and parenting teens are on long-term welfare – for more than seven years. As a result, Black notes each of these teens burdens the federal government with $648,000 in lifetime costs according to Australian Bureau of Statistics (2016) data.
Black points out the massive savings the SEPT programme will provide: "Already we're saving the federal government $30.45 million for a $2 million investment," Black estimates.
"What's most important for us is the social prosperity, hands down, but the economic business case is just so compelling … I think it will be a leading example for modelling policy design in the future for people who are on long-term welfare."
"Just one positive voice saying 'you can do it' can make a difference."- Bernadette Black
Another multigenerational benefit of the programme is a reduction in teen pregnancy rates.
"Teen parents have a higher rate of having children who are teen parents. However, when you see education and support in that mix, then those risk-taking behaviours do decrease," Black explains.
She gives an example: "We have a story as recent as last week where a teen mum had been expelled from school and she had not had a good journey with education. But [with the help of her mentor], she went back to school … and she got her first ever A in her whole life. Doesn't that just show that if you don't have anyone in your corner, anyone championing you, how can you have a different expectation of an outcome? Just one positive voice saying 'you can do it' can make a difference.
"Not only is this young woman's life drastically changed – and she's now thinking about what her career is going to be – but her child's life is also drastically changed. Then our community is changed. So the ripple effect is enormous."
"You can't underestimate the difference that a smile makes." – Bernadette Black
Smashing stigma with a smile
As she looks to the future, Black is hoping to secure enough funding to expand the SEPT programme into other states and to accommodate those on the waiting list – currently about 100. Outside the SEPT programme, Brave will also continue to provide support via its online directory and chat service, scholarships and "Journey to Destination" workshops for small groups.
In addition to fundraising, Black hopes to also use any publicity generated by the Australia Day Awards to spread the message that the whole community needs to tackle the discrimination still faced by teen parents. She credits Brave with being "a spearhead" in facilitating more discussion about teen pregnancy over the past 10 years, but adds that there is still much work to do in changing cultural perceptions.
"When I speak to teen parents, which I do often [every day for years], the stigma is the greatest issue they are grappling with.
"Everyone is a part of the Brave village, and we can really smash stigma with a smile – that might be on a bus, on a train and in our own neighbourhood. A lot of the young people that we work with, who are expecting or parenting, often from backgrounds which are very tough, and you don't know what they walked away from that morning … You can't underestimate the difference that a smile makes."
When it comes to the church, Black urges Christians to "see that woman or that young man in front of you as who they are and not the situation that's happening to them." She notes the impact of such a response in her own life when a teacher at her Catholic secondary school said, after discovering she was pregnant: "The journey might be different now, but the destination can stay the same.
"Teen parents still have high hopes for their dreams, aspirations and careers, and for their families," says Black. "It's just that they need to see someone in their world who knows that about them and helps usher that into reality. We can all do that."
Email This Story
Why not send this to a friend?