Australia
art
Indigenous artists win global recognition for Our Mob, God's Story
Book awarded for "most creative" Bible publication
Our Mob, God's Story – the iconic art book by Bible Society Australia that won Christian Book of the Year in 2017 – was singled out at this year's United Bible Societies (UBS) Publisher's Convention.
The book picked up the Vallotton Award for new audience products at the convention, held last month in Nairobi, Kenya. The award, given out in honour of pioneering illustrator Annie Vallotton, recognises the most creative examples of Bible publishing among the UBS network – which includes Bible Societies in over 200 territories across the world.
"We have many unique voices in this country, particularly Indigenous voices, that this world needs to hear." – Louise Sherman
"I've learned so much from these artworks myself and I'm delighted to see the book winning awards," said Greg Clarke, CEO of Bible Society Australia. "The Bible speaks into all cultures and it is exciting to see international recognition of its place in Australian Indigenous life."
Our Mob's, God's Story tells the biblical story through the artworks and personal faith journeys of Aboriginal and Torres Strait Islander artists from across Australia. The book includes more than 115 paintings by 66 artists, which depict some of the best known Bible passages from the Old and New Testament.
The book was released in 2017, after seven years in the making. Its publication coincided with Bible Society's Australia's 200th birthday. The same year it was named Australian Christian Book of the Year by SparkLit, in its 37th annual award ceremony.
Judges of the SparkLit awards said of the artists showcased in the book: "They paint in a dazzling variety of styles and write with uncommon wisdom and generosity. These artists share their vision of Jesus in order to bring us together as brothers and sisters."
One of the Aboriginal artists featured in the book, Max Conlon from the Kabi Kabi tribe in Cherbourg, Queensland, sees it as an evangelistic tool: "It's really good because it engages people, unsaved people, and Christians who are going through struggles in life and it builds them up."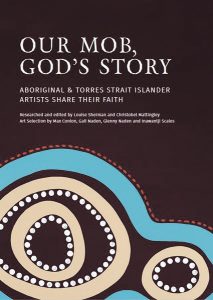 Bible Society Australia's Louise Sherman, who co-edited Our Mob, God's Story with South Australian author Christobel Mattingley, commented to Eternity: "We have many unique voices in this country, particularly Indigenous voices, that this world needs to hear. It will also promote the work we do in translation, publication and Bible engagement."
All proceeds for Our Mob, God's Story go directly towards Indigenous Scripture publication translation and ministry. Click here for more information or to order your copy.