Australia
relationships
New app delivers 'Christian dating without the cringe'
HiJosh promises in must-watch video
Thousands of Australians have already registered for a new Christian dating app that has just launched Down Under.
The free Christian dating app Salt first began in the UK in 2018, where it now has tens of thousands of users. According to its creators, Salt has become "the highest rated and most downloaded Christian dating app in Britain". Their hope is it will also become Australia's leading faith-based dating app, and change the online dating scene by becoming a "Christian alternative to Hinge and Bumble".
"We've seen even from the pre-launch registrations that Christian Australian singles are looking for an app that not only introduces them to other Christians, but is easy to use and connects them with a wider community," said Paul Rider, UK founder and CEO of Salt.
"In the UK we have seen all ages benefit from using the app, from 18 year olds right up to 82 year olds!" he adds.
"Christian dating has changed," the app's marketing boasts. Certainly, Salt looks different, with a website and Instagram feed filled with simple, inspirational images and Bible verses.
The Australian launch of the app is backed by our very own Christian comedian HiJosh (Josh Hawkins), who put together a must-watch video on "Every Christian dating cliche."
In his dramatisation of Christian dating scenarios, Hawkins comes out with such classic lines as:
"I'm 21 and still not married! Have I missed the boat?"
"Do I work out? No, I just carry my cross daily."
"Looking for a Proverbs 31 girl #modestishottest."
While humour is part of Salt's marketing strategy, the creators have serious intentions for the app: "Salt exists to enable and support Christian dating, relationships and marriage. We are passionate about the positive impact Godly relationships and marriage can have on society and want to play a small part in helping this happen."
Rider says, "Faith is fundamental to partner choice, but it is hard to meet people outside of your immediate church circle. We want Salt to be more than just a dating app, we want to support Christians as they go on the journey from being single, to meeting others, dating, and to then building a relationship."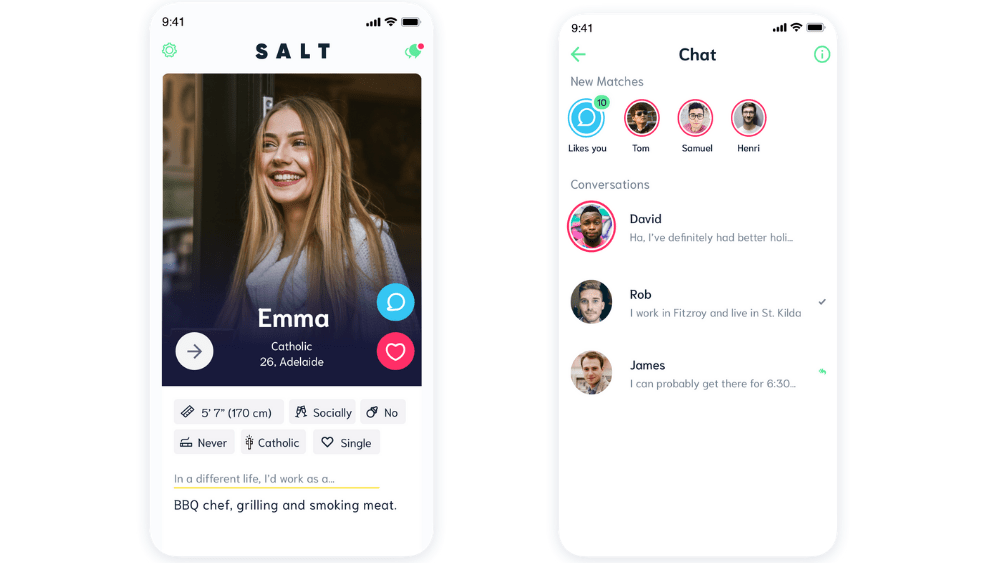 In a promotional video,"Ollie from Salt" explains how the app actually works: "It's speed dating, but better!" he enthuses. "Join one of our online events and you'll go on lots of short video dates all from the comfort of your own home. We'll match you with other Salt users who fit the age preferences that you've set in the app yourself.
The app's advertising clarifies that "individuals only receive messages from people they have chosen to match with".
While the app is free to download, as well as to meet, match and talk with others, users have the option to upgrade to a premium account for extra features. The app is available for iOS and Android devices.
Email This Story
Why not send this to a friend?