Conversations about religious freedom have been circling in Australia for the past two years. But you are not alone if you feel confused about exactly what's happening in terms of law reform or wondering why you should even care about the issue.
Fortunately, all the dumb questions you want to ask have been covered in the latest episode of Eternity podcast With All Due Respect.
Executive director of Christian legal think-tank Freedom for Faith Michael Kellahan fields the questions of hosts Michael Jensen and Megan Powell du Toit, and we share an edited version below.
But first, here's a quick recap about key events in Australia's review of religious freedom:
In November 2017, the government asked former Attorney-General Philip Ruddock to lead a panel to review the issue of religious freedom.
The Religious Freedom Review received almost 16,000 submissions.
The review panel presented its report to the former prime minister, Malcolm Turnbull, in May 2018.
The report made 20 recommendations to improve the protection of freedom of religion rights in Australia – by amending national, state and territory laws, as well as other measures.
In December 2018, the government released its response to the report. It accepted 15 of the 20 recommendations but wanted to further consider the remaining five.
In August 2019, Attorney-General Christian Porter released proposed drafts of three bills which will be used together to create new religious freedom laws. The draft bills are: the Religious Discrimination Bill, Religious Discrimination (Consequential Amendments) Bill and Human Rights Legislation Amendment (Freedom of Religion) Bill.
These three draft bills are now open for public feedback.
The first bill that the government will finalise and implement is the Religious Discrimination Bill. This is the bill discussed in the interview below.
What is the Religious Discrimination Bill and how was it formed?
Michael Kellahan: At the moment, the Religious Discrimination Bill is still a draft piece of legislation. The government is about to finalise what it wants it to be and then send it to Parliament … If it passes through the Parliament, then it will become an Act of Parliament and become a law.
There's been a long submission process, starting from the Ruddock Inquiry, which had more than 16,000 submissions. It's something that's had a lot of input from a lot of people.
Going through all these submissions, and the other submission processes that have taken place, there's two broad camps that they fall into; they disagree on whether or not there's a problem.
So the question of 'do we actually need protection like this?' is very much up for grabs. Some people say we have protection, it's not an issue. Other people say well, actually, we do.
The main way you'd explain that difference is that some would say religious freedom really is just about your own private beliefs or what takes place at church. It's a Sunday thing, but it needs to stop at the church door; or it stops when you go into a business; or when you interact with other people; or where it comes up against other rights, like LGBT rights.
Others would take a broader view of religious freedom, saying this is who I am and I need to bring that into all of life. That will bump up against all sorts of things.
Does the bill prevent discrimination in some ways but then create discrimination in other ways?
Michael Kellahan: The bill is not trying to protect religious rights – that's not what this bill does. If it was, then we would be having a conversation about a Bill of Rights. Instead, [the bill] says you should not discriminate against people on the basis of religion.
It's not a [matter of] 'here's your rights, let's protect them.' It's a 'here's a very narrow category of things which you can't discriminate against people for' …
There already are recognised categories of discrimination that the Commonwealth and the States have. You can't discriminate on the basis of age, gender, sexual orientation and so on. This [bill] is really just adding to that by saying religious discrimination shouldn't be done either.
Now the question you then ask is: what about religious bodies, don't they get to discriminate? If the object of the bill is to stop religious discrimination, how does that apply to a religious body? Can it decide who its ministers should be, because that's going to be religious discrimination, isn't it?
And, so, the bill needs to allow for religious institutions to do their own religious discrimination, which might be unjust. Otherwise, they wouldn't be able to be a religious institution.
In public discussion, a lot of people are saying that Christians want freedom from religious discrimination so that they can freely discriminate. What are your thoughts?
Michael Kellahan: The way to cut through that is to [ask], is it unjust discrimination? … That's the issue: is the discrimination we're talking about unjust or not?
Some discrimination will be good. You know, we want the Blind Society to be able to preferentially employ people who are visually impaired – that shouldn't be an outrageous thing. Nor should it be outrageous for faith-based schools to say we'd prefer to have people who share the same faith …
The exemptions that religious institutions have to the Sex Discrimination Act isn't being dealt with by this bill. This bill is not about discriminating against people on the basis of sexual orientation or other protected attributes … That's a 'next year problem'. That's going to be a much harder discussion.
I think this one [about religious discrimination] actually should be far less controversial. It should be easy for us to agree together that discriminating against people on the basis of what they believe just shouldn't be done.
It's a helpful reminder too that the issues here are much broader than often the media picks up – so are the places where it impacts. I was talking to a dad in a Muslim family who said that if his daughters are veiled and walking down the street, they're spat on. They're abused every day.
There are terrible things which are taking place to minority faiths in this country and they don't have protection in Commonwealth Law, and they [ask], 'well, why not?'
If I'm an ordinary Christian, going about my business, and I don't see a problem with the freedoms I have, why should I care about this legislation?
Michael Kellahan:  It's a bit like the fence around the pool – you don't need it until you need it. So it is one of those things which you hope you don't need but it would be naive to think that there aren't serious legal challenges coming, if there's not sufficiently robust protection.
So, there are calls for churches to lose their ability to do things as basic as being able to teach their beliefs in church. It's outrageous that that should even be on the agenda and yet, we've seen that human rights mechanism used to do that …
There are other issues which are going to come up to. We're starting to see euthanasia being debated around the country – it's live before some parliaments at the moment.
If you have a faith-based objection to that or if you're running a hospital or aged-care facility, and there's people in there that want to do euthanasia and your faith is saying 'no, we shouldn't be doing that', then whose rights trump the other-  or how do those rights relate?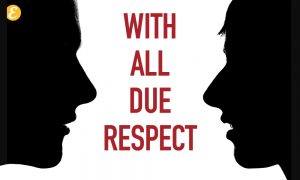 Catch the full conversation, as well as Megan and Michael's insights into "Is religious freedom a good thing?", on episode 27 of With All Due Respect.
If you like what you hear, subscribe to With All Due Respect for even more conversation, less aggro.
Email This Story
Why not send this to a friend?