Australia
Bible
The Bible 'comes home' to Gunbalanya
It has taken over 70 years, but there is finally a full New Testament for the Kunwinjku-speaking peoples of West Arnhem Land
"The Bible has come home to us," said Reverend Lois Nadjamerrek, with tears in her eyes. As she clutches her new Kunwinjku New Testament, emotion overcomes her.
"I'm thinking of God's word in my language," she says when I ask her why she is crying. "It's so special today. I thank God, that God has a plan for me to finish this work in my own language.
"It's very important that the word of God is here in my community now. I'm so very happy."
Reverend Lois' church in Gunbalanya welcomed close to 150 people on Wednesday to celebrate the dedication of the Kunwinjku New Testament. Visitors travelled from all over Australia to join with the local people.
They drove through the majestic Kakadu National Park along rough stretches of dusty red dirt and braved the notorious, crocodile-infested Cahill's Crossing to get to the other side of the East Alligator River and into Arnhem Land, to Gunbalanya (also known as Oenpelli).
This Bible is more than 70 years in the making. The last Kunwinjku version was published in 1992, a so-called "mini-Bible" containing just two of the Gospels, the book of Acts and letter to the Ephesians, along with Genesis, Exodus and Ruth from the Old Testament.
Almost 30 years later, the approximately 2000 Kunwinjku speakers in Gunbalanya and the Northern Territory have the full 27 books of the New Testament, and also Genesis, Exodus and Ruth.
"Can you imagine Christians from English-speaking backgrounds in Sydney, not having the book of Romans, Philippians, 1 Peter?" – Bishop Greg Anderson
Anglican Bishop for the Northern Territory, Greg Anderson, is one of the Kunwinjku language's most recent students. He travelled to Gunbalanya to celebrate with Reverend Lois and the community.
"This community has a strong heritage of knowing that the Bible is God's word and that God speaks to us through the Bible and that his word is living and active," said Bishop Anderson. "To have the Bible, in this case the New Testament, in a language that people can understand fully means that God's word is available here and now in a new way.
"This has been in process for so long. People have slogged away at this work for such a long time, there is a sense of completion. And now we're imagining having the Psalms in Kunwinjku. And Isaiah!"
It was 1942 when the first written material was published in Kunwinjku by the Bible Society – a small Gospel of Mark translated by Nell Harris, a missionary who spent more than 30 years in Arnhem Land. She spent many hours in a bark hut – looking out over the same billabong we gazed over at Wednesday's launch with two Kunwinjku speakers, Rachel and Hannah. Together, they translated five verses a day.
Other Bible translators and CMS (Church Missionary Society) missionaries followed the tradition of working closely with Gunbalanya's Kunwinjku-speaking people, including Peter Carroll, Meryl Rowe and Steve and Narelle Etherington.
But it is Reverend Lois and those she leads in Emmanuel Church in Gunbalanya whose lives will be changed forever with the arrival of the Kunwinjku New Testament.
"I love to share the word of God to my own people in my own language, so the people may come to know the Lord," Lois tells me.
Bishop Anderson says it can be difficult for English-speaking people to fathom the importance of such an event in Gunbalanya.
"Can you imagine Christians from English-speaking backgrounds in Sydney, not having the book of Romans, Philippians, 1 Peter?" he asks. "Now, all of those books that they have never had before are now available. Can you imagine reading Romans for the first time, with all of that setting out of God's great plan of salvation in Jesus? And now they'll actually be able to understand what Paul is saying."
Lois' sister, Hagar, is also a church and community leader in Gunbalanya, and says she was just as excited about the arrival of the Bible in her community.
"Today is a very exciting day, celebrating the Bible in our language. It will help the people to understand what we believe – that we believe in the Lord Jesus. We have to hear and see in our own languages, and it will help us to understand more and more. Our language makes us feel strong," said Hagar.
"We feel proud to have our this Bible in our language." – Hagar Nadjamerrek
One of the first to line up to receive a new Bible was Raylene Gellar, a Kunwinjku speaker who grew up in Gunbalanya.
"I thank God for the work that he has done through the people in this community. I grew up here and I learned to speak the language reading from the songbook in church, singing from the songbook. That's how I learned to read and write in Kunwinjku. So I'm so happy that we have this in that language, now.
"I think it is very wonderful news."
The work is not done. More books of the Old Testament are being translated into Kunwinjku, with the Book of Psalms finished as a first draft. Yet, as the work continues, Hagar says she will work alongside her sister, Lois, to ensure her people learn from the words of Jesus that they now have in their heart language.
"We feel proud to have our this Bible in our language," she says. "It is now important to share it. This is our future. This is what we need our kids to learn and to understand and to share the Good News among our people."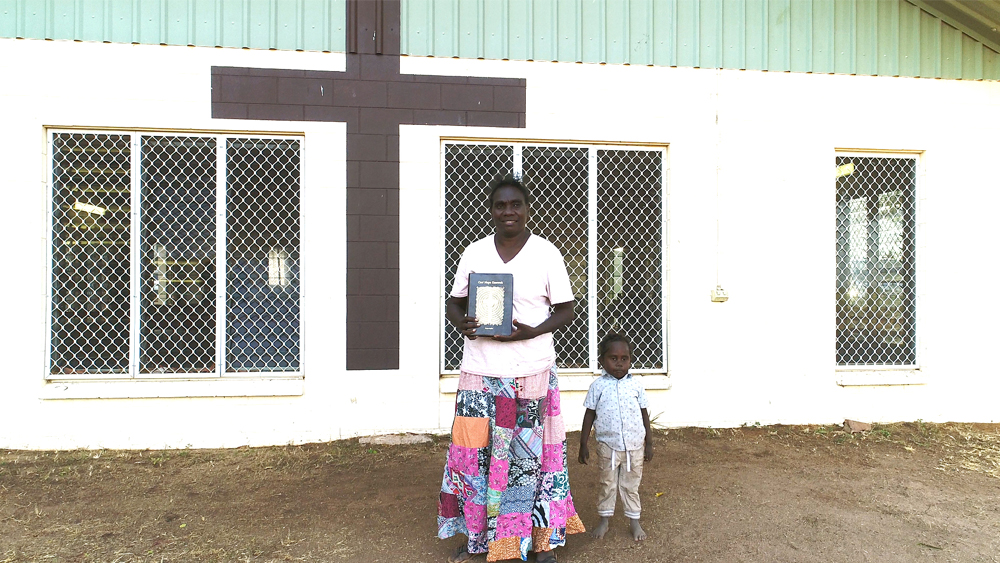 Can you support Bible translation work in indigenous Australia?