Anglicare Sydney's much-loved Christmas fundraiser 'Toys 'n' Tucker' is on again this year, but it looks quite different.
Traditionally, Toys 'n' Tucker involves individuals contributing food items and toys to Anglicare, which are generally collected through Anglican churches and schools around the city. These items are packed by volunteers into Christmas hampers, which are then distributed to families in need.
Amid ongoing concerns surrounding COVID-19, Anglicare has this year streamlined the process. Instead of donating actual goods, participants are being asked to 'shop online' via the Toys 'n' Tucker website for Christmas hampers, treats and gifts, which are then provided to those in need through contactless delivery. Anglicare has been able to source these goods from wholesalers and through partnerships with other organisations such as Foodbank.
Project manager Nathan Moulds explains, "When we were planning for Toys 'n' Tucker 2021, we were right in the thick of lockdown, over a thousand cases each day… we had to look into a very uncertain future."
Many of Anglicare's clients lived in the then-identified '12 LGAs of concern', and no one knew how long those strict restrictions would last. At that stage, the vaccine rollout was also very slow, and cases seemed likely to skyrocket once restrictions were lifted.
Of course, Anglicare Sydney knows just how serious COVID can be. Its aged-care facility Newmarch House was the site of a devastating outbreak in April 2020 with 17 residents succumbing to their infections, the impacts of which are still keenly felt by staff.
But despite the challenges of running the Toys 'n' Tucker program, the team was motivated to find a solution. They had an increase of over 40 per cent in requests for food and financial assistance during this winter's long lockdown, with many of the requests also far more complex than before as people struggled to pay their bills, rent and put food on the table.
For many of these people, even after lockdown lifted, Christmas was looking grim.
So, the Anglicare team made the plan they thought was necessary to protect staff, volunteers and clients, while still ensuring the project could go ahead and moved Toys 'n' Tucker online.
Nathan says that "The goal of Toys 'n' Tucker is always to share the joy of Christmas, but we don't want to share an infectious, deadly virus!"
"The goal of Toys 'n' Tucker is always to share the joy of Christmas, but we don't want to share an infectious, deadly virus!"
Through the new system, a number of points of risk are eliminated.
Instead of going to busy shopping centres to purchase gifts and food, people can shop from the safety of their homes. Nathan does acknowledge that the process of shopping for Toys 'n' Tucker is something that many people really enjoy, so the Anglicare team has tried to replicate that as much as possible online, allowing people to choose from different combinations of gifts and food for different types of recipients, including parents, kids and teenagers.
The next point of risk would normally occur as churches, schools and community groups collect the goods, which then need to be picked up from locations all over the city and beyond to be brought for packing to a warehouse in Villawood. This step is basically eliminated in the new system – which, as Nathan explains, is really important, because those drivers are now needed for a different role.
"Normally we'll partner with a local Anglican church to run 'Hamper Days', where say 150 families who live around the area would be invited to come and collect their hamper, and we'd run an event in collaboration with the church with jumping castles, face painting, singing, a barbecue… it's a lovely thing, but it could be a real risk at the moment," Nathan says.
Instead of hampers being distributed in person, delivery drivers who would previously have picked up toys and food from donors are instead dropping them off to families, in a socially-distanced, contactless manner.
This is a process the team has perfected over the past 18 months. Anglicare has played a role in the COVID response in Sydney by delivering essential food and other items to people who are isolating after a COVID diagnosis in their household. They know how to make deliveries with minimal risk.
The day Eternity spoke with Nathan, he shared, "I've got a bunch of my guys out on the road in the western Sydney Mount Druitt area, delivering 98 hampers today." The drivers are scheduled to make about 100 deliveries every day between now and 23 December.
So the sourcing of the goods was sorted, and their delivery was all worked out. But Nathan and his team still had to figure out how all the goods would get packed into the hampers for delivery.
In a normal year, groups of volunteers from churches, schools and workplaces are invited to come along to the warehouse to help pack hampers. These are fun days of team-building and partnership, with a celebratory atmosphere.
But with COVID restrictions limiting numbers in the building, and vaccination requirements adding another level of complexity, the Anglicare team realised their normal system wouldn't work this year.
However, they found a solution from within. Anglicare has a vaccination requirement for its own staff, and the head office team had been working remotely for so long they were craving some human interaction. So, the Toys 'n' Tucker team sent around a sign-up sheet asking for six volunteers to come and pack hampers each day – and every slot was filled within 48 hours.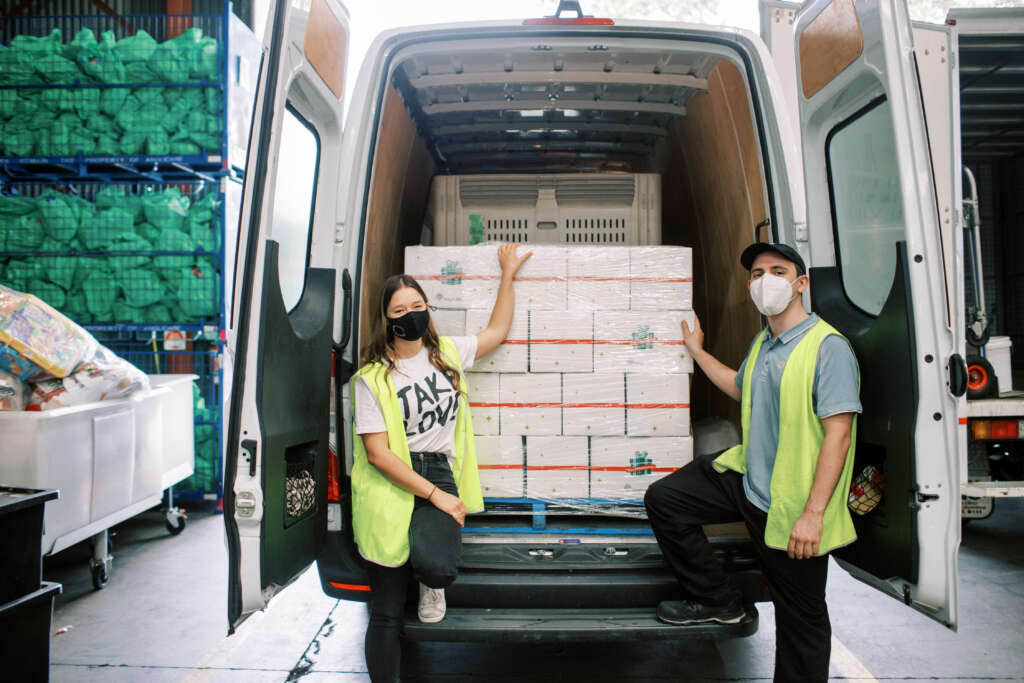 They've also partnered with some larger schools to enable them to pack hampers on campus instead of at the warehouses. "So with some schools like Abbotsleigh, Shore and Barker, we've dropped off, say, 150 puddings, 150 packets of pasta, and so on, and then as a year group they've packed the hampers at school and then we came and picked them up," Nathan explains.
The food and gifts are sourced safely, the hampers are getting packed safely, and the delivery is safe and convenient. It's a good system for this COVID Christmas – but some churches still wanted to participate in Toys 'n' Tucker in the more traditional way.
Upon hearing the requests from churches, Anglicare worked out another option. Some larger churches from more affluent areas have been linked up with churches in less affluent areas to pack hampers for their communities specifically. Nathan gives the example of St Paul's Castle Hill packing for St Mark's Sadlier.
Other churches are being supported to pack for those in need in their own communities. Anglicare has supplied tape and boxes, and parishioners bring in the goods, which the churches can then distribute to those they are aware of who need extra support this Christmas.
For those churches and groups who aren't able to participate in these smaller exchanges and local programs, Nathan is confident that the traditional Toys 'n' Tucker will return.
"The plan is next year we will return to a more collaborative approach where churches can collect, and then we have large groups of volunteers working together with us to sort and pack hampers. But I do feel we will add other strings to our bow, like the online option and trying to support churches to pack for their own local areas."
In the meantime, Nathan is looking forward to seeing the smiles on the faces of the many families who will receive one of the 3000 food and or 2000 toy hampers this Christmas.
You can donate to Toys 'n' Tucker online until 24 December. Visit https://toysntucker.org.au/ to shop for Christmas treats to bless those in need.
Email This Story
Why not send this to a friend?