Young people are turning to social media to help navigate their spiritual lives, with almost half of Gen Z (46 per cent) engaging with TikTok at least weekly to help them in their spiritual life.
"This is followed closely for them by Instagram and YouTube, and it's clear that video content really drives where Gen Zs are going to be fed spiritually," noted Stephanie Razey, Research Lead at McCrindle Research, about its new report, Changing Faith Landscape in Australia.
The online survey of more than 2000 Australians aged 18-plus across the country finds that while there are some headwinds in the faith landscape, such as a decline in religious affiliation, there are also some positives.
Encouragingly, almost half of Australians are extremely or very open to a spiritual conversation that involves a differing perspective from their own, while nearly two-thirds (58 per cent) are at least slightly open to changing their current religious views.
Fuel your faith every Friday with our weekly newsletter
"The research suggests that the religious landscape of Australia is not as negative towards Christianity as it has often been presented," Sophie Renton, Managing Director of McCrindle Research, says. "While the proportion of Christians may be declining, those who are cold to Christianity is not growing and, if anything, the proportion of those neutral to Christianity but who believe in creating space for religious freedoms is growing."
"The opportunity is right in front of us for those ready to engage with the local community." – Geoff Brailey
Digging into the findings during a webinar to equip faith-based leaders attended by 600 people, the McCrindle Research specialists concluded that faith leaders need to find better ways to tell their story, particularly to the younger generations, who are the main group to have a lower level of trust in the Church than three years ago.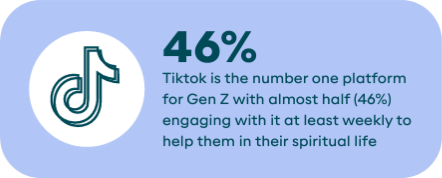 The overall picture presented in the report is an openness to conversations about Christianity, a warmth towards Jesus and individual Christians but a lack of knowledge about the Australian Church.
"Learn to appreciate the opportunity that is at hand," McCrindle's Director of Solutions, Geoff Brailey, said during the webinar.
"Hopefully, the data today reveals that there are some challenges in some slight decline in religious affiliation. However, the opportunity is right in front of us for those ready to engage with the local community … take the time to build those bridges between local churches and the local community."
In contrast to media stories indicating an overwhelming turning in the tide against the Christian faith, the survey data shows three-quarters of the general population are either neutral, warm or aligned with the Christian message.
"So it's quite interesting to consider the people you might be meeting and chatting with or seeing at the shops are quite different to what might be appearing on maybe news or TV or on social media as well," he said.
However, the faith landscape is certainly changing, influenced by population growth, an increasing Asian population and generational change.
Addressing the generational opportunities, Stephanie Razey said it was encouraging that half of Generation Z (aged 13-27) are extremely or very open to spiritual conversations compared to a third of Baby Boomers (aged 58-76).
"And it's encouraging to see Gen Z's openness to conversations with people on views that differ from their own, despite algorithms becoming more personalised, where people are shown more content that relates to their own interests or thinking. Young Australians are growing up in a changing Australian landscape with much more diversity," she said.
"Young Australians are growing up in a changing Australian landscape with much more diversity." – Stephanie Razey
As well as being open to spiritual conversations, Australians are also open to changing their religious views.
"We found that almost three in five Australians are at least slightly open to changing their current religious views if given the right circumstances and evidence, while 42 per cent remain not at all," Razey said.
"And similar to the openness towards having spiritual conversations, Gen Z are most open to changing their views as 73 per cent of Gen Zs show openness followed closely by Gen Y [aged 28-42], who are also quite open; while around half of Gen X and Baby Boomers are open to changing their views and just a third of Builders [76-plus] being open to changing theirs."

The survey found that a death in the family is the most likely factor to make Australians think about spiritual matters, followed by conversations with friends, neighbours, or colleagues. A quarter of Australians were also prompted by health issues of a family member or by personal unhappiness. They were also influenced by seeing people living out their faith.
"Given the times when people are prompted to think about spirituality and reach out to communities of faith, this means our places of worship need to be spaces where people can feel safe to come along during their challenging times and be a place where they can feel heard," Razey said.
"How do we come alongside and build trust and personal relationships in some of these areas?" – Stephanie Razey
The top blockers to Christianity across every generation were perceptions that the Church is outdated in its beliefs and practices.
"These are the areas that we need to think about, what the Church's actions and behaviours are doing to either perpetuate these perceptions or maybe to start to contradict and to build a different perception," Razey said.
"It's really important to dig into the generational differences because we can see that for our younger Australians, the LGBTQI+ experience is significant for 45 per cent of Gen Z. The Church teaching on homosexuality is a massive or significant negative influence for 40 per cent of Gen Y. That's compared to 28 per cent of Boomers and 26 per cent of Builders.
"Then we have the role of women and the Church is perceived to be outdated, and these are larger issues for the younger generation than the older generation …  the LGBTQI+ experience is the top issue for the younger generations exploring and perceptions of Christianity."
Razey said these perceptions offered faith leaders a good opportunity to reflect on the practices in their churches and their communities and how these might be perceived "by those that maybe don't have the same knowledge base, the same experience, or the same context."
"Think through the eyes of the people that you are trying to reach. Are there any things that could be misinterpreted? I'm not saying that we go against biblical views or experiences there, but I think it's a good moment for faith leaders to consider what are the practices that we have in our community that maybe could be misperceived outside of the church and what do we need to maybe explain better? What do we need to come alongside and educate people on rather than standing up high and declaring a viewpoint? How do we come alongside and build trust and personal relationships in some of these areas?"
Email This Story
Why not send this to a friend?