As the season of giving approaches, the heart-wrenching stories of families in Eastern Europe, particularly Ukraine, beckon us to take action. The need for food has never been more pressing. Ukraine's ongoing conflict and displacement have pushed its people below the poverty line, making their struggle even more challenging.
Mission Without Borders is rooted in the communities where poverty and hardship hit hardest in Eastern Europe, armed with a mission to transform lives. Ukraine's conflict has magnified the urgency of our work, as nearly 25 per cent of Ukraine's population now lives in poverty.
But there is hope – a call to action to provide 42,000 Christmas food boxes, with 10,000 to reach Ukraine, is underway.
Will you join us in reaching thousands of families with critically needed food this Christmas? Donate Today.
Fuel your faith every Friday with our weekly newsletter
For elderly couples caring for their grandchildren, nine-year-olds yearning to reunite with friends, and mothers striving to provide for their children, your act of love and kindness will fill their cupboards with food and instil hope.
Dariya: A little girl's dream of peace and home
Dariya, a nine-year-old girl, and her family fled eastern Ukraine when the conflict erupted. They are now being helped through MWB providing support to displaced families living in the Sarny region.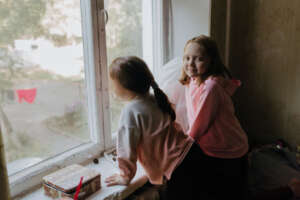 Dariya shared her heart-wrenching experiences, "We lived in an apartment on the third floor, and after each missile hit, the building was shaking as though it was made out of cardboard. My mother and father would hug me and my little sister and cover us with their bodies to keep us safe.
"When we looked outside, we saw tanks and soldiers who came to protect us, and not many of them returned. Later, we moved to Granny's house in the suburbs, but it was just as dangerous there. The day that our school was destroyed by a bomb was the day that we went away in an evacuation bus.
"I dream that Jesus will bring peace to our land, and we'll get to go home. I used to love winter, with all the beautiful Christmas lights and, most of all, the presents. Please pray for the ending of the war and that we'll be able to celebrate Christmas under a peaceful sky."
The Korban family: Escaping war twice
The Korban family has twice fled their home due to the conflict in Ukraine. First from Donetsk and then again when the full-scale war broke out in 2022, forcing them to move to western Ukraine.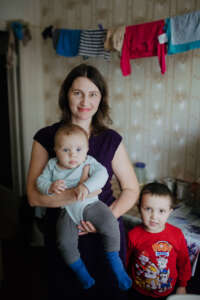 Olga, a mother of five children, shared, "When our soldiers started to dig trenches under the windows of our house, we lost hope that this war would stop soon. It was dangerous to go outside; even inside, we were terrified. Desperate, we packed two bags and took the chance to escape by car, although it was incredibly dangerous. Now Avdiivka, our home, is an empty town and almost completely destroyed.
"Our previous life, living in poverty in our little rented flat, is nothing compared to this. I dream of gathering all of my children around the holiday table and celebrating Christmas.
"Thank you for any support you can give. It means so much to us! It's important to know that we're not left alone in these circumstances. Unfortunately, our income is low, and there are a lot of expenses. We do thank you!"
Arkadiy and Nadiya: Grandparents' love for their grandchildren
Arkadiy and Nadiya, both 74 years old, have faced unimaginable challenges. Their daughter lost her battle with cancer, leaving behind two children for Arkadiy and Nadiya to care for.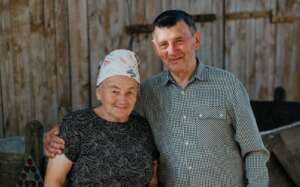 Through Mission Without Borders' Family Sponsorship program, they receive the vital support they need. Nadiya expressed, "We worry about our grandchildren. We don't know what kind of future there will be in Ukraine. The situation keeps getting worse, and every single person is feeling the pressure of these circumstances. Most of all, we miss the feeling of peace."
Now is the time to act, to bring hope and light to these families in their darkest hours. Your generous support can help deliver Christmas Food Boxes, providing nourishment and a glimmer of hope in their lives. Donate today to reach thousands with the message of Love this Christmas.
Help put a box of food in the hands of families in crisis. Click here to donate.
Email This Story
Why not send this to a friend?