Australian actor George Xanthis has played the role of John Travolta and one of the Capone brothers. But it is his current one, playing John the Apostle in The Chosen, that he says is "the best role of my life, for sure."
Raised in a Greek Orthodox family in Sydney's inner west, Xanthis is familiar with The Chosen's subject matter of Jesus' ministry and his relationships with his disciples.
The Chosen set to blitz French television screens
Dallas Jenkins gives us a sneak peek at The Chosen Season Three
The Chosen's Dallas Jenkins on fallen pastors, his imperfections, and artists in the church
The Chosen fans rush US box office and break records
Yet, in the same way, The Chosen has done for viewers, the show has shed new light on the stories Xanthis grew up hearing as a Greek Orthodox kid.
"I've been Greek Orthodox my whole life"

Fuel your faith every Friday with our weekly newsletter
"I've probably been detached from it all," Xanthis says, regarding the Christian faith of his youth.
"In terms of a cultural identity, I've been Greek Orthodox my whole life. I've always gone to Greek Easter, and I go to church with my grandparents. There's the Rose Bay Greek Orthodox church named after Saint George. My grandmother, who lives around that area, loves taking me there," he says.
And, when preparing for the show's second season, Xanthis reached out to his family priest, Father Stephen, to ask for his advice about John.
Father Stephen had married his parents and baptised Xanthis, along with his brother and his cousins. He had taught him at the Greek Orthodox primary school he attended in Kingsford. And Xanthis told Eternity the priest offered invaluable insights about the character he is so grateful to be playing.
"Being able to talk to the priest who has been in our family for so long was really special," the actor says.
Sitting in church as a child, Xanthis admits he didn't listen too closely.
"I mean, a 10-year-old is gonna get bored in church," Xanthis says. "That's the reality of the situation… and that's nobody's fault. It's just that the kid has maybe attention deficit disorder or is thinking about a video game they played that morning!"
Tuning out to the Bible then means that now, as an adult playing John, there have been several times when Xanthis has been impacted by the Bible's stories freshly on set.
Xanthis refers to a scene in Season One's sixth episode entitled 'Indescribable Compassion'. Jesus is teaching, and Xanthis – in his own words – is "lucky enough to sit there as John and listen to this because I'm just background for that scene, John doesn't have any lines."
"Someone asks, 'When is the kingdom of heaven coming, and when do we need to be ready?' And Jesus … he says, 'What do you do with your master is out?'" Xanthis explains, quickly adding, "I hope I'm getting that right, by the way … this is what I felt in the moment."
The scene continues. Andrew answers. Jesus re-frames the scenario in reverse, then gets to his point.
"You've got to be at the door waiting and you've got to be ready, always. 'If I tell you when it's going to happen, you're going to go to sleep. And then you are going to be closed'," Xanthis says, summarising the moral of the parable, as he understands it.
"We have to always be there, present". And there's just so many ways that you can read that," he goes on.
Of all the many scenes in the show that could have resonated with Xanthis, this one is unexpected. But the actor is an open book about the fact it has.
"I had no idea that those sorts of things are what Jesus was saying," he says enthusiastically. "Doing this show has made me prick my ears up and listen a lot more and delve deeper into these parables."
Xanthis believes these concepts will resonate with viewers of all faiths and backgrounds. And if that means more people watch The Chosen, it's a good thing.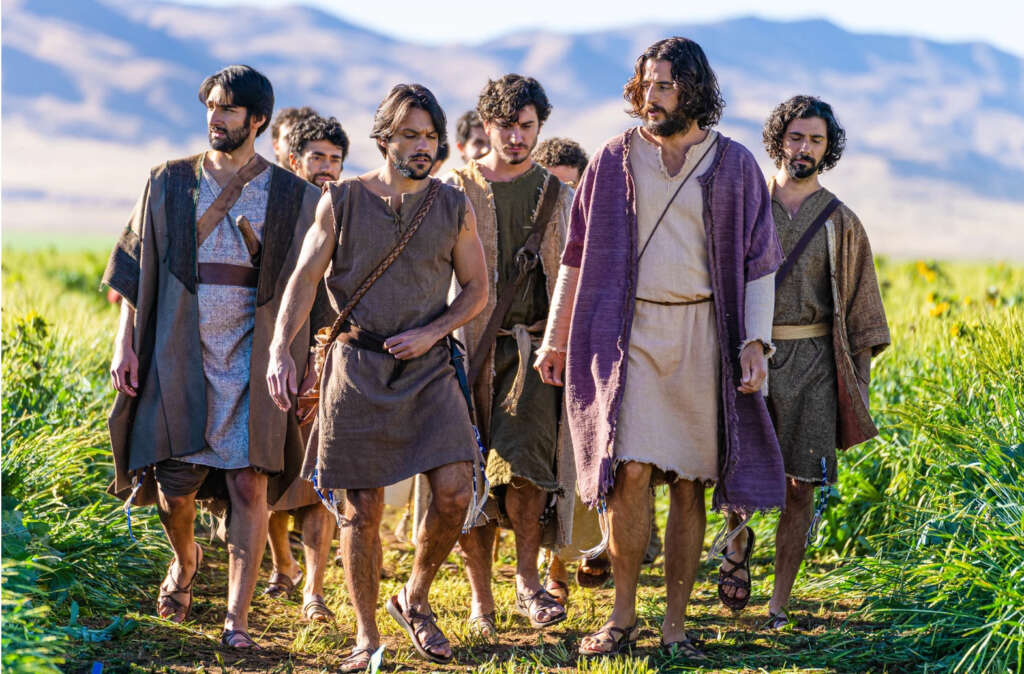 As a Christian journalist who is also a fan of the show, it is tempting to interview Xanthis as if he is John the Apostle himself, rather than an actor playing a role.
This probably happens to actors all the time – and especially those on The Chosen.
Just this week on social media, Xanthis was harshly rebuked by fans of the show when he posted photos of his latest role in Australian Gangster. The images included one with Xanthis and his Australian Gangster castmates in costume, flipping the bird. Conservative Christians swiftly reprimanded the actor for both his role choice and gesture.
Whether Xanthis finds these expectations of a Christian audience irritating or shakes them off as "par for the course" as an actor is unknown. (Probably the latter, given how confident and committed to the intricacies of his craft Xanthis is).
Regardless, some of the actor's most fascinating insights are about precisely this topic: how the boundaries between an actor and their character can overlap or blur.
We talk about a scene in which Jesus heals a leper, and Xanthis' John quickly pulls out a knife, maintaining a shocked face the whole time. Xanthis reveals the mechanics of his craft that filled his mind. The camera dictated which hand he held the knife in. Thoughts of where he could put the knife once he lowered it, given his pocket-less costume, were top of mind.
I bring up another scene when Jesus explains something to John, and Xanthis' face registers his character's simultaneous understanding and confusion.
Xanthis is always grateful to hear that his intentions as an actor have successfully resonated with a viewer. He has thought deeply about the importance of these scenes – when a character "gets it" for a moment, despite being caught up in events more significant than they realise.
He refers to a scene with his on-screen brother "Big James" – played by Abe Martell – when it's John's turn to "get it".
"We're really, really close," Xanthis says of Martell. "We actually share a trailer. We have the option of separating it and being separated …  but there's a dividing wall we take apart, so we put our little UAE boom [portable speaker] in the middle and we sometimes play Nintendo switch and stuff," he says. "So we, we truly are the same brothers that you see on screen."
Throughout the show, Martell's character James is portrayed as the 'smart brother'. He is more familiar with the scriptures and history than John, who often checks his understanding with James. In contrast, John is more in tune with his feelings and led by the heart.
"There's a moment when we're [James and John] watching a Simon the Zealot doing all his karate stuff," Xanthis says.
"I actually don't understand most of this," James tells his brother in the scene. "Just pieces here and there when good things happen. But the rest, I'm just following…"
"I have a sinking feeling it's going to take a long time to understand it," John replies.
"For us?" asks James.
John shakes his head. "For all of us," he replies.
"That was a moment where George and John combined," Xanthis explains.
He says the Apostle John might have only imagined "a long time" to be a week, "whereas George is existing 2000 years later, going, 'I still don't think people are understanding it'."
"So, George crept in and then John had this enlightening moment in the scene," says Xanthis.
As an actor, Xanthis often needs to put aside the wisdom of hindsight to portray John in the moment effectively.
"We can't have all the actors crying left, right and centre for everything."
"Dallas and I talk about this all the time," Xanthis says, referring to The Chosen's writer and director Dallas Jenkins, who has become his "mate".
"We go, 'There's a lot more coming. We can't have all the actors crying left, right and centre for everything."
Indeed Xanthis has often oppositely portrayed John – as increasingly familiar with Jesus' miraculous ways.
But there is one scene when the actor/character boundaries blurred to such a degree that Xanthis found following his director's instructions impossible. It occurs in the closing scene of season two's first episode – the most significant episode for the Apostle John (and therefore, for Xanthis) in the series to date.
In the previous scene, Jesus calls John into the synagogue's backroom and invites him to suggest which scripture Jesus should read.
John is still stinging from the previous day when he and his brother were strongly rebuked by Jesus and consequently earned themselves the hilarious nickname 'Sons of Thunder'. John tells Jesus he doesn't feel worthy of suggesting anything.
"Ah, but whose worthy?" Jesus asks him.
"You," John replies. "But no man, apparently."
"I'm a man, John," Jesus replies. "And yet … I am who I am."
Jesus presses on, asking what John's favourite passage is.
"I suppose I love the beginning," John says. "I love how God simply spoke, and the world came into being."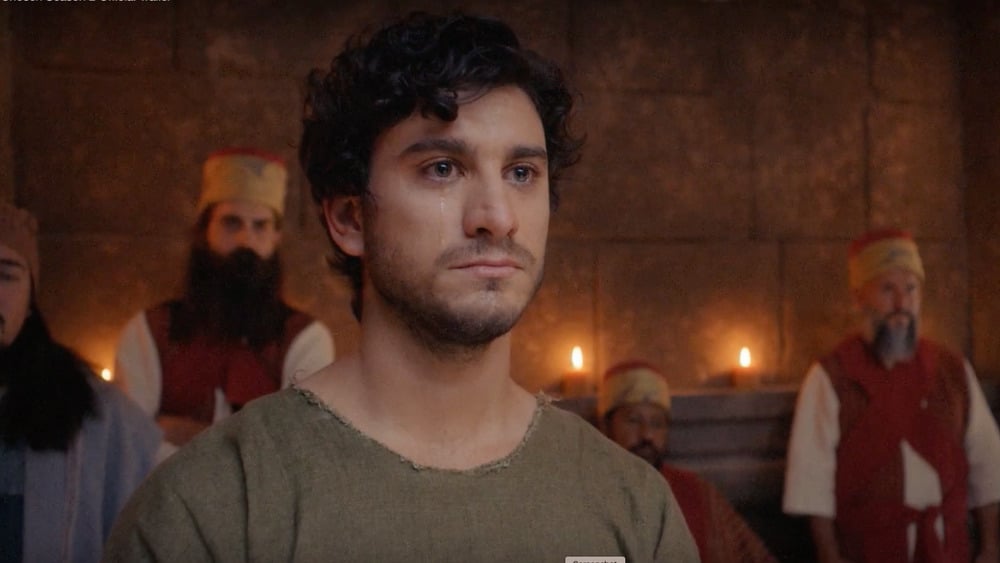 In the next scene, as Jesus reads from the scroll John suggested, as he watches on.
"I asked Dallas, 'Do you want this to be emotional or what?'" Xanthis recalls. "He just goes, 'No, we've got plenty of time. There's lots to come. You're just proud and whatever.'"
"So I'm sitting there and then Jonathan [actor Jonathan Roumie, who plays Jesus] – the cheeky bugger – he turns around, looks straight at me, and then just starts talking to me. And I don't know …"
Xanthis thinks back to filming the role and attempts to explain.
"I mean, he was performing as Jesus, but it was a combination of … I heard Jonathan speaking, so that meant John was listening to Jesus. But George was listening to Jonathan. And, as he was talking to me, I was immensely proud, but then getting really sad …
"But also, in my mind, I'm going, 'Don't cry, don't cry,' – because it's George, the actor, going, 'That's not the direction". But it's also John, the character, going, 'I'm a man,' you know? 'I'm the tough guy with the knife'…"
The result of Xanthis' inner turmoil as an actor is a profoundly moving scene for viewers.
Jesus reads the scroll and the camera slowly zooms in on John's face. He stands proud and appears to be battling to keep his emotions contained. His eyes brim with tears. Then, finally, a single tear trickles down his cheek.
"It holds on until the last minute, then just – drip! One creeps out," Xanthis laughs.
"And it worked perfectly for the scene. A combination of all those factors made that work. And I'm not sure if it was meant to happen like that, but it ended up happening like that. So, I'm glad it did."
Email This Story
Why not send this to a friend?