Check out this video of Patrick's vision as a faith-based artist
"Son, I want you to train patience. Start drawing." These were the words God told Patrick Bezalel that initiated his journey as an artist. What seemed like a personal assignment for Patrick soon turned out to be a unique ministry that reaches people from all walks of life.
The emerging Singaporean artist began his first (and ongoing) collection with hyperrealism art, where each piece is painstakingly drawn with up to 300,000 strokes over hundreds of hours – talk about patience! He then fell in love with using resin together with acrylic and oil paint to create his subsequent collections.
While most artists seek to express themselves in their works, the faith-based artist endeavours to visually elucidate the Bible and none of himself. Hence, all his collections explore the rich facets and stories of the Word of God.
Since Patrick started his artistic journey five years ago, he has sold over 800 art pieces locally and abroad. More importantly to him, they have become a vehicle for the message of Jesus.
Recognising that much of Christian art is confined and displayed only within the faith circle, he wanted his art to go beyond the walls of the church and Christian events. His vision is to bring love, joy and hope into all spaces, especially the secular which is so void of them.
While not everyone wants to step into a church, Patrick believes most people would be open to visiting a gallery. Hence, he purposely plants his gallery in retail malls situated in the heart of the city-state of Singapore for people to experience the gospel in a non-intimidating way.
"Whether they realise it or not, they're reading the Bible as they view my art, since all my art is inspired by the Scriptures. So I let my art do the preaching. I spread the art, the art spreads the gospel," the artist explains his strategy.
This hand-drawn hyperrealism art, for instance, has touched the hearts of many visitors, bringing them to tears. A few have also pointed out that the eyes are especially provoking and one lady even asked, "Why do the eyes of the lion look so kind?" to which Patrick was given the chance to share about the person of Christ whom he was depicting in the art.
Patrick's creations have thus become a powerful evangelism tool for his buyers, as the attention-grabbing images often invite questions and spark conversations. Each art is also accompanied by a description tag that reveals the inspiration verse and a short encouragement.
Pushing his boundaries as a fine artist, all of his art also has an Augmented Reality (AR) effect, providing a unique and interactive art experience that always impresses the viewers.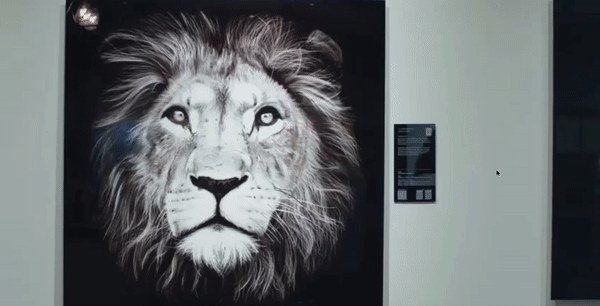 Today, Patrick is humbled and grateful to see his works not just in many homes but also commercial spaces such as offices, restaurants and even medical clinics. His cutting-edge artistry has also extended beyond the physical world and into the buzzy Metaverse, having created a few NFT collections and now building the world's first ever Christian Metaverse. His physical art has also been imported virtually into a VR gallery where international visitors can experience a taste of his Singapore gallery experience with our guided tours. 
Patrick believes that the assignment is always the same – preach the Gospel and love people – but we can always do it in fresh and relevant ways. "I don't need to be a famous artist. I want to be a useful artist. I want my art to be used by God," he concludes.
Find out more about Patrick Bezalel's artwork here or email [email protected] for any inquiry. 
Email This Story
Why not send this to a friend?