How do we offer the gospel to those around us who view it as not only wrong but possibly dangerous? This difficult question is precisely the one tackled by this year's Australian Christian Book of the Year Award winner.
Being the Bad Guys: How to Live for Jesus in a World That Says You Shouldn't – written by Stephen MacAlpine and published by The Good Book Company – was announced as the 2021 winner in an online awards ceremony tonight.
"We need maintain our distinctive as Christians but with a porous boundary to our churches" – Stephen MacAlpine
"After exploring the way a Christian worldview is unacceptable in contemporary Australia and the complex situations this places orthodox believers, Stephen MacAlpine gets down to business," the judges' comments read.
"There is neither reason nor time for indulging in despair or victimhood. Being the Bad Guys calls on Christians to admit our failures and embrace life as a creative minority."
The judges described the book as "an overdue reset for Christians who have not yet realised that they are more like Daniel in Babylon than Solomon in the land of milk and honey."
SparkLit's Christian Book of the Year recognises and encourages originality, excellence and relevance in Australian Christian writing.
Being the Bad Guys was selected from a shortlist of ten books with a diverse field that included an autobiography, biographies, poetry, Christian living and more. Tonight's ceremony included interviews with all shortlisted authors, with longer versions of the interviews posted to Spark Lit's YouTube channel in the coming days.
"MacAlpine is feisty, fearless and fluent," the judges wrote of the winning author.
Awards show host Bei-En Zou interviewed Stephen MacAlpine after the win was announced, asking him to articulate what cultivating a deep and rich community – as mentioned in his book – might look like for contemporary Christians.
MacAlpine said he believed it was about "dialling things up slightly over a period of time" by "leaning into" things such as intentionally spending more time together, having conversations where people forgive each other over issues that might otherwise cause them to ignore or walk away from each other, and offering an openness to people who are "not like us".
"I think we've geared ourselves up in our apologetic to be good speakers, and one of the things I don't think we do as well is listen to what people are actually saying. We sort of launch into a script," MacAlpine said.
Instead, he suggested, "listening to people where they're at and actually getting under the surface of some of the things that we think are quite confronting in people's lives and saying, 'Actually there's something more going on underneath that we need to listen to'".
MacAlpine said we need to "maintain our distinctive as Christians, but with a porous boundary to our churches".
He noted that you only do that if you have confidence in the gospel – that it is true and right and good – and if Jesus truly is the king of your community.
"When you do that, over time, you become an attractive option to people who are looking for something more," MacAlpine said.
Another winning written work for the evening was Daisies in Winter, whose author, Megan Southon, took out the Australian Christian Teen Writer Award.
Rémy Chadwick was awarded the Young Australian Christian Writer award for his work, Creativity and Faith in Postmodern Australia.
Being the Bad Guy by Stephen MacAlpine and all the shortlisted books are available at Koorong.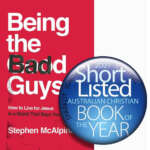 Email This Story
Why not send this to a friend?