A nun devoted to helping people affected by leprosy and victims of human trafficking has been honoured with an international award for "contemporary rescuers".
Azezet Habtezghi Kidane – or "Sister Aziza" as she is better known – received the 2019 Wahat al-Salam Neve Shalom Award for Contemporary Rescuers in a ceremony earlier this month at the International Rescuers' Garden. The garden is in the Arab-Jewish cooperative village of Wahat al-Salam Neve Shalom.
"I was doing what I was supposed to do – as a human, as an individual," Sister Aziza said in her acceptance speech. "Who am I? I was doing in simplicity what I was supposed to do."
A plaque was unveiled to honour her work serving disadvantaged populations in Israel and Palestine, including interviews she conducted which brought trafficking networks in the Sinai region to the attention of Israeli, European and US authorities.
The garden was established to honour individuals and groups who have rescued people in distress and even risked (sometimes lost) their lives in order to save others.
Sister Aziza said she believed the best thing in life was to respect others – including their religion, race, choice, faith – as that allows a person to feel what another person feels. Her hope for Israel and Palestine is that they find a way to "coexist, respect each other and find peace".
"I was doing what I was supposed to do – as a human, as an individual." – Sister Aziza
Born in Eritrea, Sister Aziza learned as a young girl about the plight of people affected by leprosy. After graduating from her studies in Ethiopia, she was reportedly inspired by a film about leprosy in Sudan to become a nun and devote her life to treating those who suffer from the disease.
From 1989-2001, she worked in Sudan with rebels against the regime and was expelled by the authorities in Khartoum. She then moved to England, where she studied tropical medicine and became a British citizen. Later, she crossed into South Sudan from Uganda and risked her life in helping various population groups there.
In 2009, Sister Aziza arrived in Israel/Palestine and joined the Comboni Missionary Sisters, living with 11 other nuns in a building in the al-Azariya neighbourhood of East Jerusalem.
Since 2010, Sister Aziza has worked as a nurse at an open clinic in Tel Aviv run by the Physicians for Human Rights-Israel, which provides free healthcare to African refugees who have made the journey to Israel via the Sinai Peninsula.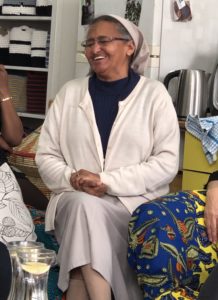 Several years ago, during the course of her work, she discovered many cases of enslavement for sexual exploitation, and torture of asylum-seekers and began to record them, designing her own questionnaire. As a result, Physicians for Human Rights formally began investigating these abuses.
Sister Aziza conducted hours of interviews with 1500 men, women, and children who had been kidnapped, tortured for ransom payments, raped, and subjected to forced labor and sexual exploitation.
Her research was then passed to the Israeli police, US Department of State, the European Union and the United Nations, ultimately uncovering practices of trafficking in Sinai that were previously unknown.
Sister Aziza's life of work on behalf of the oppressed has come with commendation and censure. For example, on account of her longstanding activities for Eritrean refugees around the world, her Eritrean citizenship was revoked and her passport confiscated. Yet in 2012 she was awarded a 'Trafficking in People Report Hero Acting to End Modern Slavery' award by the US State Department. Secretary of State Hillary Clinton presented the award to Sister Aziza.
"This is, for me, church, synagogue and mosque. This is the place that I have found God." – Sister Aziza
In addition to her work with Physicians for Human Rights, Sister Aziza has worked to establish kindergartens for the Jahalin Bedouins in the West Bank and with asylum-seeker women at Kuchinate in Tel Aviv.
Kuchinate, which means "crochet" in Tigrinya (a language of Sister Aziza's homeland), is a collective of African women who face significant barriers to maintaining employment. These include being single mothers or facing serious illness. At Kuchinate, women design and create crocheted products for the home that are sold to the public onsite.
Kuchinate is typical of the work Sister Aziza has given her heart and hand to. It focuses on finding solutions, both practical and emotional, for people who are left without a way to move forward, whether they be citizens, foreign nationals, refugees or asylum-seekers. Speaking at Kuchinate last week, the nun explained,
"This is, for me, church, synagogue and mosque. This is the place that I have found God. God is in it.
"As a woman we have counselled at Kuchinate said, 'This is where my heart rests.'"