It was a cold night in Melbourne when the Australian women's hockey team took on the might of China in the Oceania Cup. Australia was the reigning Olympic gold medallist; China – the holder of the Champion's Trophy.
Susie Harris was eighteen, had only been part of the national squad for a year, and was still getting used to playing at this level.
Partway through the second half, Australia moved the play quickly down the right-hand side of the field. Susie ran into position near the edge of the circle. When one of her teammates put in the cross, Susie was ready and slammed the ball first time into the bottom left hand corner of the goal. Within seconds she was swamped by teammates offering their congratulations. "It was one of those perfect moments,' she says. 'A moment of pure joy – the culmination of years of training, when everything goes right in an almost perfect way."
Sport, played at any level, has the capacity to offer so many highs – the joy of performing an athletic movement well; the immersive experience of striving in a head-to-head contest; the thrill of victory in a closely fought encounter; the satisfaction of contributing to a smoothly functioning team; the excitement of success; the release that sport provides from other aspects of  life; and particularly time spent with teammates, fellow competitors and opponents.
And Susie knew of these highs. Her rise to international sporting prominence was meteoric. "When I was 15, I was one of the ball-girls in the gold medal women's hockey match at the Sydney 2000 Olympics which Australia won."
"Two years later, I was 17 and actually making my debut for the national team. I had to get permission from my school to miss class!"
Susie went on to play for her country on over fifty occasions.
But being a believer in the sporting environment is not always easy. Susie had been brought up in a Christian home and, in her early teens, affirmed the faith passed on to her by her parents. But suddenly living out this faith as a young player in the high-powered Hockeyroos squad presented something of a challenge. Spiritually, it was an isolating experience.
"It could be quite lonely," she admits. "I can remember on one occasion feeling quite alone and craving some Christian community during an international tour. We were in Athens at the time and I happened to have some time off on a Sunday, and I stumbled upon a small and very old Greek chapel. Whilst it wasn't the usual church atmosphere I'd experience back home, it was comforting to be in a place where I hoped God was honoured and worshipped. But most tour schedules were too tight for these sorts of experiences."
Like most areas of life, sport has its real opportunities and challenges for the Christian.
Sport (played in an ethical way) is a great gift from God that can be enjoyed for its own sake. In addition, sport has so many other potential benefits – it is great for forming friendships, provides opportunities for outreach to non-believers and encouragement of believers, can help develop character and improve one's physical health and, in some cases, even provide employment.
How can a Christian be involved with sport in a way that honours God?
But sport, like all good things in this fallen world, has its dangers. There is the ever-present danger of turning sport into an idol, or of adopting various forms of bad behaviour that often surround a player on and off the field. Some Christians have dealt with this better than others. Anyone with a cursory involvement in sport will know of believers who have been real "salt and light" in their athletic worlds, while for others it seems to have been a real avenue for decline.
How can a Christian be involved with sport in a way that honours God – so that it can be a help not a hindrance for God's purposes? Of the many things that could be said, let me highlight three priorities.
1. Stay close to God (the ultimate Supercoach)
David Simmons, who scored more than one hundred first grade tries in the National Rugby League, playing first with Cronulla Sharks and then Penrith Panthers, certainly experienced the benefits of staying close to God.
"I became a Christian a couple of years before I started rising through the ranks," he says, "and recognised the importance of Bible reading and prayer. So, I was growing a lot as a Christian and progressing as a footballer at the same time. This really helped me to negotiate the highs and lows, and to grasp the opportunities and to avoid the dangers associated with the game."
Susie Harris would agree. "When on tour with the Hockeyroos I mostly had to rely on my own Bible reading, prayer, and listening to Christian music for encouragement. But I think God used the challenges of loneliness as a Christian to strengthen me and help me grow in my understanding and relationship with him."
2. Stay close to other Christians
Both Susie and David went to church regularly during their sporting careers. They speak about how it helped keep their faith front and centre. Susie also appreciated the support of her Christian parents: "When I was away from home – which was quite often – they would send me notes full of Bible passages and spiritual encouragement. These notes are still some of my most treasured possessions."
Other Christian sportspeople can also be of great assistance. David recalls the spiritual support given to him as a young player at the Sharks by an older Christian footballer – Jason Stevens. "He was an encouraging friend, and a great example to me of holding firm to one's faith in a hostile environment."
3. Think about how sport can be part of your Christian life
This can be done as we reflect on the application of the Scriptures to our athletic endeavours. Seeking out older and hopefully wiser Christian sportspeople for encouragement and advice can also be of great benefit. Finally, reading about Christian sportspeople, and about how sport interacts with faith, also can be invaluable.
Sport is a gift from God. When we are walking closely with God, it can be a real plus not minus for our spiritual lives and for the kingdom of God.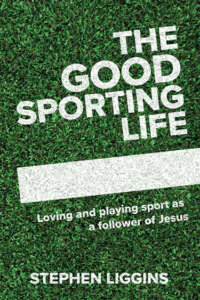 Stephen Liggins is an Anglican minister in the Blue Mountains just outside of Sydney, a former first grade cricketer and current Masters athlete. His new book on Christianity and sport – The Good Sporting Life: Loving and playing sport as a follower of Jesus is available from Koorong Bookstores and Matthias Media.
"Sport can parallel the Christian life in so many ways – its joys and difficulties, its discipline and perseverance. Balancing athlete experience with practical advice and faithful biblical truth, The Good Sporting Life is a very welcome ally to anyone involved in sport as a Christian."  Susie Harris, former Australian hockey international
"I wish the The Good Sporting Life had been written 20 years ago so I could have made more of my time in sport as a Christian. The Good Sporting Life is a guidebook to help us think about sport under God. I would recommend this book for Christians involved in sport. Not just players but coaches, chaplains, parents, and even spectators. Everyone involved in sport needs to be ready for sport – ready to face the challenges and opportunities it throws up and take hold of them to the glory of God."  David Simmons, former NRL player with the Panthers and the Sharks