If you often promise to pray for people and circumstances, and then forget all about it, it's worth trying a prayer app. They are designed to organise when, how and who you pray for.
Two of the most popular are PrayerMate and Echo Prayer. Since they first came on the market around eight years ago, both have improved significantly in functionality and design .
PrayerMate
The free PrayerMate app (by Discipleship Tech) has been downloaded more than 314,000 times and has more than 115,000 users.
The app organises your prayers into personalised lists, which you can add to and edit. Swipe left to begin a prayer session and prayer lists appear as indexed cards that you can move between. You can schedule prayer lists to appear on particular days of the week or allow the app to decide what to display. The number of points you want to pray for in a list can also be customised. You can set reminders to prompt you to pray, and the app can be synced with your address book to add contacts to your prayer lists.
One of the defining features of PrayerMate – and the reason why the app was created in the first place – is its ability to subscribe to the prayer letters or "feeds" of Christian organisations, missionaries and church workers. These organisations include Operation World (which provides daily prayer points for the "country of the day"), Open Doors, Bible Society, CMS, Bush Church Aid and many others.
Last year the app expanded its offerings with prayer plans, such as the 14-day "Learning to Pray" plan and "31 Days of Purity". With more being added, they can be started at any time and picked up again the next time you use the app. Two daily devotionals are also currently on offer: Solid Joys by John Piper (founder of Desiring God) and Heavenward by Scotty Smith (founding pastor of Christ Community Church in Franklin, Tennessee).
In June, PrayerMate launched a major new feature: share groups. These allow church small groups (as well as other personal groups) to share prayer points privately. For smaller groups, PrayerMate Share is free and allows for the creation of up to three groups and one prayer feed.
Discipleship Tech is promising to continue to increase the functionality and features of PrayerMate – so long as they can afford to. They are currently seeking £125,000, with almost half of this fundraising target already reached.
Echo Prayer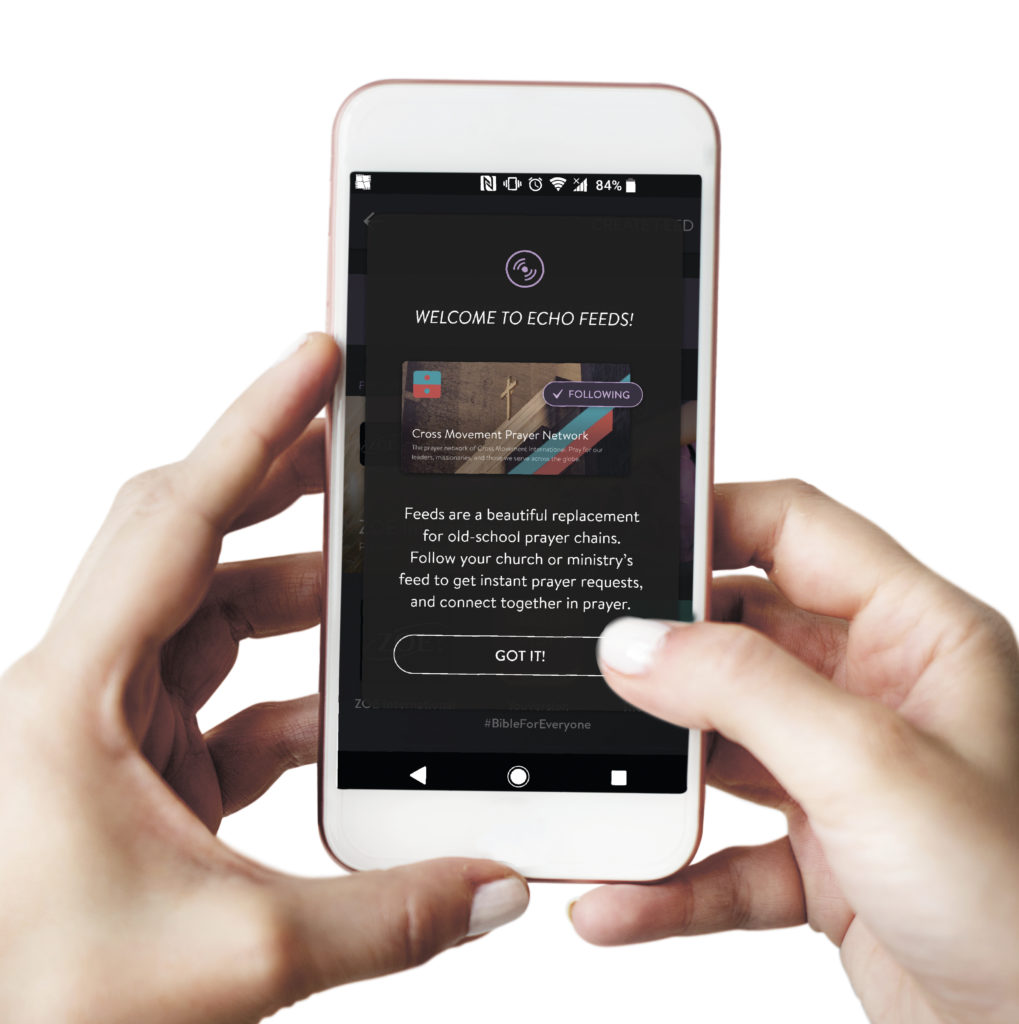 Echo Prayer is similar to PrayerMate: it's free, it's easy to add and edit prayer items and organise them into prayer lists. However, in this app, prayers are categorised by adding a hashtag (for example, #church) in the prayer's title or description. You can easily choose which prayer lists you want to pray for by selecting an icon in the left-hand corner of the screen (including all those grouped under particular hashtags).
Echo Prayer was also designed as a space for prayer points to be shared. However, in order to do this, you must be an Echo Plus+ member (at a cost of $3.49 a month or $24.49 a year), in contrast to PrayerMate, which allows you to share individual prayer points with friends at no charge. The Echo Plus+ subscription also allows you to form a prayer group, just like PrayerMate Share.
In the free version of Echo Prayer you can follow prayer "feeds" from churches, missionaries, and Christian organisations, businesses and other groups. The app has also developed its own prayer feeds based on Bible passages, such as "Fruit of the Spirit", "The Lord's Prayer" and "Anxiety: Praying Scripture". A unique feature of Echo Prayer is its integration with the YouVersion Bible app.
Click on a link under the prayer feeds developed by Echo and it takes you to a Bible reading plan on these topics in YouVersion.
According to Echo Prayer's Facebook page, the app has 20,000 users worldwide  – one-fifth of the number who use PrayerMate. But it does offer several unique features. Firstly, it's pretty! Created by US web designers Ben Rugg and Jim Elliston, co-founders of Clover, the clean design and colours of this app, as well as it's intuitive functionality, make it a pleasure to use.
Another great feature is the prayer timer, which pops up in the right-hand corner of the screen when you start a prayer session, enabling you to set the length of time you want to pray for. This app also makes it easier to sort how you want to pray through your lists, with clear options such as alphabetical order, newest or oldest prayers first.
Similarly, it's easier to set reminders to pray for points at particular times in Echo Prayer, with the option to "add a reminder" at the base of each prayer item.
Another lovely feature of Echo Prayer is the "Answered Prayer" category, to which prayer points can be added by simply clicking on a "answered" tick box. Seeing the list of answered prayers grow is surely a great way to fuel our passion for prayer.
Email This Story
Why not send this to a friend?