Some Christians don't believe Satan is real. They believe Satan is a cultural idea that came from a time when people were less rationally informed. They see references to Satan simply as analogies to the evil that is inherent in the human race.
What do you think?
It is significant that Jesus presumed the existence of Satan in his teaching (Luke 10:18). He dealt with Satan as a real person, (Luke 4:1-13) and waged war against him as a distinct personality (1 John 3:8).
Did God make Satan?
But here's the question: If God made everything, did God make Satan? Even more disturbingly: If God is the origin of all things, is God the origin of evil?
Two things can be said. The first is that God's character should never be in doubt. God is the final definition of love and justice. God is truly good, because he chooses to be good – irreversibly so. The second thing is this: Just as cold is the absence of heat, so evil is the absence of God. Evil is therefore not caused by the presence of God, but by the absence of God.
God is truly good, because he chooses to be good – irreversibly so.
The origin of the devil is explained in Ezekiel's prophecy against the king of Tyre. Most theologians believe this prophecy against the king of Tyre to be a prophecy against Satan (Ezekiel 28:11-17). From this passage, we learn that Satan was originally the model of perfection, 'a guardian cherub', who was close to God's throne – until pride drove him to seek equality with God. God's response was to throw Satan out of heaven onto earth to be 'made a spectacle of'.
In the Old Testament book of Isaiah, Satan's expulsion from heaven is described in terms of a prophecy against Babylon (Isaiah 14:12-16). Babylon is often used as an analogy of Satan in Scripture (Revelation 18: 2-5). Satan's expulsion from heaven to earth is also recorded in Revelation (Revelation 12:7-9). The story is therefore a consistent one. At one point, Jesus himself made reference to Satan's downfall (Luke 10:18).
Satan's fallen angels are evil spirits. Some see Revelation 12:4 as indicating that one-third of the angels sided with Satan.
Satan knows that time is short before God deals with him completely. Satan, therefore, rages about on earth attacking God's kingdom while he can (Revelation 12:12). The Bible records him as being: a deceiver (2 Corinthians 11:13-15), liar (John 8:44), murderer (John 8:44), tempter (Genesis 3:13; Matthew 4:3-10), accuser (Revelation 12:10), an origin of sickness (Luke 13:11,16), and a destroyer (1 Peter 5:8-9).
All Authority lies with Jesus
We have no authority over the devil at all. However, Jesus Christ does. This means that we only have authority over Satan when we are 'in Christ', i.e. when we are a Christian (Colossians 2:6-7). Acts 19:13-16 tells a story of the seven sons of Sceva who tried to drive out evil spirits without being 'in Christ'. They came badly unstuck (Acts 19:13-16). From this it follows that our safety comes from being in Christ. Our authority over Satan is grounded on Christ's authority and Christ's holiness, not our own.
We have no authority over the devil at all. However, Jesus Christ does.
Paul warns against letting the devil get a foothold in our lives (Ephesians 4:26-27). There are a number of ways the devil can do this. The first is by direct invitation, e.g. through ouija boards, séances, or witchcraft. These activities can be seen as harmless fun. Sometimes people engage in these things because they are looking for personal empowerment (white magic), or a desire to be at one with 'mother earth'. It can, however, progress to something very ugly. Satan's one aim is to destroy, so be careful. Satan is not called the 'master of lies' for nothing.
The devil can exploit weaknesses in our character and background. If there is anything he can use as a tool to get at you, exploit you and make you ineffective as a Christian, he will. The trick is not to provide the tools. Some of the tools we can provide are bad habits, pride, anger and fear. The Bible tells us submit to God and resist the devil (James 4:7; 1 Peter 5:8-9). How are we to do this?
put on the 'full armour of God'
The apostle Paul gives us a great answer in Ephesians 6:10-18. He tells us to put on the 'full armour of God' so we can stand firm. He lists these as:
·      The 'belt of truth', i.e. know what is true.
·      The 'breastplate of righteousness', i.e. be righteous in your living.
·      The 'shoes of readiness', i.e. be ready to share the gospel with others.
·      The 'shield of faith', i.e. grow your faith through prayer and acts of faith.
·      The 'helmet of salvation', i.e. know that Jesus has forgiven your sins and is now the leader of your life.
·      The 'sword of the Spirit', i.e. know God's principles and truth in Scripture – which you can use to change a situation.
Christians are not to be pre-occupied or paranoid about Satan. Our attention should be on Jesus, not on fear of Satan. Nor should we doubt Satan's final destruction (Revelation 20:7-10; Matthew 25:41). God has already written it into history.
And that's very good news!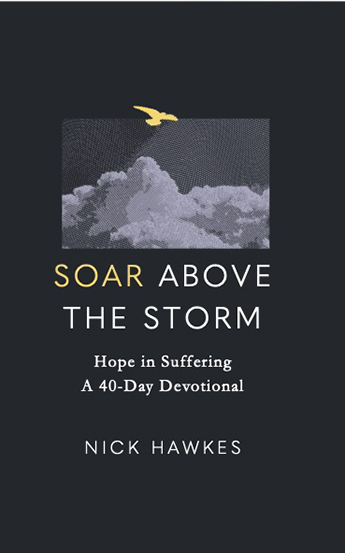 Dr Nick Hawkes is a scientist, pastor, apologist, writer and broadcaster. He also describes himself as an absent-minded, slightly obsessive man who is pathetically weak due to cancer and chemo, who has experienced, and needs to experience, the grace of God each day.
Nick has written a book Soar above the Storm in which he draws on his experience of cancer to encourage anyone walking through a storm in life to find rest and hope in God. It offers a 40-day retreat to be refreshed and strengthened and find deep peace in God. Order it at Koorong.
He blogs and records podcasts at nickhawkes.net
Nick told his life story to Eternityhere. 
Email This Story
Why not send this to a friend?