World
Christmas
Advent devotional gives global Christianity a voice this Christmas
Langham Partnership has created a Christmas devotional featuring 25 authors from the Majority World.
Langham Partnership, the ministry established by the late John Stott to equip and disciple Christians in the Majority World, has released a special Advent devotional this year.
The devotional Who is Jesus? is subtitled 'An Advent devotional from the global church', and each of the 25 reflections is penned by a different author from a different country – none of which would be considered part of the 'Western world'.
Authors from countries across Africa, Asia, Eastern Europe, the Middle East and the Mediterranean have written reflections themed around different identifiers of Jesus, including 'Jesus is the Lamb of God', 'Jesus is the Alpha and Omega' and 'Jesus is Eternal Life'.
The authors are connected to Langham's projects around the world, including scholars whose PhDs have been funded by Langham, writers who have been mentored and supported to publish Christian academic literature, and preachers who have been trained in how to teach God's word biblically in areas where theological education is limited.
Each reflection is focused on a different verse of Scripture, with the writer using the Bible as the foundation of a portrait of Jesus.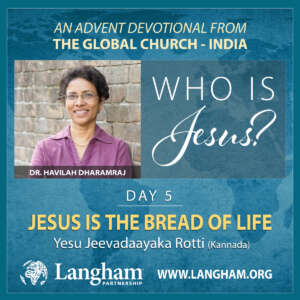 Most writers also include a note or reference to how this concept is understood and relevant in their own culture, such as Indian writer Dr Havilah Dharamraj explaining how Jesus being called the bread of life resonates in her Indian culture which centres around generous hospitality. Dr Dharamraj received her PhD with support from Langham, wrote and edited for the groundbreaking South Asia Bible Commentary, and she is the head of the Department of Biblical Studies at the South Asia Institute of Advance Christian Studies, Bangalore, India.
In the introduction of the devotional, Christopher J.H. Wright, Global Ambassador for Langham Partnership, wrote:
The great thing about this… is not just that it gives us multiple portraits of Jesus, but that it does so through multiple eyes and voices from around the whole global body of Christ, and especially from the Majority World. We need that kaleidoscopic lens on Jesus, for our own eyes are often blinkered and the voices we listen to in our own culture may be only echoes of ourselves. Langham Partnership is privileged to be giving voice to sisters and brothers from all over the world, and we pray that you will be blessed as you walk with Jesus in their company this Advent.
Langham Partnership's Australian CEO Gillean Smiley agrees. "The Bible is the living word that speaks into all eras of history and all cultures on earth. The way one person is able to draw this out and apply it in their culture might provide an entirely different insight in another culture that was never thought of," she says.
In Australia, we tend to rely heavily on Christian scholarship from the UK, USA and Canada. But the Church in other parts of the world has a lot to offer. Even in countries that we may think of as 'unreached', there are local Christians who are studying God's word in depth and have insights to share.
Gillean comments, "I'm often surprised by how little Australian Christians know about how God is moving in the worldwide Church, and how people are growing and maturing and the depth of scholarship and theological awareness that people have. It is really encouraging that we can show through this devotional that it's not a case of 'the West giving to the rest', but a case of the worldwide church sharing together."
It is really encouraging that we can show through this devotional that it's not a case of 'the West giving to the rest', but a case of the worldwide church sharing together.
Langham Partnership Australia printed a few copies locally but are generally focusing on digital distribution. Those who wish to receive the devotional can find them on the website, or follow Langham Partnership Australia on Facebook to see the devotions each day.
"I'm so excited by the opportunity to share voices people might otherwise not hear," Gillean says. "It's so important to have that sense of connection in the global Church."
Email This Story
Why not send this to a friend?