In her long and varied experience as a humanitarian worker in areas of conflict, Nadine Haddad has never seen anything as heart-breaking as what is happening in Afghanistan at the moment.
The senior policy adviser with World Vision finds it hard to find the words to describe the situation in Afghanistan, other than to call it "like Syria on steroids". Whereas it took 10 years for the economy to collapse in Syria, it took just two months in Afghanistan after the Taliban returned to power last August.
"The magnitude of it is beyond anyone's comprehension – everyone in Afghanistan is affected by the crisis," she tells Eternity.
Just six months ago, World Vision was warning that 18 million people would be suffering from food insecurity without immediate intervention. Now that figure has risen to more than 23 million – a sharp 30 per cent increase in just six months.
Fuel your faith every Friday with our weekly newsletter
World Vision holds the greatest concern for children under five, who are the most vulnerable to the effects of malnutrition.
"We estimate that 150,000 children under five would die this year if intervention is not made immediately available at scale, and there will be 1.1 million children who will be affected from severe malnutrition," Haddad said.
"I know these numbers are really hard to explain, but one of the hardest things that I have done in my life as a humanitarian was actually watching a child who is severely acutely malnourished. It is an incredibly cruel and painful way to die. To see a young body that is ravaged with infections – like, they're so stiff from the pain. It is beyond cruel. And the sad thing is that it is so avoidable. We just need to be able to get them with the right treatment and with the right food which is abundant."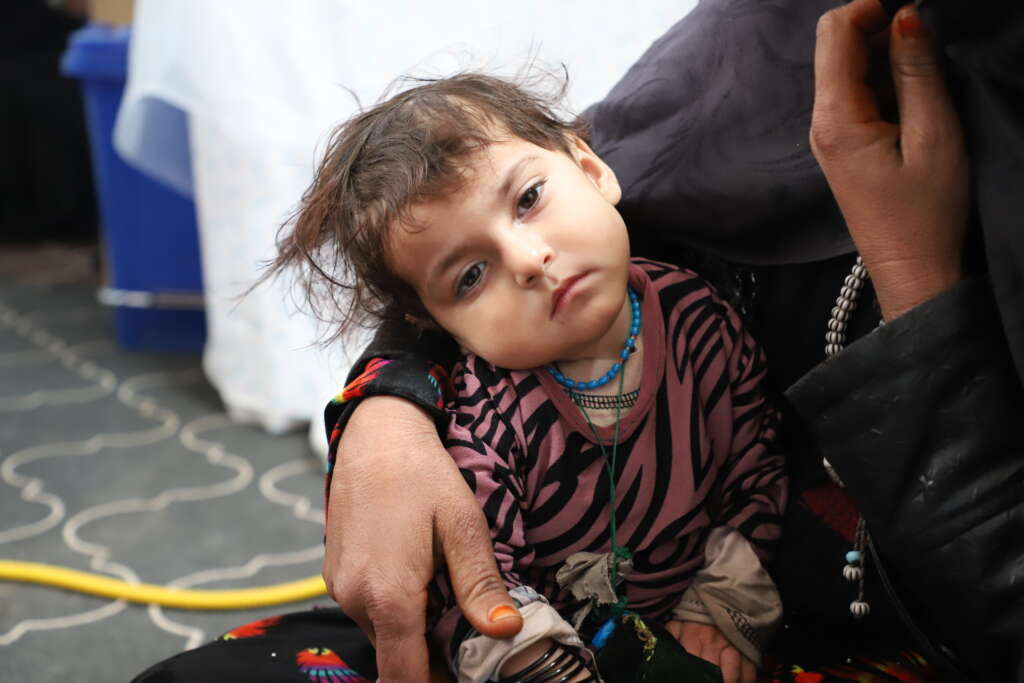 Last month, the UN launched its biggest ever humanitarian appeal for a single country, calling for $US5 billion to avert a humanitarian catastrophe. The aim is to feed 23 million people, ensure some sort of educational continuity, extend protection services to boys and girls, and provide nutritional services to children under five.
As one of the UN World Food Program's biggest partners on the ground in Afghanistan, World Vision has committed to scale up its presence in the country to expedite food aid delivery.
From around 360-400 staff in four provinces before the Taliban takeover, it is boosting its team to more than 600, using its relationships in communities to do background checks as part of the recruitment process.
But with the collapse of the banking system, World Vision has had to resort to the Hawala informal funds transfer system to pay its staff, a system that attracts 8-12 per cent in fees.
"It's not economical when we as organisations have to incur all of these fees, which would have been better put to use directly to the programs."
This is why World Vision is appealing to the World Bank to release development funds that it has withheld as part of Western sanctions against the Taliban regime.
"The liquidity and economic crisis is what is causing the huge suffering in Afghanistan," Haddad said.
"Since the Taliban takeover, there has been over $US9 billion that has been withheld, mainly in the US."
With 80 per cent of Afghanistan's education and health sectors completely reliant on development aid and development funding, that means 80 per cent of educational staff and medical staff in hospitals are not being paid.
And even if they do have some money in their bank accounts, they can't access it because there's not enough cash in the country.
"Compound that with families not even being able to access their savings or have any sort of job to provide for the family. This is the magnitude of the catastrophe."
Haddad said with villages cut off during the winter, the only way for many families to survive is to leave their homes and migrate to urban cities like Kabul.
"A lot of them just have a flimsy piece of fabric to call home. So imagine a mother having to breastfeed as well as take care of the other children in such a shelter.
"You've got no access to education, no access to proper food, no access to any support, including mental health, whatsoever."
One of the World Vision programs that does bring joy to Haddad's heart is the mother and baby tents.
"These are not just like simple tents, it's a safe place for lactating mothers just to come in and feel safe, be treated, and have access to food for them and the children. We do a lot to support women to breastfeed. For me as a mum, the hardest thing I had to go through was not childbirth, but it was actually breastfeeding. It was really hard. And I was in a country with all the support that I needed. So can you imagine how tough it is for a mother who's got children that she cannot feed? She does not have a voice or a way to empower herself or her children.
"So if they're lucky we can get in and offer that support and it does go a huge way when you offer that one-on-one support to a mother and the child and her children."
If you would like to donate to World Vision's child hunger appeal for Afghanistan, click here.
Email This Story
Why not send this to a friend?