World
natural disasters
For the love of God (literally): Stop sending goods in a disaster
There is a better way to give to those in need
If you want to donate after a crisis, "cash is best" according to international aid organisations.
In the aftermath of Tropical Cyclone Winston in 2016 – the most intense tropical cyclone in the Southern Hemisphere – the island nation of Fiji was inundated with "gifts". Over 250,000 people were estimated to be in need of emergency water, sanitation and hygiene assistance.
"People give what they perceive to be the need, according to the pictures they see on the television and in the news."
Well-meaning donors from around the world sent shipping containers full of supplies. More than 133 containers, plus over 8000 pieces of loose cargo, from pallets to packages. It totalled 83,315 cubic metres of goods. Enough to fill over 33 Olympic swimming pools.
The problem was that the "gifts" were not what the affected communities needed. At all.
"We continue to tell people the same message: please don't send goods. Cash is best," says Junus David, World Vision Australia's emergency response manager.
Some people had sent skis and snow jackets. To Fiji: a tropical island. Other impractical "donations" included high heels, handbags, and formal dresses.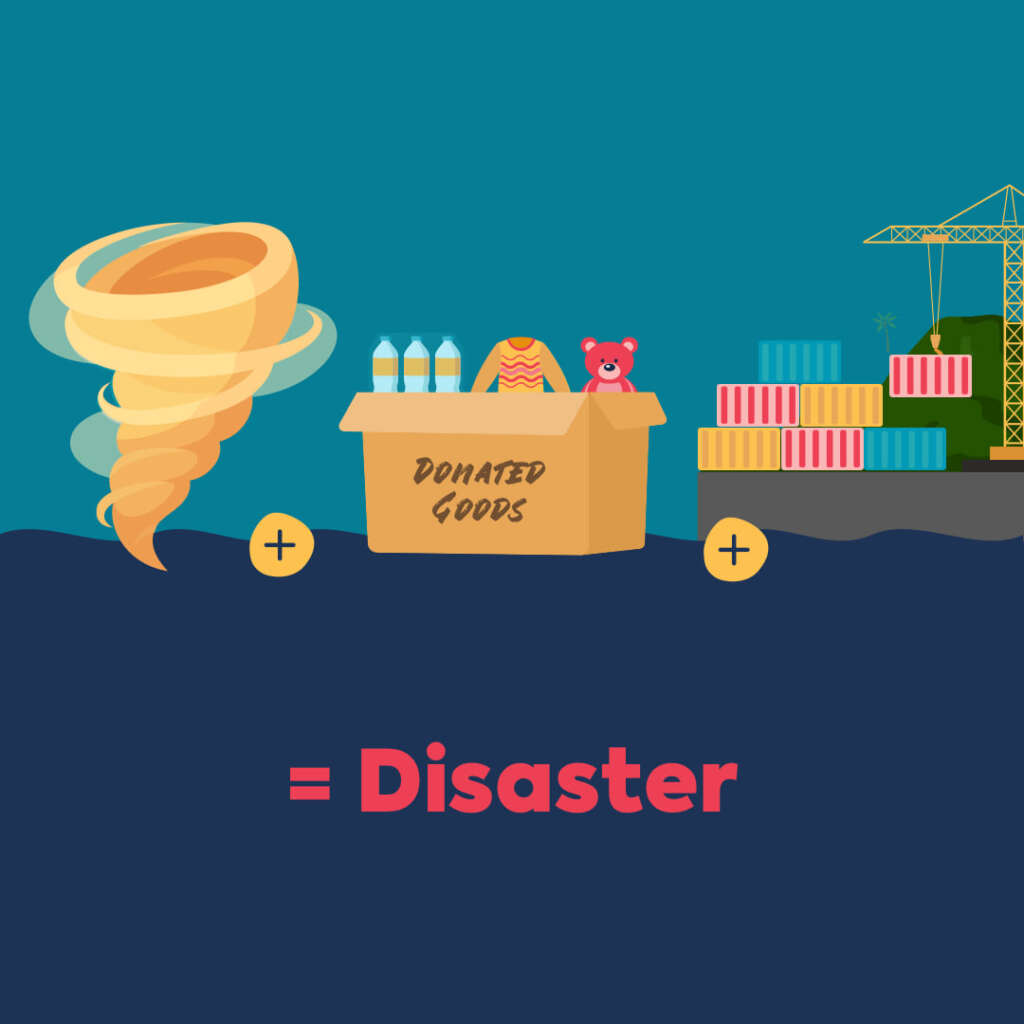 Not only were the gifts unusable, the shipping containers and packages blocked up the small port in Fiji. This made it difficult for much-needed supplies from first responders to get to where they were needed quickly.
A new campaign by the World Food Programme, called Donate Responsibly is attempting to educate those in Australia and New Zealand who want to be generous in times of crisis.
Coming at the beginning of cyclone season in the Pacific, the campaign wants to tell donors what is the best and most effective way to donate to disaster relief.
"I think when a disaster happens, most people do want to give in a way they know how to," the director of WFP's Pacific Multi-Country office, Jo Pilgrim, told Eternity. 
"People give what they perceive to be the need, according to the pictures they see on the television and in the news."
The campaign follows on from work done by the Red Cross, which calls these types of donations "unsolicited bilateral donations".
In a 2017 report, the Red Cross said goods donations "while often donated by well-meaning individuals and groups … may not be appropriate for the climate and culture of the receiving country, or meet the needs of those affected. They put pressure on an already-stretched humanitarian supply chain system and incur many thousands of dollars in storage and handling fees."
"No one knows what to do with these goods or how to distribute them." – Jo Pilgrim
Tropical Cyclone Pam hit Vanuatu in March 2015 , smashing its 13 main and other smaller islands,  leaving 75,000 people homeless. In the wake of the catastrophe, the country received over 70 shipping containers of unsolicited donations of goods, taking up wharf space. Ten months after the cyclone, there were still 18 full containers on the wharf, which had accumulated approximately US$1.5 million dollars in storage, handling and container rental fees.
The government of Vanuatu had to foot the bill, while still dealing with a country reeling from disaster.
"The containers need people to unload them, and there's more important things for them to be doing in a crisis," says Pilgrim.
"These aren't big countries with big populations. Their infrastructure isn't as developed, so in a disaster this unexpected cargo comes through the ports and blocks everything up. It is moved to the side to make way for the things that are actually necessary," she says.
Making matters more difficult, much of the donated goods being sent isn't properly labelled or addressed.
"They are often not consigned to a particular organisation or person. Packages and even whole containers are addressed to "The Government of Vanuatu." No one knows what to do with these goods or how to distribute them."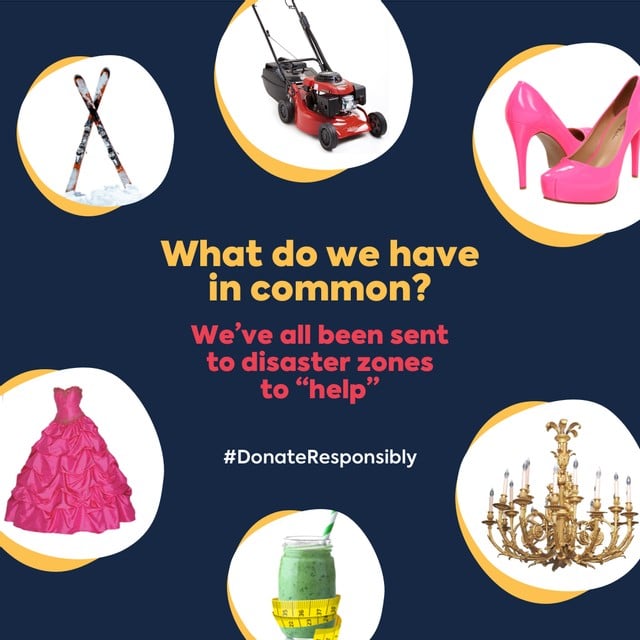 According to the Red Cross, 50 per cent of food items sent to Vanuatu as unsolicited donations were expired by the time they were accessed. They ended up in landfill. As did a huge volume of clothing that was inappropriate for the Vanuatu culture or climate, including heavy blankets and woollen knitwear.
"This happens after every disaster," says Pilgrim. "It's happening in Lebanon right now, after the explosion in Beirut. Unsolicited goods are arriving every day."
Pilgrim says community groups – including church groups – band together to collect these goods to send to disaster-struck areas. And though well-intentioned, it's just not helpful.
In Australia earlier this year, the generosity of people keen to help fire-ravaged communities caused what the NSW Government dubbed "a second disaster", as struggling towns had to deal with unsolicited donations of unneeded toys, clothes and furniture.
"It's impossible to stop people's generosity. And of course we wouldn't want to do that," World Vision's David tells Eternity. "But it's important to educate people to do it in the right way.
"There are a lot of assumptions made when choosing to give goods instead of cash," he says. "People might think cash is easily manipulated or can be diverted easily. That's why it's important to give to a registered international charity."
"People [sending goods] just don't think about the logistics of getting their gifts to people, or whether that's really what people need." – Junus David
David was in Sulawesi, Indonesia, just days after the 2018 earthquake and tsunami which killed over 4000 people, damaged over 70,000 houses and forced tens of thousands of people into shelters and tents.
"It was chaos. When a disaster hits, people are trying to do many things at once. It's a mix between making sense of things and trying to help. Debris is everywhere. The smell is something I'll never forget. You lose your words when you see such devastation."
David saw firsthand how unsolicited donations clogged up the ports and prevented useful aid from proceeding.
"People [sending goods] just don't think about the logistics of getting their gifts to people, or whether that's really what people need."
After the Taal volcano eruption in the Philippines in January this year, when half a million people were ordered to evacuate, some evacuees started posting photos of themselves in donated clothing that made it to the makeshift shelters where they were staying. Take a look at the link here.
At least those donations provided a little bit of entertainment. But don't be fooled. Most of the unsolicited donations of goods ended up in landfill.
"Your kindness goes to waste," reads the Donate Responsibly website.
Don't let that happen. Give wisely. Give cash.