World
U.S. Church News
US pastors on the brink: 38 per cent seriously considered quitting ministry last year
Over half of all female senior pastors contemplated an exit
There are concerns that US senior pastors are on the brink of crisis after new research by the Barna Group found 38 per cent of senior pastors have "given real, serious consideration to quitting being in full-time ministry within the last year".
This is an increase of 9 per cent (up from 29 per cent) of senior pastors surveyed at the beginning of the year.
"That's now two in every five senior pastors," said David Kinnaman, president of Barna Group. "This is really signalling that pastors are in crisis."
Kinnaman said he had expected to see the results rise but not by such a considerable margin.
Fuel your faith every Friday with our weekly newsletter
"This feels like a really big deal," Kinnaman told Carey Nieuwhof on ChurchPulse Weekly, Barna's podcast. "You just don't see social change happen as quickly as we're seeing here."
The research, released by the Barna Group yesterday, was conducted from October 12-28 and compared the results with the same study conducted in January this year.
Nieuwhof pointed out that at least some of the 29 per cent who reported considering leaving in January would have done so. This made the rising numbers "alarm bells," Nieuwhof said.
There were more senior pastors under the age of 45 who had thought about quitting – 46 per cent – compared to 34 per cent of pastors 45 and older.
And, pastors from mainline denominations (And, pastors from mainline denominations (the "Seven Sisters" denominations: Episcopal, Presbyterian Church USA, Evangelical Lutheran Church of America, United Church of Christ, United Methodist Church, American Baptist, Disciples of Christ) were also far more likely to consider quitting than those from non-mainline denominations (51 per cent versus 34 per cent).
Most alarming was Barna's findings on female senior pastors.
"Senior pastors who are women, more than half said they were giving serious consideration to quitting, whereas about a third of men who lead were giving serious consideration. So, another data point is that this time period has hit women in leadership than men in leadership," said Kinnaman.
Barna's actual research has not been released (only its findings and a small selection of data points), but a screenshot of data shown in the podcast shows that female senior pastors made up 11 per cent of the survey sample of 507 Protestant senior pastors. Barna notes that "minimal weighting has been used to ensure the sample is representative based on denomination, region and church size". And, in 2017, Barna reported that one in eleven Protestant senior pastors were female. So the number of women included in this survey seems appropriately representative of female senior pastors.
"We're all asking ourselves 'what do we want to do with our lives going forward?'." – David Kinnaman
Barna also found that many senior pastors are not faring well in one or more of Barna's categories to assess wellbeing.
Senior pastors were asked to rate how they were feeling right now in six wellbeing categories: relational, spiritual, physical, emotional, vocational and financial. Respondents could select excellent, good, average, below average or poor.
Senior pastors who scored themselves as either "excellent" or "good" in all six categories were defined "healthy" by Barna – with only 35 per cent making the grade. Unsurprisingly, those senior pastors who said they had seriously considered leaving full-time ministry scored significantly lower in each category.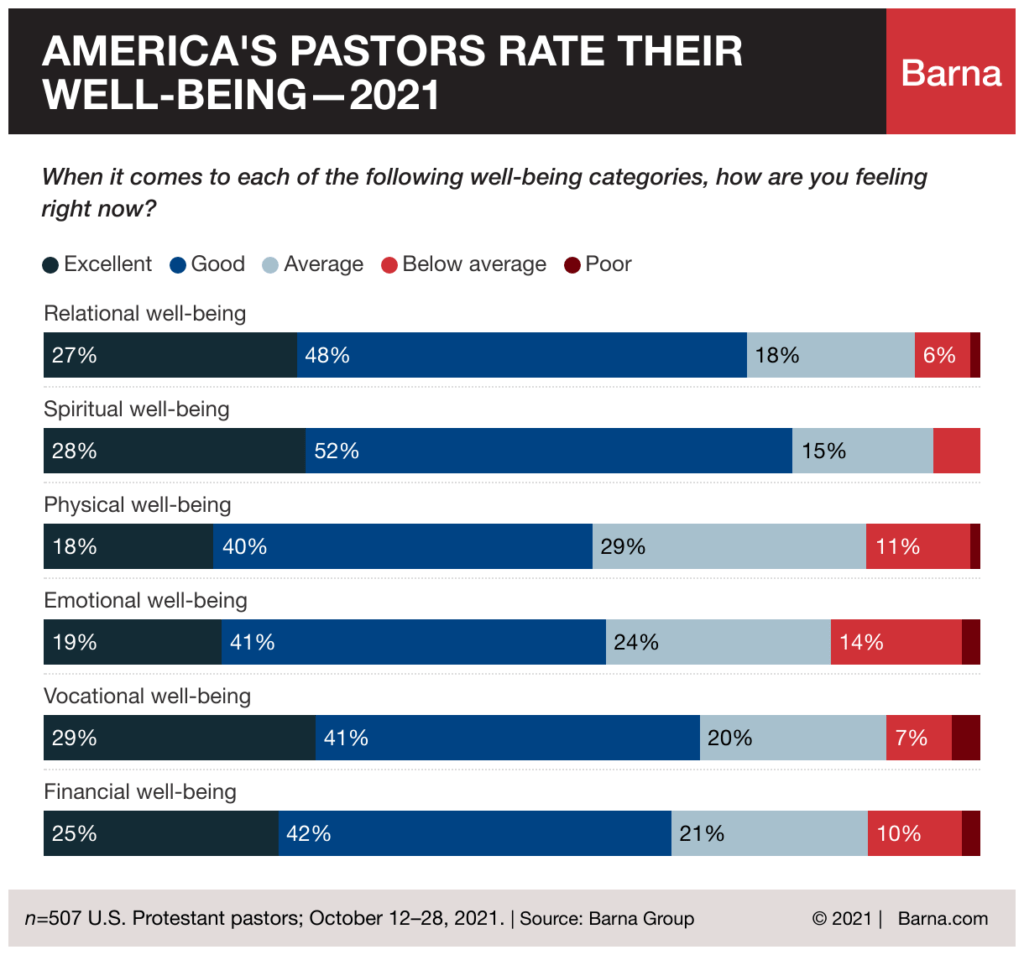 While Kinnaman was clear about how concerned he was by the research, he was also careful to contextualise the results within a broader societal trend of people re-assessing their lives after the experience of a global pandemic.
"I think that pastors are in that same space. We're all asking ourselves 'what do we want to do with our lives going forward?'," he said.
Kinnaman noted that while the US always needs more pastors – "people who are thinking pastorally" – America has a massive 320,000 Protestant churches, which is something like 20 times more Protestant churches than McDonald's restaurants.
So, Kinnaman thought this could be a good reminder that the church needs more bi-vocational leaders – pastors who work both in the world and in pastoral ministry – and that bi-vocational pastoring could become a significant emerging trend in the future.
"I think this tells us that there's a real healthy re-shuffling of the way ministry staff and ministry staffing is going to work. But it [also] does tell us that these men and women are really feeling the pressure right now," he said.
Email This Story
Why not send this to a friend?