In one of my favourite episodes of The Simpsons, a character called Mo decides to convert his bar into a fast-food outlet. He buys an army surplus deep-fryer. It's the size of a swimming pool and arrives on a semi-trailer. Mo tells Homer "This baby will deep-fry a buffalo in 30 seconds". Homer's reply? "Thirty seconds? I want it now!"
We live in an impatient world. Car horns blow a nanosecond after the lights turn green. No one can wait 24 hours for American TV shows to be available in Oz; we just have to pirate them. And I'm the man who opens the microwave early because it's just too slow.
If you haven't been overcome with agitation already, you're going to want to take a look at The Oxford Dictionary's definition of patience – it's brilliant: "The capacity to accept or tolerate delay, problems, or suffering without becoming annoyed or anxious."
It's easy to see why learning patience is one of the marks of the follower of Jesus:
Therefore, as God's chosen people, holy and dearly loved, clothe yourselves with compassion, kindness, humility, gentleness and patience. (Colossians 3:12)
Learning patience is one of the key signs of accepting, "I'm not God and the world doesn't revolve around me." In other words, it's a key tool for dealing with pride: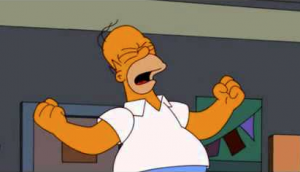 The end of a matter is better than its beginning, and patience is better than pride. (Ecclesiastes 7:8)
I want what I want and I want it now – is that unreasonable? Often, yes. Learning patience is about learning to fit in with God's agenda. God doesn't work on our time-frame. He is very patient when it comes to moulding character and teaching lessons. Moses sat in the desert for 40 years learning humility. The Israelites wandered in the desert for 40 years learning that they didn't live on bread alone. Joseph had 13 years of slavery and prison before he was ready to have power in Egypt. Knocking sharp edges off character takes time, and God is patient.
God is particularly long-suffering about bringing the judgment day:
The Lord is not slow in keeping his promise, as some understand slowness. Instead he is patient with you, not wanting anyone to perish, but everyone to come to repentance. (2 Peter 3:9)
God exercises patience as he gives people time to repent and find life. The ability to "tolerate delay, or problems or suffering without becoming annoyed or anxious" flows from understanding that God is in charge. We still need to act, to make the most of the time we have, but we can do it without being angry, short-tempered and anxious. We can be patient because we know the world doesn't revolve around us and the one it does revolve around has it under control.
So ask God to give you patience – but don't get stressed. He may make you wait a while.