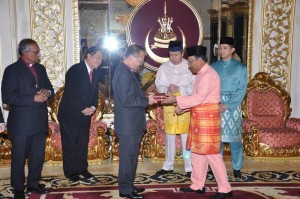 Bibles seized by authorities in the Malaysian state of Selangor for using the word "Allah" to refer to God have been handed back to Christians, but only for use in another part of the country.
351 copies of the Bible in Malay and Iban languages were seized from the Bible Society of Malaysia (BSM) bookshop in Damansara, in Selangor in January 2014.
"I thank God for giving Bible Society Malaysia a wonderful 30th anniversary present in royal style," Simon Wong, General Secretary of Bible Society Malaysia told Eternity.
"At the royal ceremony in Shah Alam Palace, our 351 seized Bibles were symbolically returned to BSM by JAIS / MAIS (the Selangor State Islamic Religious Council), and it was witnessed by His Royal Highness the Sultan of Selangor, the Mentri Besar (Chief Minister) of Selangor and national Church leaders."
They were handed back on condition they would be used in Sarawak, a Malaysian state on the island of Borneo, which has more Christians than Muslims. Selangor is majority Muslim.
They were handed to Sarawak Christians and not to the Peninsular-based BSM as part of the condition that such material was not to be distributed in Selangor, and especially not among Muslims, a statement from the Selangor Islamic Religious Council (Mais) told the Malaysia Insider newspaper.
The Bible Society of Malaysia is happy with that. "Under the arrangement that was arrived at, these Bibles were delivered to the Association of Churches of Sarawak for use in Sarawak," the president of BSM, Bishop Datuk Ng Moon Hing said. "As these Bibles had been designated for delivery to Sarawak in the first place, we are content with this particular solution for this instance."
With this latest positive development, hopefully the "respective authorities and parties in the country would learn to respect the faith and practices of other religions and promote peace and harmony in the country," Simon Wong told Eternity.
"The raid on the Bible Society in January 2014 was supposedly carried out according to the Selangor State Enactment 1988 which prohibits the proselytisation of Muslims together with a list of banned words. However, after investigation, the Attorney General openly cleared BSM of any violation of the state and federal law, and required JAIS to return the seized Bibles, which they initially refused but finally did in royal style. ‬
"I think BSM has the legal provisions to continue to translate, publish, import and distribute Bibles, including the Malay and Iban Language Bibles. Nonetheless, to avoid unwanted interference by ill-intentioned parties, in April BSM set up a business office in the Federal Territory of Kuala Lumpur while the Bible House in Petaling Jaya, Selangor continues to serve the local churches as before." ‬
Bishop Datul Ng Moon Hing added "We trust that with this resolution, the matter of our seized Bibles can be put to rest. We also hope and pray that in [the] future there will be no repeat of this or a similar situation, where Bibles or other Christian materials are seized. Let us work together to respect and celebrate the rich diversity of Malaysians in being able to live harmoniously in a mature and multi-religious society."
"Allah" has been used in Bibles in Malaysia to refer to God since the first Malay translation in 1629.
Photo: The Sultan of Selangor witnessing the handing over of the seized Bibles to Chairman of the Association of Churches in Sarawak, Rev Archbishop Datuk Bolly Lapok. Also present was Selangor Menteri Besar Azmin Ali (in blue baju Melayu). – CREDIT Selangor press secretariat, November 14, 2014.
Email This Story
Why not send this to a friend?