Almost 2 years ago, to the day, we stood before over two hundred of our closest friends and family and made a promise to each other: "From this day forth, I'm on your team!"
Now, as I look across at my wife, we pull the roller door down on the storage shed filled with all of our 'worldly possessions', I can't believe this is actually happening. In just two weeks time, we will move to one of the poorest countries in Asia to live and serve full-time with the International Nepal Fellowship, an organisation with a mission to: "Live out the good news of Jesus Christ in word and deed by serving Nepali people through promoting health, fighting poverty and social injustice, working with and encouraging churches, and caring for creation."
So how do Brittany, who grew up in Ulladulla as the daughter of two teachers, and Matt, the son of a GP and nurse raised in the comfort and affluence of Sydney's North Shore, end up trading in comfort and cappuccinos to move to Nepal? Nepal is a country ranked 157 out of 186, according to the United Nations Human Development Index (which measures countries according to levels of health, education and living standards); in comparison, Australia is ranked number 2. How did we make the choice?
We found it pretty easy, because of kids like Sarita.
Development work and missions isn't about transporting our own ideas, values and presumptions as to what is 'good' into a foreign culture in order to somehow 'fix it'.
I first met Sarita in Nepal in 2009 whilst filming on location in Jumla for World Vision's 40 hour famine. I was twenty-one and she was seven. Sarita lived with her mother and 7 older brothers in a small village perched precariously high along the side of a deep winding valley. The beautifully jagged snow-covered peaks of the Himalayas set the backdrop with the fast rushing waters of their melt running sapphire blue through the valley below. The awe-striking beauty of Nepal's landscape is so immense that it can easily shroud the way that families just like Sarita's struggle daily to survive. Nepal's desperate living conditions are often described as 'poverty in paradise'.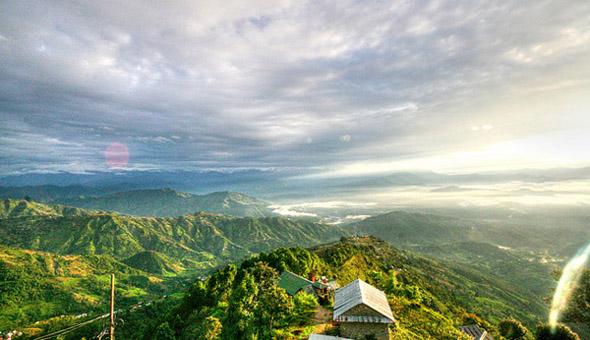 When I first laid eyes on Sarita's village, I couldn't help but feel if we had arrived 200 years ago, nothing before us would have looked out of place. There was no running water, electricity, mechanized farming or household equipment. The women still gathered on the soil-packed roofs to thresh out the wheat with long, smoothed sticks as they discussed the day's gossip and news.
The situation of Sarita's family typified the knife-edge of so many living in Nepal's remote rural areas. They had no land and zero assets, meaning that they were forced to rely on the small amounts of paid-labour they could pick up from others. When drought had destroyed a recent crop, the family was unable to find employment, forcing them into debt just to survive. This led Sarita's father to set out for India in order to find work. And Sarita's mother told us through tears that he had become sick, potentially too sick to ever return home if he was to afford the medicines and the transportation required.
I spent the day with Sarita, and what struck me was that despite the difficult circumstances Sarita was just like any other little girl I'd met in Australia: cheeky, playful and filled with her own fanciful hopes and dreams when it came to her future and what she imagined it would be like. Sarita told me that when she grew up, she would be a nurse. "Why?" I asked her.
"So that I can help all the other little children in my village," she replied, with such self assurance that you didn't dare to think otherwise!
And yet the sad reality is that Sarita, and so many other children like her will never have the chance to reach their full potential because of the poverty that pervades every part of their daily lives, snatching dreams and stealing futures.
Development work and missions isn't about transporting our own ideas, values and presumptions as to what is 'good' into a foreign culture in order to somehow 'fix it'. It's about justice and the Kingdom of God, which recognises that every man, woman and child is made in the image of God, and so deserves the opportunity to discover this truth for themselves, whilst achieving their full potential according to the gifts and passions that He has placed within them.
What vision for this world could be better than this one to which we are all called?
From very early on, my wife and I recognised that if we were to be together, then our relationship had to move us further in this direction than away from it. It was Bonheoffer's 'Wedding Sermon from a Prison Cell' that inspired the inclusion of those vitally important words in our vows- that together, we were meant to be a 'team'. In it, Bonheoffer says:
In your love you see only the heaven of your own happiness, but in marriage you are placed at a post of responsibility towards the world and mankind. Your love is your own private possession, but marriage is more than something personal – it is a status, an office.
Our 'team' has felt called to Nepal. "Won't it be hard?" people ask us.
Sure. Whether it's the sporadic supply of electricity (which only comes on for 8 hours each day … if you're lucky), the horrendous conditions of the roads, where rarely serviced vehicles weave their precarious way around some of the world's biggest cliff faces, and my personal favourite: the supposed immanency of a major earthquake event that is apparently well past its due date for the region (why people would tell me that, I still don't know!).
And yet even as friends and concerned family members ask these and other similar questions, I get the feeling that they're more worried than we are despite the fact that it is us going and not them!
"Are we crazy?" I ask my wife. Should we be more concerned? Absolutely not. Because when you find the calling that God has on your life, and you start living in the adventure of bringing His Kingdom of love, justice and grace on this earth as it is in Heaven, you realise that there's nowhere else you'd rather be.
Matt Darvas is married to Brittany, and they are on mission in Nepal with the International Nepal Fellowship. He will be blogging about it at www.mattdarvas.com.
Top image by Matt Darvas. Center image by bobbynation used under a CC license.
Email This Story
Why not send this to a friend?