Christians are playing Santa and gifting Tony Abbott with an unusual present this Christmas: solar panels.
Newly formed Christian movement Common Grace are behind the gift, paid for through crowdfunding from the Christian and broader Australian community. They want the solar panels installed at the Prime Minister's Kirribilli House, and they delivered the panels to Tony Abbott's electoral office in Manly on Sydney's north shore this week.
"The solar panels are a gift for the nation, from the nation, to symbolise public support for a clean energy future," said Dr Michael Frost, vice principal of Morling College, a Baptist theological college in NSW. Frost joined other local Christian leaders from the Anglican, Presbyterian, Metropolitan Community Church, Quakers and Uniting Church in support of the initiative.
"As Christians we recognise that the earth is a gift from God and that we are to care for what God has given us," said Jody Lightfoot, Common Grace's climate justice campaigner.
"The solar panel gift is to show strong support for the renewable energy target. A clean energy future isn't just about the environment, it's about justice and the common good."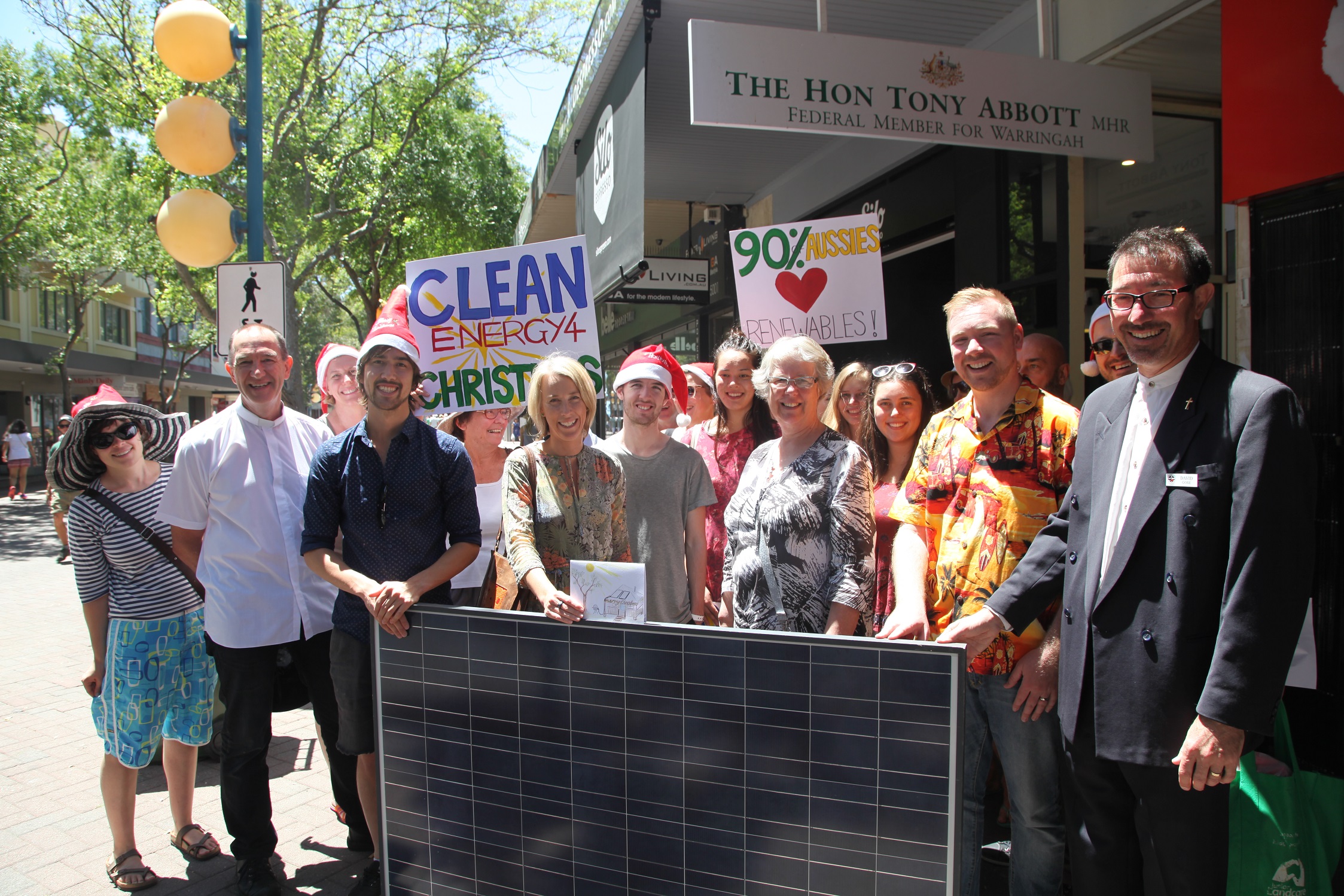 Lightfoot told Eternity that adding the Christian voice to the "chorus of Australians calling for a stronger renewables industry" could be seen as a surprising move in some quarters, but one that might make politicians pay more attention to their message.
"Christians haven't been as vocal on this issue because many of us have viewed climate change as something abstract that doesn't affect us or others," he said.
But that mood is changing, according to Lightfoot, as Christian denominations including the Catholic, Anglican and Uniting Churches make bold statements calling for an end to fossil fuels and divestment from fossil fuel investment.
"I think we'll see the groundswell of Christians from across the political and denominational spectrum grow as we recognise that climate change is impacting people right now, which makes advocacy for clean energy part of loving our neighbour and stewardship in the 21st Century."
Common Grace have chosen their solar panel campaign as the first official campaign under the new group's auspices. But among the many political and social issues to choose from, why this? And do they think Jesus would be with them?
"Jesus cares about our ecological crisis because he cares about the poor, who are being hit hardest by more intense and frequent extreme weather… You can't separate our ecological crisis [from] loving our neighbour. Jesus cares about the earth and his resurrection is good news for all of creation," says Lightfoot.
While to some the campaign may look like a stunt – a gift to a Prime Minister who claimed a mandate to get rid of the carbon tax and who in October scaled back incentives for the renewable energy industry – Lightfoot prefers to call it a symbol.
"This is much more than a stunt. This is a symbol of the kind of Australia that we want to see."
A group of Christian leaders presented the solar panels to Tony Abbott's office on Wednesday, with a Christmas card explaining the gift and the offer of free installation of the panels at Kirribilli House. At the time of writing, Common Grace had not received a response from the Prime Minister.
More