Hillsong is renowned for high-energy services and enthusiastic worship – in London, Paris, New York, Sydney. It's a friendly place where everyone smiles. But there was one Sunday, at a Hillsong service in Kiev in Ukraine, where nobody could smile.
"People came to church on Sunday, but nobody smiled. They didn't know what tomorrow would look like. I stood up on the stage and everybody looked: 'What are you going to say to us?' Praise the Lord that in that moment, God gave encouraging words for his people," said Hillsong Kiev's lead pastor, Yuriy Ravnushkin.
"People needed church at that moment," he said. "When they don't see hope anywhere, they come to church and they can focus on Jesus."
Only a year after Ukraine declared its independence from the USSR in 1992, Hillsong Kiev was born. The congregation, which has burgeoned to number in the thousands, has seen a lot in those 22 years: political unrest, revolution. But at the end of last year, when hundreds of thousands of protestors turned out in Kiev's Independence Square, a new season for the church also began. The Ukrainian government had abandoned a deal to form closer ties with the European Union, instead forging a closer relationship with Russia and sparking violent demonstrations. The BBC reported Kiev's "worst day of violence for almost 70 years" with almost 100 people killed in two days. Dramatic images of Independence Square flooded the world's media.
Just on the outskirts of the city, Hillsong Kiev's leadership team was trying to keep a church going. At Hillsong's major conference in Sydney in July, Kiev's lead pastor Yuriy Ravnushkin spoke about the challenges of that period, including plans for a government-imposed curfew at the height of protests in December and January that would have made it difficult for the church to operate in the evenings.
Hillsong's global creative director, Cass Langton was in Kiev in May, after the church decided to cancel its annual Colour Conference for women, because of unrest in the country.
"We didn't want the [leadership] team to be under pressure to put on a huge event," she said of the decision. "People were frightened and worried, and even from a financial point of view, it just wasn't the time for that. So we refunded the money but decided to go anyway and just run one night."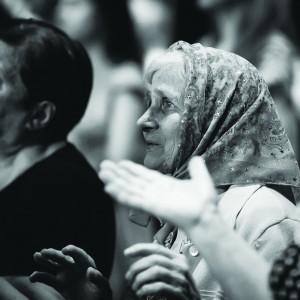 Against expectations, women came out in force for the one-night event in May. Around the same time, Ukraine's acting President Olexander Turchynov reinstated military conscription in response to the deteriorating situation in eastern Ukraine.
When Cass arrived to meet the Hillsong leadership team in Kiev, they had started discussion about "how to deal with all their men going to war."
"We're well aware that all of our men and male youth could be called at any time to be members of the Ukrainian army as war continues to spread," said Tanya, who, with her husband Yuriy leads the pastoral team in Kiev.
"It's [also] a constant balance to accept people with different political points of view and to keep this topic away from the church platform."
But the conflict has made Hillsong Kiev more "outwards focused" than ever.
"We've started to do a whole lot more outside our doors than we have ever before," said Tanya. "We've accepted a lot of children who are refugees into our church and into our homes."
Yuriy told the Hillsong Conference that there were huge opportunities to minister to refugees coming from parts of Ukraine, particularly in the east where fighting is the most intense.
"Children come to Kiev, and their fathers stay to protect their homes. Our opportunity is to show them that we love them. Even with simple things like food."
Also high on the agenda is to raise up a church that does not hate Russians. In 2007, Hillsong Kiev planted an offshoot church in Moscow. Hillsong Moscow is led by Vadim Feshchenko, whom Yuriy had ministered to as a youth pastor. Now, the two pastors are on either side of a bitter, ongoing conflict.
"There's good camaraderie there," says Cass. "They get together once a month and talk strategy and what God's doing in their churches.
"This could have been something that divided the two churches … but the leaders talk to their people about the fact that we're all people under God. In church, it's not us and them. In all their communications, [the leaders] have striven to get across that we're Christian first, and that's where our nationality is grounded."
Yuriy's wife Tanya says she sees that the church&rsq
uo;s role in the crisis is to be an encouragement for the city of Kiev to look to Jesus.
"It's a daily decision for us to trust God more than the mass media, more than the news and more than what we see with our own eyes. There is a need to make sure that among us, in the unpredictable things, that we pay attention to God and remember that God's plan is eternal and everlasting; that he is consistent and never changes his mind or his character," she said.
More