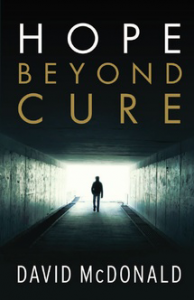 There was a sense of anticipation building as I began reading David McDonald's Hope Beyond Cure.
"When is it going to come?" I found myself asking, "When is he going to mention it?"
McDonald's book is avowedly evangelistic. In essence, he is a Christian pastor writing about how his diagnosis of terminal cancer caused him to re-evaluate the foundations of his faith. And the unfolding tale of personal and familial crisis around a diagnosis of terminal cancer was all too familiar to me, both personally and professional.
The author wants to commend Christ to everyone, not just the person given an adverse diagnosis. As such, his book has inestimable value. It is a personal story of struggle and hope and there is much in it that is instructive and helpful.

I love the way that McDonald argues the case for substitutionary atonement and the resurrection with a passion and urgency born of personal experience. I also love his brief but very personal observations in the later pages about his "groaning".
The early chapters, in particular, deliver searing insight into the world of the cancer patient from the inside, and in them, McDonald describes an "aha moment" for him as a pastor. It is tantalisingly brief in detail but it is priceless advice for any pastoral carer, chaplain, family member or friend of one diagnosed with a terminal illness (no spoilers here).
If I had one quibble with this book it would be this; there is a kind of "You would say that wouldn't you?" aspect to the encounter when a non-Christian reads a book by a Christian pastor facing a death sentence and the author concludes in the end that Christ is reliable and the gospel is true.
As a result, when McDonald writes "When I looked back through my Bible, asking the hard questions and tackling my fears and doubts, I became more and more convinced that I could trust God in life and death", the reader is almost begging the author to "walk me through that process" with the same kind of vulnerability in a faith context exhibited in the early pages in an emotional and physical context. In that context, the chapter on faith seemed slightly impersonal and cerebral.
By the end of the book I found myself concluding that, in faith, McDonald had affirmed the facts of the cross and the resurrection while experiencing real trial. It points people to real hope. I would love to follow up and ask McDonald for his reflections on how specific experiences within the context of his illness raised real doubts, how he dealt with them, and how they deepened and broadened his biblically founded faith, or how his groaning might relate to the experience of the Psalmist, for example. But again, maybe this was not his purpose.
This book is designed as an evangelistic giveaway. While the truth at its heart is something I believe everyone needs to hear, my advice is do not give it away without reading it first, so that you can be confident that the person you are giving it to is ready to deal with reading about someone else's trauma.
This is the context of McDonald's gospel message.
Rev Stuart Adamson has served as a hospital chaplain for Anglicare at the Prince of Wales and Randwick Hospitals' Campus in Sydney's east since 2005 and as a pastoral supervisor and trainer of chaplains since 2009.
Email This Story
Why not send this to a friend?