Indonesians get to know Jesus across the airwaves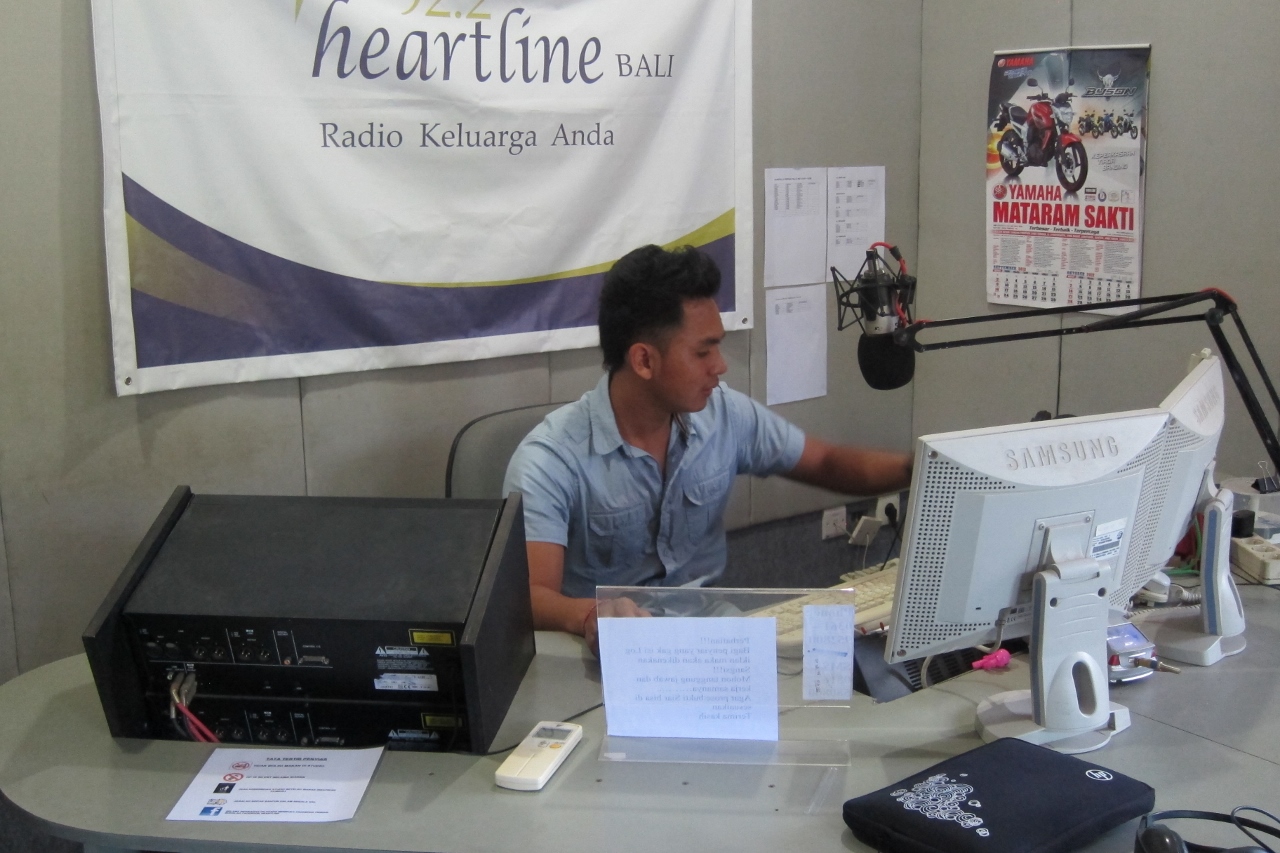 The message of Jesus is booming across the airwaves in Indonesia, and many people are coming to know Jesus.
The Far East Broadcasting Company in Indonesia, known as Yaski, administers several FM radio stations across the country's major centres, featuring programs that range from overt Christian proclamation to health and community programs and emergency response relating to natural disasters.
In Bali, Junaidi says, "I am very grateful to be able to find Heartline radio broadcasts. Initially I heard the radio just for entertainment alone away from my problems. I searched for broadcasting and a program that could entertain me until finally I found 92.2 FM. A song that I heard at that time touched me and gave me strength, namely the song 'Infinite Power of thy Lord'.
"Since then I began diligently to hear radio broadcasts. From listening to the radio I started a new life in the Lord Jesus and became a believer. Then I fell in love with radio Heartline, and now every day I hear it during the morning and evening.
"As a new person in Christianity, there are many things about God that I do not know, but through radio every day I learn the Word of God. Thank God I also learned spiritual songs from the radio and now I can sing them."
Ilham, also from Bali, says, "I believe in Jesus Christ this one year. Before I believed in the Lord Jesus my life was very messy. I was a trafficker and drug user for 13 years. Several times I was put into drug rehabilitation but I could not be separated from the drugs. I was powerless against sin and my life was completely away from the path of God.
"One day, my wife asked me to go to church. When we reached the churchyard, there was a whisper and a strong push from my heart to go inside the church. Finally, I followed my heart. At that time I did not understand anything about Christian worship, so I was just speechless.
"When I heard the people sing praises, my heart was at peace, and suddenly I was moved to tears. Then it was time for the Word of God delivered by the pastor. I felt God's extraordinary work in my heart. I felt strengthened. At that time I said to God, 'Lord Jesus, if you are really God Almighty, please release me from drug addiction.'
"Praise the Lord, He healed me. It's a miracle that Jesus did in my life. What is impossible for humans, it is possible for God. Family and friends wonder how I can escape from drugs. Whenever they ask about my recovery, I always said that the Lord Jesus healed me. Now I have become a Christian.
"Currently my child is suffering from a hernia, but it does not make me disappointed in the Lord Jesus. This is an opportunity for my family and I to look for miracles and the wonders of God in our lives.
"Every day my faith is strengthened through spiritual broadcasts on Heartline 92.2 FM. I am grateful to be able to learn more about God'' Word. My faith in the Lord Jesus is more sturdy and firm."
* Featured image shows a Heartline radio studio in Indonesia source FEBC
More