The 2016 National Church Life Survey (2016 NCLS) will take place in October 2016, continuing the largest longitudinal survey of local church life in the world.
Conducted by NCLS Research, partnering with more than 20 Christian denominations across Australia, it is expected that the 2016 NCLS will involve hundreds of thousands of church attenders and leaders. The last survey was conducted in 2011.
"When we started 25 years ago, we never contemplated a sixth wave of the NCLS would happen, says Dr Ruth Powell, NCLS research director. "To now have 25 years of accumulated learning about Australian local churches is quite astounding. It is a tremendous testimony to the collaboration of so many church leaders over such a period."
What began as a small research project in 1991, asking "who goes to church," has grown into a research organisation of international renown.
The 2016 NCLS will produce a snapshot of the role of faith in the lives of individuals, the place of local churches in their communities, and of local and denominational church vitality.
Nation-wide results will map church activities and appraise effective leadership practices, providing a national perspective on the presence and impact of local faith communities.
"Our mission in 2016 remains to help identify signs of hope in churches and its leadership, providing a credible research base to build vitality and connect churches and communities," explains Dr Powell. "Our goal is still to listen to the great diversity of Australian churchgoers, leaders and communities and to learn from them."
The survey methodology relies on the participation of local churches who pay a fee to conduct the survey in their local church and to receive a custom report from NCLS for their own church context. Each local church survey is then combined to provide a snapshot of Australian Christianity, identify trends across regions and denominations and help churches plan for the future.
In 2011, the last time the National Church Life Survey was conducted, 23 denominations took part with over 3,000 local churches. Over 260,000 adult church attenders were surveyed, 10,000 children (aged 8 to 14) and 6,000 church leaders.
Eternity Newspaper has been publishing NCLS 2011 statistics as infographics over the last four years. Here are a few: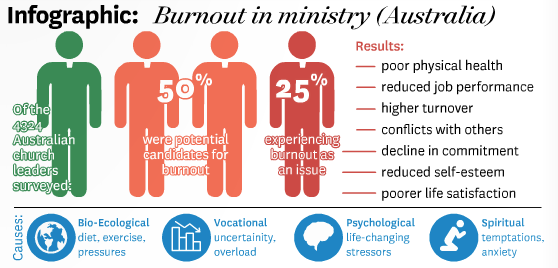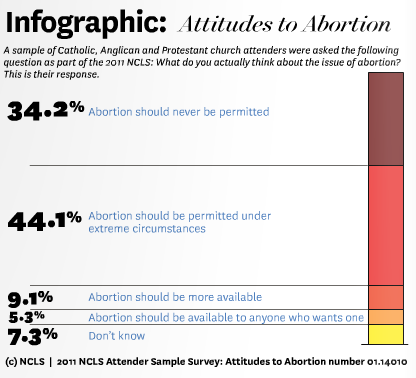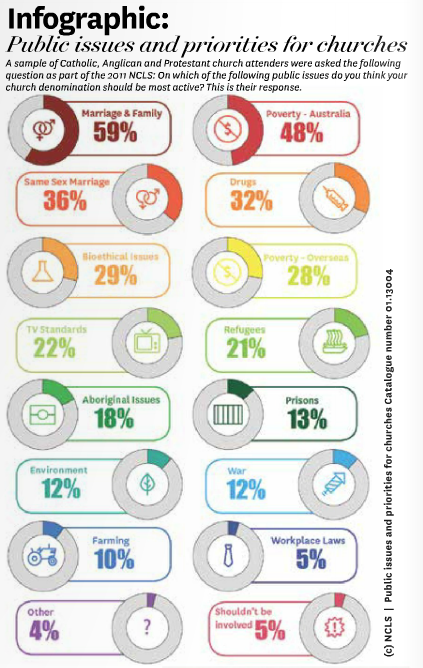 More