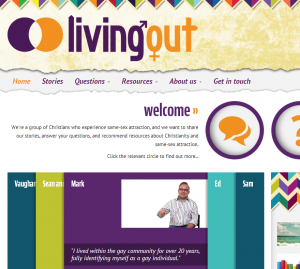 Three Anglican ministers from the UK who experience same-sex attraction but aren't engaged in a homosexual lifestyle have launched a new website for people dealing with similar issues.
Living Out.org was launched last week by Sam Allberry, Anglican Minister and author of the book Is God Anti-Gay?, Ed Shaw, a Minister and bible college lecturer and Sean Doherty, a married Anglican Minister.
Allberry and Shaw meet regularly to support each other in their efforts to remain single and celibate. Last year, a leading evangelical, Vaughan Roberts (author of God's Big Picture) spoke for the first time about his struggle with same-sex attraction, which prompted Allbury to be open with his own congregation.
Doherty became a Christian at 16, but over time his feelings changed and he fell in love and married his wife, Gaby. He chooses to describe himself as post-gay, a term coined by Peter Ould as a way of moving away from seeing himself only in terms of "sexual identity".
On Living Out, the men write of their purpose in creating the site: "With friends, we've set up this website to articulate a perspective that is not often heard – that of men and women who are honest and open about their same-sex attraction, but who have discovered that obedience to Jesus in this area of life is fulfilling, healthy and authentic."
The site offers answers to commonly asked questions, including: What does the Bible say about homosexuality? How can you live life without sex? Is the Church homophobic? As well as resources like book reviews and this video of a former lesbian Professor of English who converted to Christianity in her 30s. It also provides the stories of six same sex attracted men.
The website will no doubt be met with a mixed response from Christians spanning what is a very wide spectrum of positions on homosexuality.
More