Monday 28 April 2014
On stage, Andrew "Fishtail" Fisher wears a cap. He paces, speaking fast. Microphone in one hard, he gestures wildly. Hundreds of high school kids from Year 8 and 9 hang on every word—they've got to be paying attention to keep up. There's a hush silenced, impressive for this audience. Teachers stand in the wings, waiting to pounce on inattentive souls. But they're not needed. Andrew is dominant in the room. He's got them.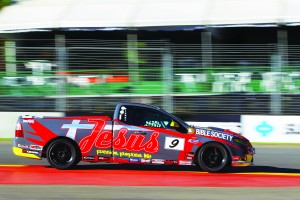 "I'm going to talk to you about decision making. We're not talking about decisions you make at the Maccas drive through. That's an impulse decision. We're talking about decisions that may have a significant impact in your life." And so begins his talk about courage.
Fisher is the Jesus Racing guy. When I sit down with him, it's on a lunch break from a one-day conference for high school students learning how to become Christian leaders in their schools.
Today, Fisher has swapped the boardroom for the schoolroom. At 36, he was CEO of a public company and owned 11 other companies—a law firm, a management consulting business, and an insurance company among them. But it was at the helm of that public company that Fisher had what he calls a "cliff top moment".
"I'd reached the peak of business and realised I didn't like it," he says.
Andrew grew up with a 'need for speed' kind of dad. His family loved cars, they drove fast. He got into race car driving with a few friends, spending weekends getting his racing license and entering low-level races, while he climbed the corporate ladder from Monday to Friday.
He laughs off my suggestion that racing sounds like a rich man's hobby for him. Racing is expensive, after all. But while Fish was a successful businessman, he was also really good at getting sponsorship for his 'hobby; he was getting a lot of attention in racing circles.
It was Fisher's wife Ann Marie who suggested he race with the "Jesus. All About Life" logo, part of a Bible Society campaign in New South Wales. He had been wrestling with how to be up front about his Christian faith in the racing world, keen to live his faith in public, and this was the perfect opportunity.
I loved the idea that it could be a trigger for starting a conversation about Jesus.
"I loved the idea that it could be a trigger for starting a conversation about Jesus."
And so, Jesus Racing was born, with Jesus' name emblazoned across the shining bonnet of Fisher's V8 Ute. "It challenged what people thought of faith and what a Christian is like." And it certainly attracted a lot of attention. Fisher began speaking in high schools and business breakfasts, entering more races and attracting more interest from the racing community.
No longer able to balance his business commitments with the growing demands of Jesus Racing, Fisher sold off over half of his companies and took a back seat in his management responsibilities. It was a leap of faith, says Fisher, as he poured money into Jesus Racing and began searching for Christian sponsors to make the initiative viable.
Fisher says motorsport is engrained in Australia's cultural fabric. "It's the third most-watched sport in Australia," he says. "You'll always find someone to talk to you about it, who's willing to have a conversation. So having a Christian racing team in there to say 'what do you think about them?', people are happy to start at that level, talking about Jesus."
On the annual calendar for Jesus Racing is the Deniliquin Ute Muster. Attracting 25,000 blue-singlet, Akubra-wearing people, the muster sees close to 3,000 drivers and claims its place as one of the most 'Australian' festivals of the year. Head to their website, and the first image you'll see is a five ute line-up, including the Jesus Racing ute toting the requisite bull-bars, big spotlights, giant flags … and a giant cross strapped to its roof.
"We race utes. We've got street cred. We're like them and they can see we make an effort to be in their community. They now consider us so much a part of the community that they're promoting what we do.
"If doing up a ute that screams the name of Jesus makes people feel more comfortable thinking and talking about Jesus, well then, that's what we should be doing."
Fisher has a competitive spirit. You don't get to the top of the business world without drive, and he's got it in spades. He wants to win (he wouldn't race cars if he didn't), but he says that competitiveness is something Christians find the hard to reconcile with his faith.
"They tell me it doesn't matter if you win or lose, it's still great having Jesus. But I say, that's disrespectful to everybody else competing in motorsports. It's a sport. This is their chosen field. We have to take the racing seriously".
But it's the way he wins and loses that Fisher thinks sets his team apart. For example, he speaks about race ethics and the integrity of being a Christian first and racing car driver second.
"There's a technique in racing called 'bump and run': going in to the corner, if you lean on the back corner panel of the guy in front and push them off the apex of the corner, he gets onto what we call 'the marbles' where there's not a lot of grip. He slides outside and you're able to overtake him in that corner. We all know how to do it; I could do it every race if I wanted to. But there's no integrity in that, so we don't employ that technique."
When Jesus Racing first hit the tracks, Fisher says a lot of drivers pulled the 'bump and run' on them. But once they'd been in the game a while, winning races, earning respect, things changed. "There's definitely a bit of a pecking order in racing. But it became obvious that we were fast, and other drivers started asking them 'Why are you doing that?' They'd do it deliberately, target the Jesus car 'cos they knew we wouldn't give it back to them. There's usually a lot of payback in racing."
And while Fisher says he's not perfect—he's made mistakes on the track—he thinks as a Christian he reacts differently than the other drivers. "Your legacy is being a Christian, not a famous racing car driver. It creates a sense of priority."
"I don't like to say winning doesn't matter, but it really doesn't. It only matters when it comes to the respect we have for our other competitors. Of course, I'm in the car going as hard as I possibly can. Of course, we want to win. But I'm not going to take out the guy in front of me on the last corner to do that."
Fisher doesn't believe God needed a racing car driver. "I don't believe God was up in heaven saying 'You know what I really need? I need someone to get in a race car with my name on it, and go out and show 'em how I would do it." Jesus Racing isn't about driving a fast car. It's about the opportunities Fisher has gotten to talk to people about Jesus.
And that takes us back to the high school auditorium. A long way from the race track, a long way from the boardroom, Fisher has constructed a programme for high school students, talking to them about courage and making good choices. He talks to thousands of kids every year about smoking, drugs, social media, sex, road safety, and faith.
There are wolf whistles during the video showing the Jesus Racing ute in action, breaking, crashing, screeching around the corners.
After the presentation, the kids are given a poster and offered a Gospel of Luke to take home. They're keen to get out to the quad, where the Jesus Racing ute is parked, and Fisher is standing half in, half out of the drivers seat, foot on the pedal, revving the engine.
There's a growing mob around the car. They want Fisher to sign their arms, their wrists, and when he won't do that, their posters. The revving engine echoes through the school yard, as the bell rings for lunch and students from other years file out of their classrooms to see the source of the ruckus. The revs are like a call: 'Remember what I told you.'
Email This Story
Why not send this to a friend?