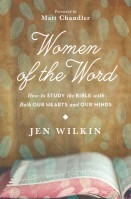 Women of the Word by Jen Wilkin is published by Crossway.
Life in 2014 is characterised by often being chaotic and frantic. We are all time-poor and struggle to balance work, family, church, and relationships. Even the stay-at-home mums are so busy balancing kids, housework and relationships, that they struggle for alone time. So when we are all grappling for some time out to just sit and breathe, the time we spend with the Lord on a daily basis can be hurried and stiff. Many women resolve this time-poor issue by reading Christian books that encourage and inspire, or a daily devotional that spoon feeds us someone else's thoughts and interpretations, rather than feeding

ourselves with God's pure word. Is it any wonder then that we don't grow or mature as we should, and that we stay reliant on others to feed us spiritually when we should be doing the hard work ourselves?
In her new book, Women Of The Word, Jen Wilkins addresses this issue with startling clarity, and with a set of practices that help women to read and study the Bible for themselves. Wilkins beckons women to become biblically literate and explains why it matters so much. She says of sound Bible study,
"The Bible does not want to be neatly packaged into three-hundred-and-sixty-five-day increments. It does not want to be reduced into truisms and action points. It wants to introduce dissonance into your thinking, to stretch your understanding. It wants to reveal a mosaic of the majesty of God one passage at a time, one day at a time, across a lifetime."
And with that in mind she teaches women the art of Bible study in a process she calls the Five P's of Sound Study – Purpose, Perspective, Patience, Process, and Prayer. There is a chapter dedicated to each of the steps, with the use of examples from her life and experiences, as well as some funny anecdotes.
The final chapter is called "Pulling It All Together", and Wilkins walks women through the reality of how the steps work together. Through the techniques that are shared, women can study the entire Bible for themselves, finding joy and meaning in every book of the Bible – not just the "favourite and easy" bits. She gives examples of how passages can be worked through and where to go for extra help or deeper meanings as a last step. This book shows women that they can be trusted to study the Bible for themselves, rather than reading what someone else has learnt. She explains that there is a place for good commentaries, but not as an alternative to good, solid study of the Bible.
With so many Christian books on the market filled with inspiration and advice from others, this book is a breath of fresh air. It shows women that not only are they capable of studying the Bible themselves, but that they are responsible for their own growth and study. This book offers such good, simple advice, and it does so in a manner that is engaging and heart-warming. The author's love for the Lord and his Word is evident on every page, and is such a valuable read.
More