Yesterday, they rung bells and hung banners in churches. Today, they brought those bells and their banners with them and gathered outside the offices of Australia's political leaders to protest and pray.
These are the Australian Christians calling for bold action climate change as part of an international movement.
At 8.15 am on Monday, about 30 people gathered outside Prime Minister Scott Morrison's office Cronulla, a beachside suburb of Sydney. Despite the early start, there are no tired eyes or desperately clutched coffee cups with this lot. They are wide-awake, radiating cheer and purpose.
The group unravel their banners and placards and get out their bells, ready to ring. A handpainted banner declaring "For the sake of all beings, no new coal or gas" is hung between a tree and a no-entry sign so that oncoming traffic can read it. It will elicit beeps of support from passing drivers throughout the event.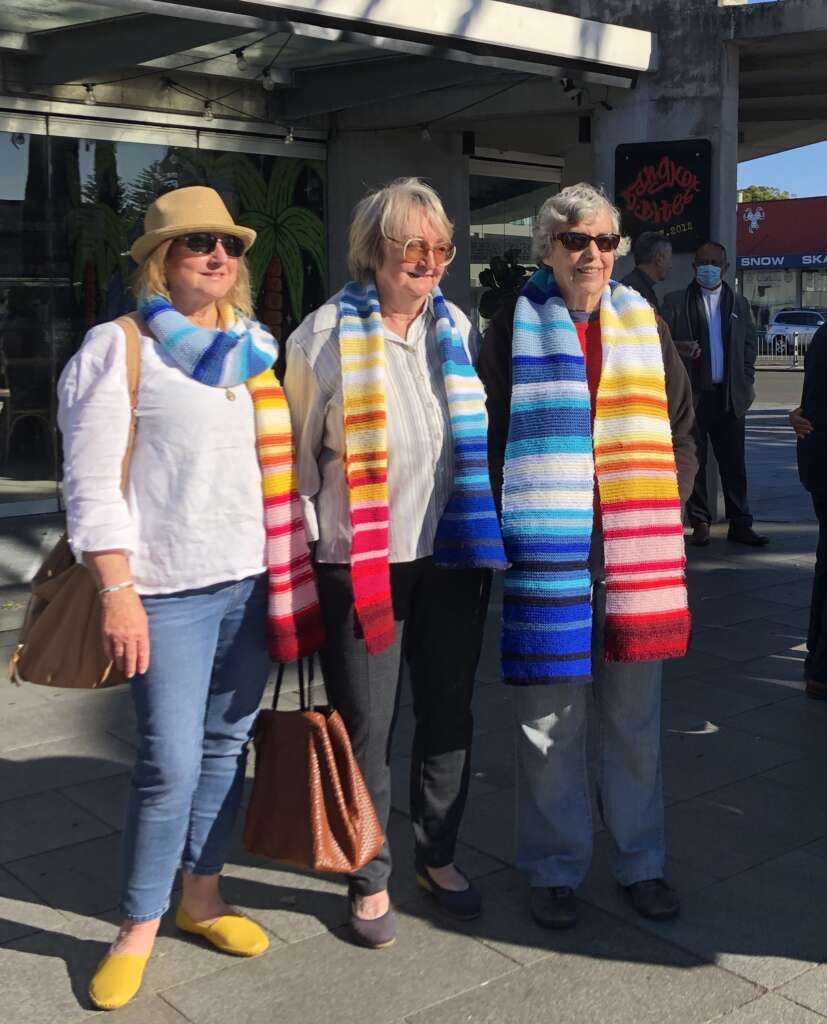 Three women who are wearing hand-knitted climate scarves pose for a photo. A Buddhist monk and a teacher are also at the interfaith event. Several Christian ministers are in robes and collars, while other participants wear Christian T-shirts. One says 'Jesus: All about life' – a campaign that united Christians across denominations back in 2009. A few people wear T-shirts that read 'For God so loved the world'.
There are seven or eight police officers on standby. They have been given advance notice of the protest and are there to ensure the protesters' safety more than out of any concern of rowdiness. A member of the protesting group has been designated their official liaison point person. It's all very well organised.
Thea Omerod, president of the Australian Religious Response to Climate Change, is the event organiser. She spends a good ten minutes wrangling everyone into position for a photo before they begin the liturgy. A sulphur-crested cockatoo perches on a sunshade nearby and watches with interest.
The liturgy gets underway with Thea on a megaphone upfront and participants ringing their bells and cheering. Curious locals stop to watch the proceedings and murmur their approval.
One local woman, Terri-Ann Fitzgerald, tells me she is surprised and yet not surprised to see Christians protesting about climate change. [Author's note 20/11/21: For anyone who is unsure, Terri-Ann is not a protestor but a local passing by].
"Well, the government has pushed everyone into a corner on the issue, haven't they? So even religious people have to speak up," she says.
"You only have to go for a walk along the beach here to see the deterioration of the sand and the swelling seas," Terri-Ann says. "You can see they haven't looked after the earth."
Terri-Ann is annoyed by recent news of space travel and exploring other planets. She says we need to look after this planet, rather than worrying about a 'Planet B'. She talks to another local, Brian Hall, who is also watching with interest. They remark how good it was to see [Andrew] Twiggy Forrest speak up last week about needing to set a net zero emissions target. Both agree that if someone has grown wealthy off the land, they have a responsibility to give back and "put things right".
"If we're going to take, we need to give," Terri-Ann says.
Brian has lived in Australia for 45 years and was born in India. He tells me about his inspiring neighbour, the late Bill Ryan, who was "right into all of this protesting". [Brian is also not a protestor] 
Bill, he says, passed away at 97 years of age just a couple of years ago. But right up to the end of his life, he was advocating for action on climate change. Bill even got arrested and went to jail when he was 94. Brian tells me to look him up because the local paper did a write-up on him. (Later, I do. and find that it did.)
Brian scans the group of protesters looking for Bill's son, but he can't see him. I let him know this group of climate protesters are all religious people. He's surprised but pleased to hear it.
Another local woman in a rash vest and hat is on her way to the local pool. She is also surprised to see religious people protesting about climate change because "they're usually the more conservative types". [This woman is also not a protestor].
"But I love seeing it!" she tells me. "It should happen more, here, in the land of ScoMo."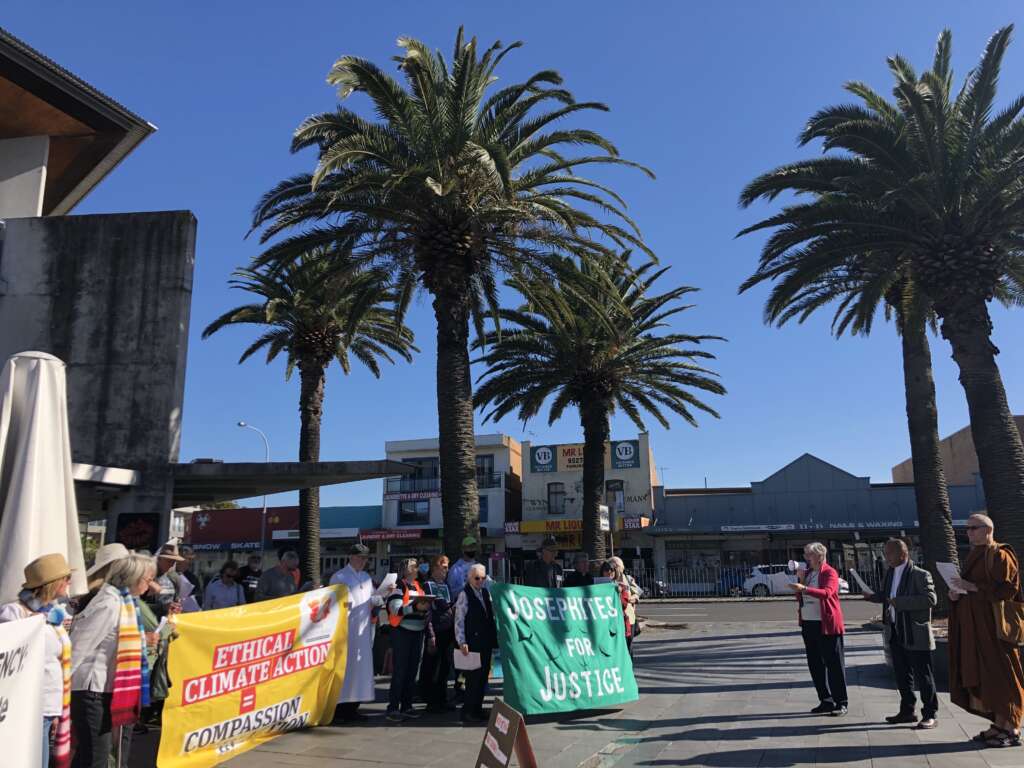 The liturgy concludes, and Thea asks everyone to raise their banners and ring their bells once more for the cameraman from SBS, who arrived a little late. The group do as requested and let out a spontaneous cheer for SBS turning up to cover the action. The cameraman is delighted and somewhat taken aback, eliciting another cheer when he tells them the footage is for the evening news.
I speak to Reverend Meredith Williams. Meredith is a Uniting Church minister in Wentworthville in western Sydney, and I ask her why she is taking part.
"I think that climate change is a real threat to not just nature and the environment, but to all of human society," she says concisely. "I think that we need to really examine what we're doing as human beings on the earth and stop our destructive, selfish practices so that the earth can recover from the damage that we have caused it and so that all people can flourish on the earth."
I note that some Christians don't view climate change as a critical gospel issue that deserves such a focus.
"I think it's absolutely a Christian issue. I think the fact that God became human in Jesus shows the sanctification of the sacred earth," Meredith responds.
"It is a sacred, divine thing to live in this earth – the earth created by God, created good – and God placed the image of God's self into human beings and charged us with the care and keeping of this earth. If human beings are to continue to live and thrive and worship God on the earth, we need to respect the creation upon which we rely for everything that we have."
She is equally articulate when asked about Australia's Christian Prime Minister, Scott Morrison.
"I think the Prime Minister has a lot of pressures upon him from some really powerful lobby groups," she says, her voice filled with compassion.
But she also thinks consumerist, capitalist economics play far too big a part in the government and the pressure groups to which the prime minister responds.
"As a Christian, he would believe, as I do, that God created the heavens and the earth, and created them beautiful and good, and charged us with their stewardship, [with] the care of creation, not its destruction," she says.
"But I think the prime minister is far too focused on keeping his job and keeping his party in leadership and that is deflecting him from his call as a Christian to fight for justice for all people, inclusion of all people, and the care of all creation – [such as] our neighbours, our more vulnerable countries and populations."
"It is a sacred, divine thing to live in this earth – the earth created by God, created good" – Reverend Meredith Williams
Meredith says all this is "very much the social justice message of Jesus."
"… to raise the poor, to reach out for the vulnerable, to include all people. And God's preferential love for the poor and the marginalised came through in the life of Jesus. And I think our Prime Minister needs to focus more on that, on the justice issues, than on the 'keeping power' issues. Jesus was not one to want to keep power, but one to want to include all people in God's love, with the most amazing compassion."
Reverend' Oto V Faiva is the minister at Sutherland and Loftus Uniting Church. Originally from Tonga, he has been in Australia for at least 15 years and has spent time in Moree, Bathurst and Oberon.
"I've seen myself the impact of climate change here in Australia," he says. "And every time I have been back [to Tonga] in recent years, the weather has become a bit more intense and extreme. We used to have the strong hurricane season from November to March, but now it happens all throughout the year and it's very extreme."
The reverend has four adult children, and he is concerned for their future with the current state of the earth. Yet his decision to participate in this climate action runs deeper than just his personal experience. It's a part of his calling as a Christian.
"It's part of my goal to discipleship. It's my passion and my goal to care for God's creation, and that means human beings and the rest of God's creation," he explains. "The God I follow, the God I read in the Scripture, is a holistic God. It's not a God who comes through Christ to save us, just for us to wait around for our turn to go back to heaven, our eternal home.
"Being disciples and followers of Jesus Christ is much more than just salvation. What does it mean to be saved? What are we saved for? We are saved to be the followers of Christ and to take the way of the cross."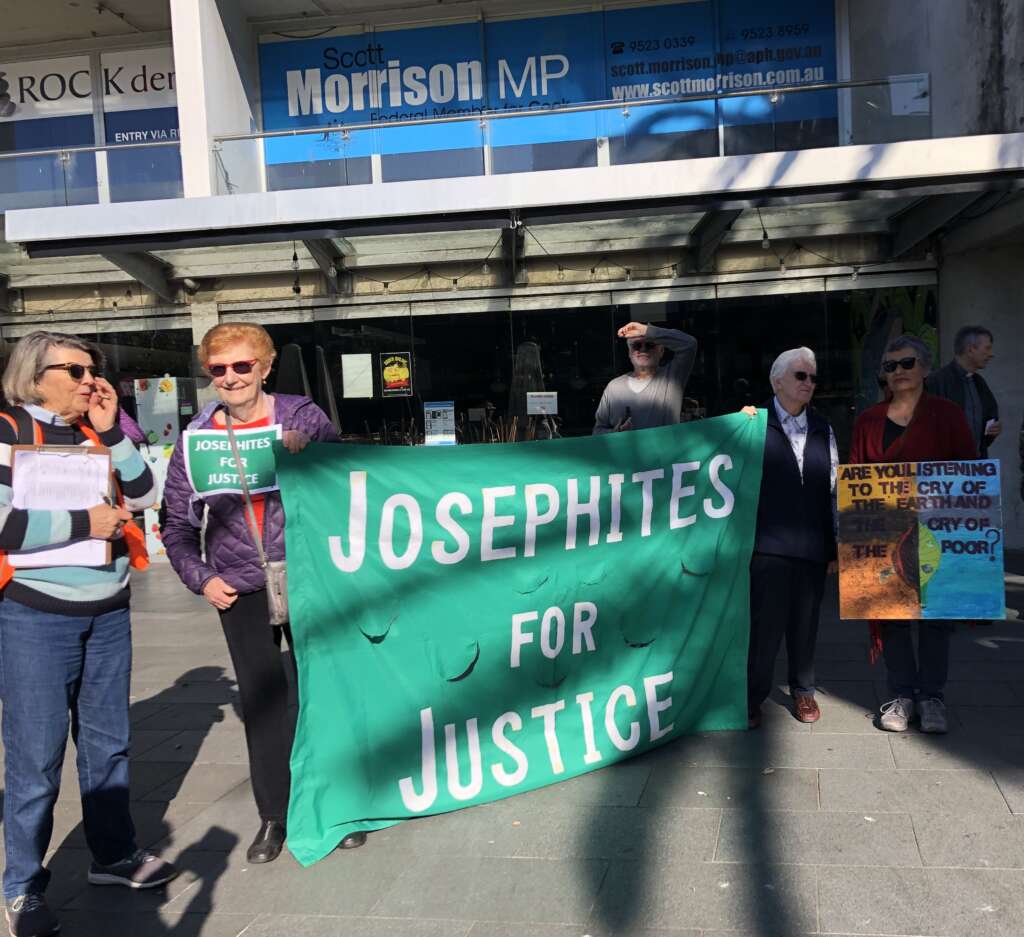 Jan Barnett is a Sister of St Joseph and a member of the Catholic Church. I ask her why she would choose to take action on the issue of climate change rather than focusing on, for example, the need for non-Christians to repent.
Sister Jan begins by explaining that, for her, as a Christian, "the gospel forms the basis of everything I believe." Then she points to the parable of The Good Samaritan as stand-out teaching.
"We know the story and we know the passion with which Jesus spoke at that time," she says. "For me, when I'm thinking about 'who is my neighbour?' – which is the very question Jesus asked – I think my neighbour is my whole community.
"So it's all of creation. It's all people, first of all. It's all people in Australia, it's all people across the world, and it's also future generations. And also, my neighbour is all of creation. And if I believe that, then I have to have a passion about what's happening to animals, what's happening to earth, what we are doing to God's creation.
"It seems to me," Sister Jan adds firmly, "that we only have to look at the devastation of the floods, the bushfires, the droughts – that we only have to look at all that's happening in terms of devastation – to know what we are doing to creation and how we are destroying it."
Sister Jan says that "if we're talking about repentance, if we're talking about reconciliation", then the various ways we can see the earth being devastated are "are real issues for us".
"[It's] not just personal repentance, but repentance for us as a community, and repentance, certainly for us as a nation today, when we are destroying so much, when the economy and politics are so much more important than life and death, and all that we do to stand together as Christians. And I'm passionate about that."
Email This Story
Why not send this to a friend?