Australia
QLD bushfires 2019
Crazy winds and balls of flames as families escape bushfire
Prayer, gratitude and trusting God sustains evacuees
At 4.27 on Monday afternoon, Natasha Beaumont's mum sent her a photo of the back of her father's head in the foreground (pictured below), and the billowing smoke of a bushfire that was rapidly approaching their retirement village in Peregian Beach in the background. Natasha says she "almost dropped the phone in shock and immediately called her and told her to go and collect valuables and memories and get in their car and evacuate."
"It was a push to get them to not watch and wait and GO," says Natasha, who lives with her husband and three children 15-20 minutes from the main fire area in Peregian Beach.
"No one was warned and no one could predict it to be so bad. I just knew in my gut that was what needed to happen. They live in the main retirement village in Peregian Beach that hours later were in forced emergency evacuations and mayhem was around them. My parents listened to me and I am so grateful they did."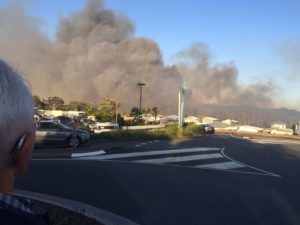 Natasha's insistence meant that her parents were the first to leave the area. Natasha's mum, Sylvia, and her husband John are residents of Aveo Peregian Springs Country Club.
Sylvia told Eternity: "I first was aware of the fire on Monday afternoon around 4.20pm. I saw the plumes of smoke and it seemed so close. My husband and I walked to the local Coles shopping centre at Peregian Springs as it seemed so close to that. Sure enough, it seemed like there were four different outbreaks. Three were near new houses and the fourth was coming around behind the shopping centre.
"I saw the plumes of smoke and it seemed so close." – Sylvia
"The smoke was intense and the gum trees went up in fireballs. It seemed to us the shops would be burnt down. Fire engines were just beginning to be heard in the distance. I called our doctor's office to alert them to get out of the building as inside they had no idea what was happening.
"We decided to return home and pack for evacuation. The fire was 500 metres from our home. This seemed way too close to stay, with the strong winds. We drove north towards Noosa and across to the Bruce Highway and down to Buderim. Later we found out that the winds were blowing east. This saved the shopping centre and our retirement village and sent it across the sunshine motorway into Peregian Beach.
"We were very relieved to find our home still unscathed on Tuesday morning when we called the village, though we weren't allowed back yet and needed to stay away another night as the winds were predicted to change direction this afternoon, which may cause the fire to return south again."
Local resident Lizzie Clout agrees that the escalation of the fire was crazy.
"What was a fairly small stream of smoke at about 5pm on the Monday was driven by crazy wind within a half an hour, so that balls of flames covered quite a large area," she explains.
"Balls of flames covered quite a large area." – Lizzie Clout
Lizzie lives in the region, but the Clout family home was out of the fire's path. Her two adult children were not so fortunate.
"My youngest, Jayden, and eldest, Erin, have both recently completed brand-new homes in the area – one in Peregian Breeze Estate and the other in Peregian Beach. Jayden took a photo from his car (main picture, above) after he had grabbed his dog from Erin's place and driven down the road to investigate the smoke. Within ten minutes, he found himself unable to return to the house, having left doors and windows all open."
With both Jayden and Erin staying at their parents' home to wait out the blaze, Lizzie said she soon became aware how their sense of vulnerability and loss of control was heightened because neither of them had a chance to grab anything of value or lock their homes when they were forced to evacuate. Both had only the clothes they were wearing.
"Erin reflected that she had to keep praying a lot though the night." – Lizzie Clout
"We had mentally and verbally rehearsed how the saving of material possessions doesn't compare to the value of life," she says. "But we also acknowledged that these homes represented much of their time, love and finance and the thought of losing it all was devastating."
They prayed together as a family.
Erin, a psychologist, encouraged her brother Jay (and reminded herself) to articulate gratitude. The list of things they were grateful for included: the sacrificial skill of the firefighters and volunteers; the fact that they had somewhere comfortable to stay the nights while they couldn't return home; and about the sense of community in their local region as people opened up their homes and cafes, and offered free food and coffee to those affected.
"No one slept much on the Monday night," Lizzie says. "It was a long night. Erin reflected that she had to keep praying a lot though the night."
Another emotional challenge in the following 24 hours was finding reliable information.
"The information continued to be conflicted depending upon which news reports or updates you were hearing," explains Lizzie. "We continually had to choose not to take the worst-sounding reports as actual facts. Talk of looters was also dismaying."
Yet throughout the night, Lizzie was heartened to observe her kids encouraging each other to trust the skill of firefighters, police directions and, of course, God.
Update: On Wednesday afternoon, firefighters allowed Jayden and Erin to return to their homes and they were pleased to find there was no damage. 
Email This Story
Why not send this to a friend?