An extract from "In God they Trust: the religious beliefs of Australia's Prime Ministers"
"Bob Hawke was famously a "son of the manse" (a house for a church minister). His father the Reverend Clem Hawke (1897-1989) was a Congregationalist minister at churches in New Zealand, South Australia and Perth. Clem was also a chaplain in the Australian Imperial Forces during World War II, and, by all accounts, a true gentleman. His sermons were "carefully prepared, thoughtful, and delivered with passion." Edith (Ellie) Hawke, Clem's wife, was also extremely pious. She met Clem when he visited her girlhood home as a Methodist home missionary, before they both converted to Congregationalism. Her own father, a stern self-made man named Will Lee had been a lay preacher.
Bob Hawke, then, grew up in a thoroughly Christian home. Yet he lost his personal faith in his early twenties and described himself ever since as an agnostic. Even so, he wrote in his memoirs that it was his parents' "basic Christian principles of brotherhood and compassion" that drove his public life. "[They] fostered in me," he explained, "beliefs and precepts which were to guide me in my future career."
Hawke's elder daughter, Sue Pieters-Hawke, has noted an additional influence – her mother, Hazel Hawke, Bob's much-admired first wife. Bob and Hazel were married for almost 40 years and, according to Sue, both of them lived their lives according to a "progressive humanitarian ethic instilled by their Congregationalist upbringing". This ethic she insisted, remained "'unabated by the loss of their firm belief in God"…
If a single word best describes Bob Hawke, it is "charismatic". Australians from all walks of life used it frequently about him and with good cause. The man could be inspiring. He led his party t0 outright victory in four federal elections (1984, 1985, 1987 and 1990) and lost none. It could make a vita even of his sins, including serial unfaithfulness to [his first wife] Hazel (and before he gave up alcohol in May 1980) a vicious tongue when drunk. In the words of Neal Blewett, a senior member of his cabinet, part of Hawke's public appeal was his reputation as a "repentant  prodigal".
Charisma is a Christian concept. While the word itself has both Greek and Hebrew, it was fist popularised by Paul of Tarsus. The key texts are Romans and Corinthians, written in or about 55-65 AD. In Paul's usage, the charismata were special qualities with which God had blessed certain individuals for the benefit of the community at large.
How important was Christianity in Hawke's journey?
He was born in 1929 in Bordertown, a small rural settlement in South Australia where Clem had been posted by his church. As a boy, Hawke briefly imagined that he might emulate his father and devote his life in the pulpit. He practised sermons on an invalid who lived in the manse. Their content is unrecorded but can be imagined.
Ellie Hawke (nee Lee) was a different personality from Clem. She had been a country school teacher before her marriage and was in Bob's words, "a woman of passionate commitments". One of them was to the work of the Women's Christian Temperance Union.
She was a disciplined and a discipline-dispensing mother, who commanded respect. She read the Bible daily.
Ellie always swore that when she was  pregnant with Bob, the book would often fall open to Isaiah 9:6 "For unto us a child is born, unto us a son is given, and the government shall fall upon his shoulders." (KJV). Apocryphal or not, the anecdote resonates …
It was at Oxford University where he studied from 1953-56, that religion faded more or less completely from Hawke's life. Although he made friends with the Minister of the North Oxford Congregational Church, Rev Geoffrey Beckett, it appears this was a strictly a human relationship. Hawke's relationship with God waned. He became wholly immersed in things secular: above all his thesis about the Australian industrial relations system. For the first time in his life, study became "pure joy". Despite his loss of faith, Hawke interpreted this happy turn of events as being in some manner providential. "It would be an exaggeration to talk in terms of feeling some guiding force, but in a vague, indefinable way I had a sense that my past had prepared me for this task and that my future was being inexorably fixed"…
But there was a yearning in Hawke which needed to be satisfied. He soon found his calling at the Australian Council of Trade Unions, in advocacy work at which he excelled. According to [his biographer and second wife] Blanche D'Alpuget, "Christian principles were in Hawke's bones", but from the late 1950s onwards "he found their expression not in lifeless Sunday ritual, but in the vibrant, communal, morally cohesive and uplifting, labour movement. As for many others this was his new and true religion".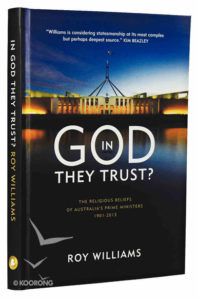 In God they Trust: the religious beliefs of Australia's Prime Ministers, 1901-2013
by Roy Williams, Bible Society Australia, 2013
$19.99 at Koorong
Bob Hawke Picture by ROB WARD, DoD
Pray
Some prayer points to help
Please respond by praying for our nation as we go to an election