Australians send thousands of Christmas cards every year, updating friends and family on the year's events and passing on their best for safe summer holidays. But this year, many have added a new name to their card list – their local MP or Senator. And the message on the card? The events of another family's lives: Biloela's beloved Murugappans.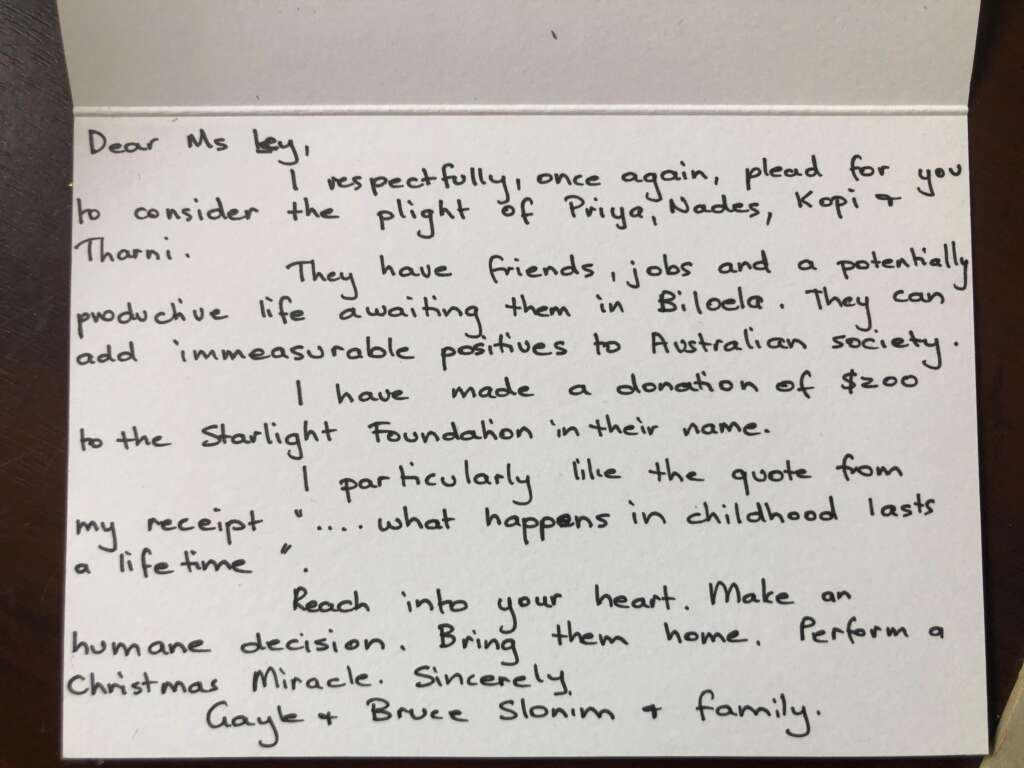 "Can you please help Priya, Nades and the girls get safely #HometoBilo for Christmas, by posting a handwritten card?" Angela Fredericks asked the family's supporters in an email sent this week.  
"To make a difference for Priya, Nades and the girls, please tell your representative why YOU believe Priya, Nades, Kopi and Tharni must be allowed to come #hometobilo, in you own respectful words."
Angela is a friend to Nades, Priya, Kopika and Tharunicaa and one of the plucky locals from Biloela – a small town in outback Queensland – behind the #HomeToBilo campaign.
The campaign was launched after the Murugappans were forced from their home by Australian Border Force immigration officers and police at 5 am on March 5, 2018. It has since kept interested Australians up-to-date with the Sri Lankan family's fight to stay in Australia. At present, the family is forced to live in Perth because they are in community detention.
For those would-be Christmas card-writers who are unsure of their local representatives, the #HomeToBilo team has included a link to a tool that provides the details.
Angela urgers card-writers, "it is very important to include your full name and address to ensure your message is handled as genuine correspondence from a constituent." And, before popping the card in the post, writers are asked to take a photo of the card and message so it can be shared publicly by #HomeToBilo.
On the Home to Bilo Facebook page, the images of dozens of cards bearing handwritten, heartfelt messages have already been uploaded.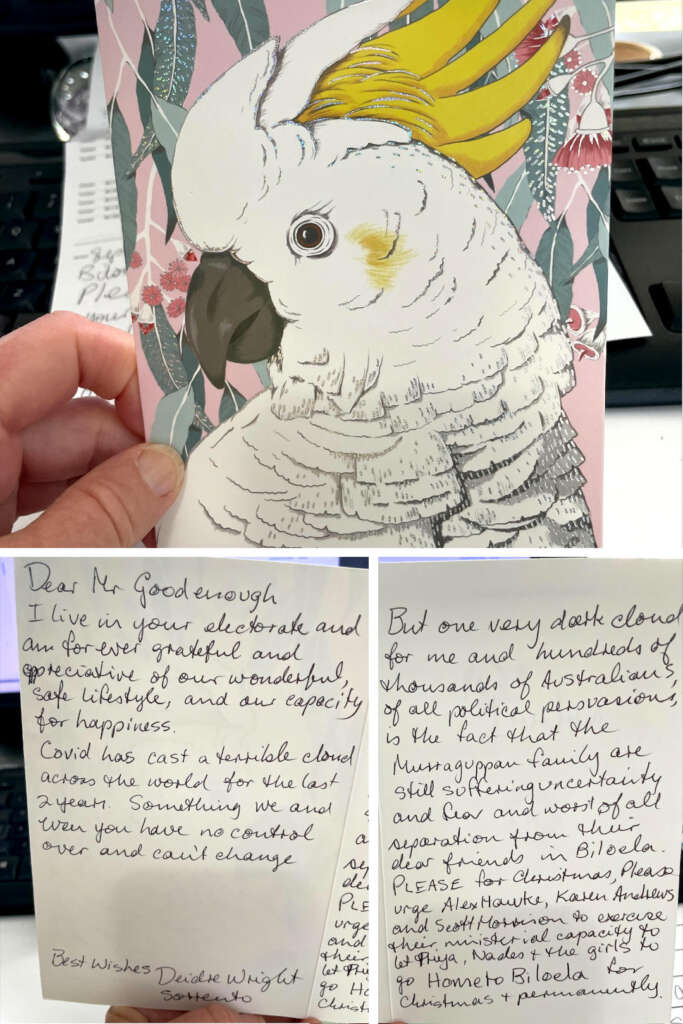 "This family has suffered enough and I feel they have been treated inhumanely," writes one person in a card addressed to Senator Perin Davey.
"Please show human/Christian compassion to allow them home to be free from fear for their future," writes another, their card addressed to Minister for Defence Peter Dutton.
"Reach into your heart. Make a humane decision. Bring them home. Perform a Christmas miracle," writes another in a card addressed to Minister for the Environment, Sussan Ley.
Speaking to Eternity about the Christmas card campaign, Angela said, "The season of Advent is a time for us to reflect on how we can open our hearts and lives to welcome the birth of Jesus."
"Jesus's birth was surrounded by forced migration, political unrest, oppression and injustice. If we want to celebrate the true meaning of Christmas it is about honouring Jesus's love and sacrifice and inviting those who are displaced or oppressed into our homes."
"We are asking people to send cards to our politicians requesting that they honour the true meaning of Christmas and allow Priya, Nades, Kopi and Tharni to return to the safety and support of their community in Biloela." 
Angela's email to supporters summarised the most recent events in the family's quest to remain in Australia and the family's current reality.
"In June, we got Priya, Nades and their QLD-born girls off Christmas Island. In September, we stopped Scott Morrison's Ministers forcing this beautiful family from Australia to danger – for now," she wrote.
"But by keeping four-year-old Tharni in 'community detention', Mr Morrison's Ministers are STILL stopping this family coming safely home to Biloela."
Angela notes that "some people are already saying that with an election coming, all we have to do is wait". Angela disagrees, stating, "as we learned in 2019, there are no crystal balls when it comes to elections. We simply can't afford to gamble this precious family's safety on an election result that no-one can predict."
The visas granted to Priya, Nades and Kopika will run out next year, seeing the family torn from Australia and deported to Sri Lanka, where Tamil people face persecution.
"The truth is that as ordinary citizens, our power to influence our elected representatives reaches a peak in the weeks and months before an election is called – not afterwards," Angela writes.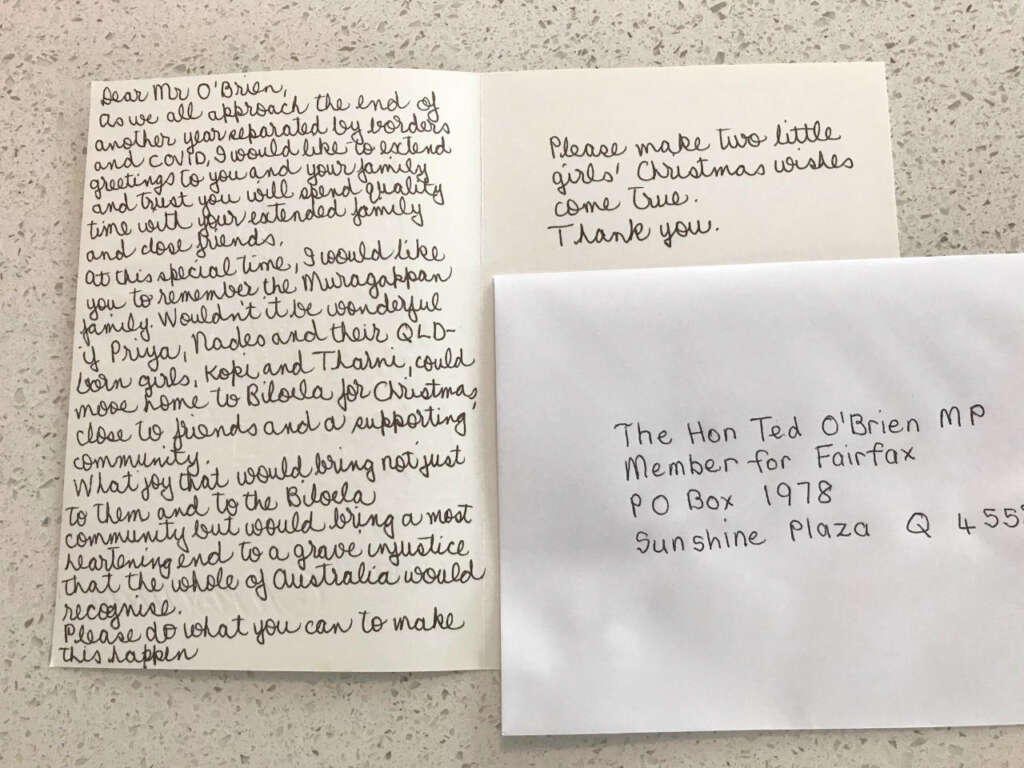 "That's why this Christmas, I am asking our Biloela family's most dedicated supporters to show they haven't forgotten Priya, Nades, Kopi and Tharni, through the simple action of posting a handwritten card."
Last year, so many people sent gifts to the Murugappan family that the kids are still well and truly stocked with toys, Angela writes.
"There are only so many toys two little girls can use!"
This Christmas, rather than sending gifts, the family has asked that donations be instead made to a local children's charity of the donor's choice in honour of the girls – affectionately known as "our little Biloela cockatoos".
"You might like to mention your donation in the card you send to the Senator," Angela suggests.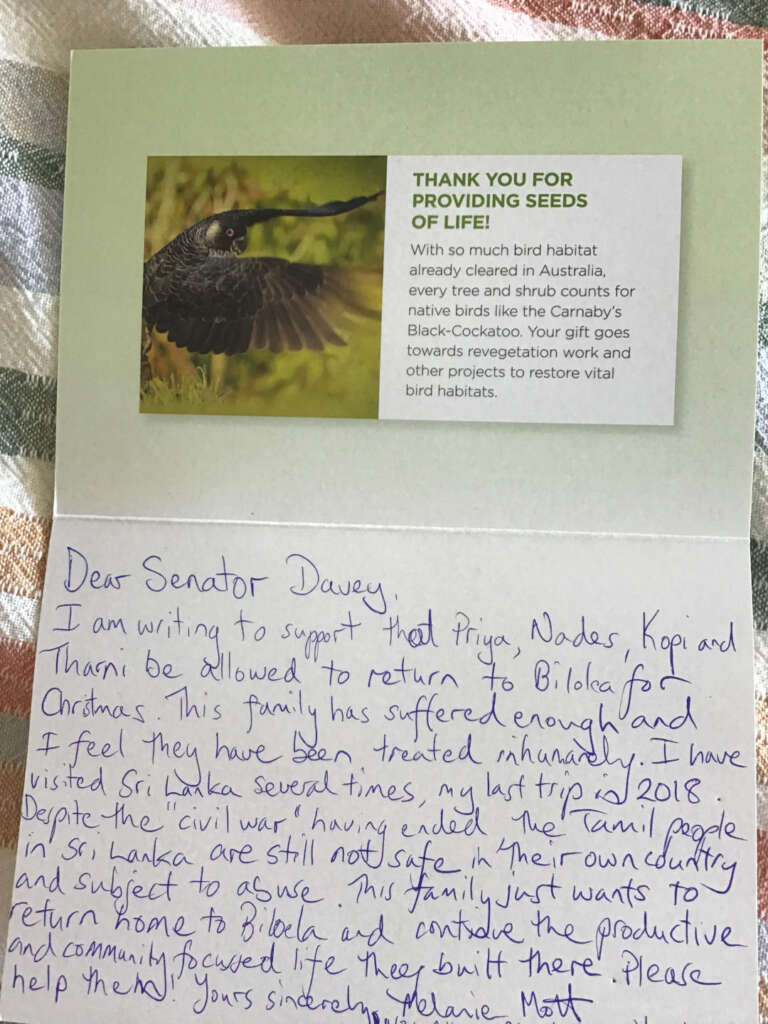 Email This Story
Why not send this to a friend?