This year's Katherine Christian Convention (KCC) was an even more meaningful experience for over 800 people who made the trek from all over country with the dedication of a revised version of the Kriol Bible.
The Kriol New Edition Bible, published by Bible Society Australia, is a complete revision of the Bible that was launched at KCC in 2007, and now includes a topical index and study notes. In 2007, it was the first full Bible in an Indigenous language. The new edition was dedicated on Saturday evening of KCC – held on 4-5 May in Katherine Showgrounds – and a workshop on using the Bible took place during sharing groups the following day.
This 52nd KCC convention, based on the theme "Walking in the Light", also featured Bible talks on 1 John from Dr Helen Richmond, teacher at Nungalinya Indigenous college in Darwin. Delegates came from communities all over the Top End, and even as far as the Anangu Pitjantjatjara Yankunytjatjara (APY) Lands in remote north-west South Australia and the Kimberley region in WA.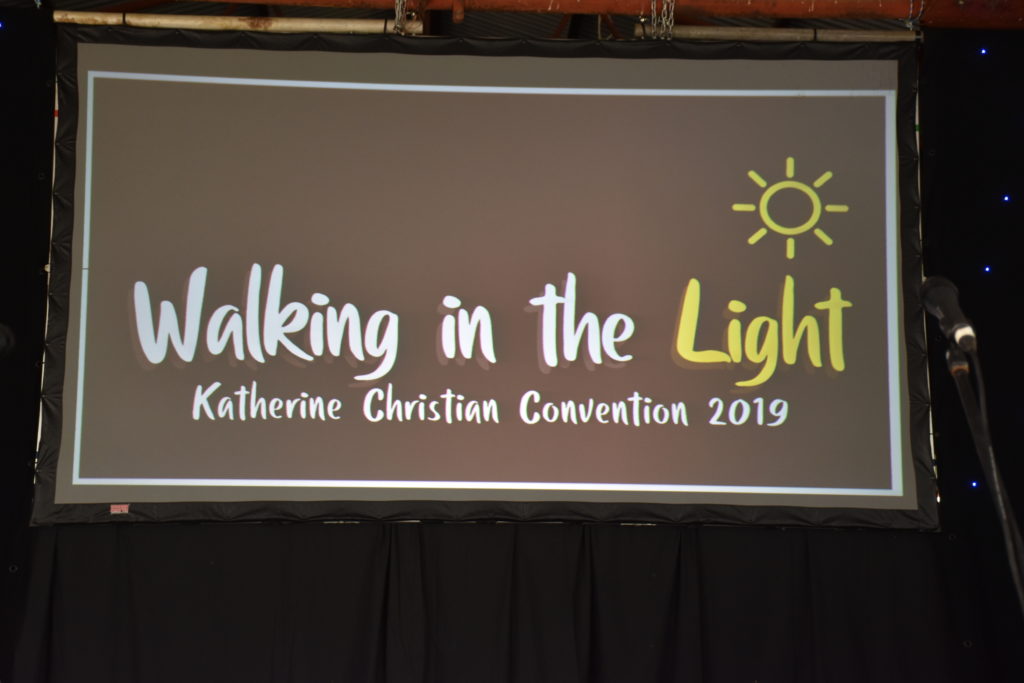 Fuel your faith every Friday with our weekly newsletter
Many different Aboriginal and Torres Strait Islander language groups were represented, including Kriol (which, while not a traditional Indigenous language, is spoken by around 30,000 Aboriginal peoples across northern Australia), Wubuy, Djambarrapungu, Warlpiri, Gumatj, Anindilyakwa and Kunwinjku, as well as first-time attendees from Pitjantjatjara and Tiwi Islands communities. Delegates' church denominations were also diverse, including Anglican, Uniting, Catholic, Baptist and Pentecostal. Each teaching session of the convention began with a Bible reading in three different languages and the convention concluded with a celebration on Sunday night.
"We were amazed at how enthusiastic people from our church were to meet with other Christian people from other communities." – Matt Pearson
Tavis Beer, KCC's main coordinator and committee chairman, has been ensuring the convention runs smoothly for the past six years. Tavis said the convention was "all about our faith in Jesus and not about the colour of our skin".
"I'm grateful and appreciative of the opportunity to facilitate a gathering of a whole lot of Christians who wouldn't get together otherwise – from different denominations and traditions."
He said the convention was an opportunity for the faithful few in various communities to gather and be greatly encouraged by others in similar circumstances in other remote areas. "I'm staggered that churches spend thousands in transport to get here every year."
Now, as KCC is in the process of transitioning from 17 years of being held at Bruce and Janine Morrow's farm, to its third year at Katherine Showground, the committee is grappling with change and balance. Instead of meeting under trees with conference attendees sitting on rugs and moving around as the trees' shade moved, the meeting is now on plastic chairs in rows in a big iron shed. Attendees camp around the Showground, where the amenities are good and convenient – but campfires are limited to just two on the site. And with the Showground hire costing about $10,000 for the event, there's now an admission fee.
The KCC committee has seen a slight drop off in numbers: there were about 1,000 people last year; this year the attendance was about 820. While KCC has been described by some as the "United Nations for First Nation peoples", getting to this event can be a real challenge for those in remote areas. The drop was attributed, in some part, to 60 or more Kunwinjku people from Gunbalanya (also known as Oenpelli) unable to make the journey at the last minute.
The annual KCC pilgrimage for the Gunbalanya community – which lies 350 kilometres from Katherine in west Arnhem Land – was derailed the day before the convention when floodwaters made the road out – the notorious Cahill's Crossing – impassable.
The group of 60 included 28 kids, who were looking forward to joining the kids' program run by Scripture Union Northern Territory and Quiz Worx.
"We were even going to run the music for the Sunday night session. People from our church were going to be reading from the Bible in Kunwinjku New Testament," says Matt Pearson, a CMS missionary based in Gunbalanya, where he attends Emmanuel church run by Reverend Lois Nadjamerrek.
Pearson notes the huge growth in numbers from their church wanting to attend KCC – from 20 last year, including only three kids.
He attributes this growth directly to the arrival of the Kunwinjku New Testament, completed in August last year. Since then, Pearson says "there's been so many kids coming to Sunday school."
"Since the [Kunwinjku] Bible arrived, a lot of people have come to church. We've seen a huge growth … People are really keen to hear God speak, and there's a clarity of hearing him speak in your own language."
He continues: "There was a real enthusiasm to all get together and go off to KCC … We were amazed at how enthusiastic people from our church were to meet with other Christian people from other communities. There was a real sense of excitement and anticipation about getting together with other people and hearing what's happening in their churches and singing together … People had been saving money and putting it aside for the last month."
But the Gunbalanya community took the disappointment with grace, as that's the way life goes in remote communities such as these.
"People have been telling me that this probably happens every three to four years because of the timing of KCC. It's at the end of the wet season, so it's always touch and go," Pearson explains.
But he does hope and pray that the community will get to KCC next year – with an even bigger group.
Read about the experience of Katherine Christian Convention volunteers who travelled 3500km from the NSW central coast to Katherine to spent the weekend helping in whatever way they could.
Email This Story
Why not send this to a friend?